Skiing on Lake Travis
and other fun Austin Activities
Thursday the 17th of August, 2000 I left Houston sometime around 1:00pm. Destination - Austin, Texas. For me, Austin is a second home. And I was going to visit a couple of my best friends - which made it even more fun.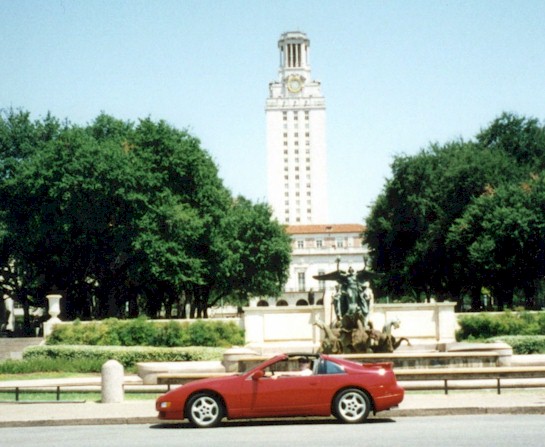 I made Jeff get out and take this picture - I'm such a typical tourist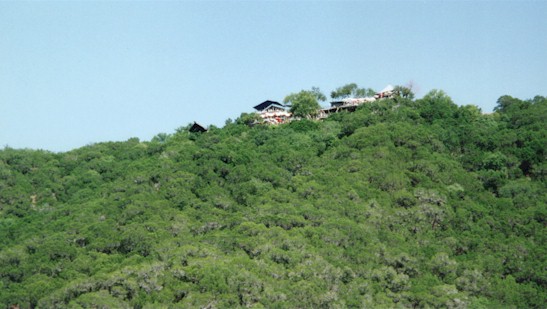 Waaaay up in the trees - the fabled Oasis Cantina.

In most every one of these pictures,the scale is mis-leading. In the pic above, the Oasis looks like nothing more than a big tent on the top of a hill. But actually - the Oasis is HUGE! It seats 1,500 people - here's a pic I ripped from another site showing the view from one of the decks looking down.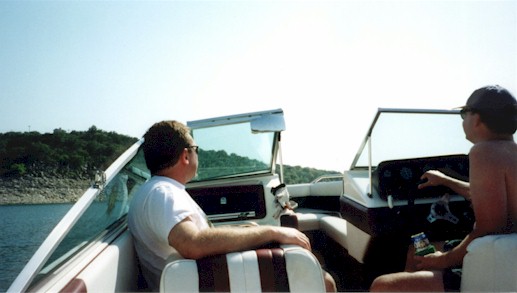 We are on the Lake! Lambo co-pilots while Jay enjoys a beer.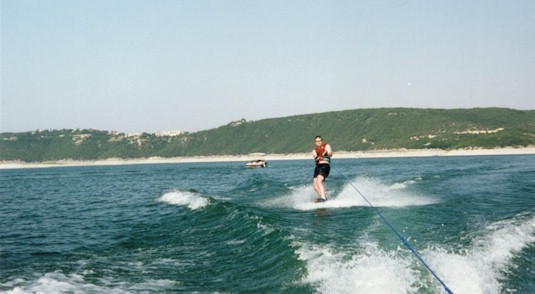 First skier of the day - Jay shows us how it's done.
Now, before you check out the pics below - let me do some explaining. Austin has been getting very little rain lately. The water level at Lake Travis is about 50 feet below normal. The funny thing is - unless you look really close you'd never notice from these pictures. So, on a couple - like the one below - I've marked them up so you can see what I'm talking about.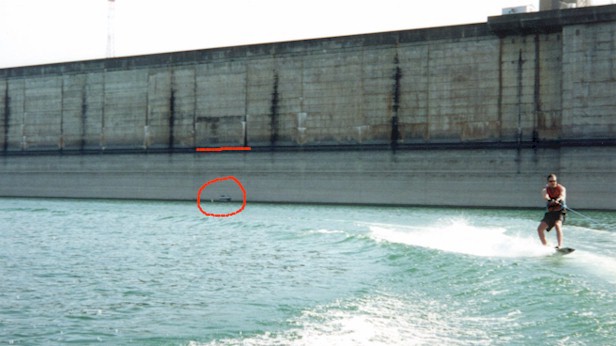 OK - the red line is the normal water level.
In that circle just below is another ski boat, enjoying some shade from the dam.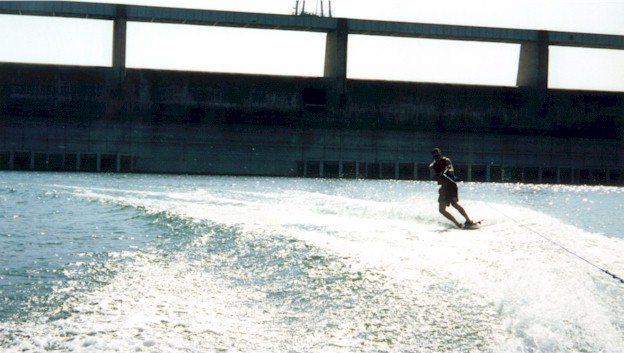 It was a beautiful day! Jay looks confident....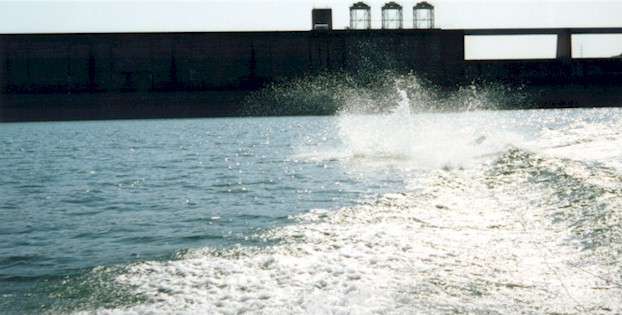 Ooohhh - a little too confident.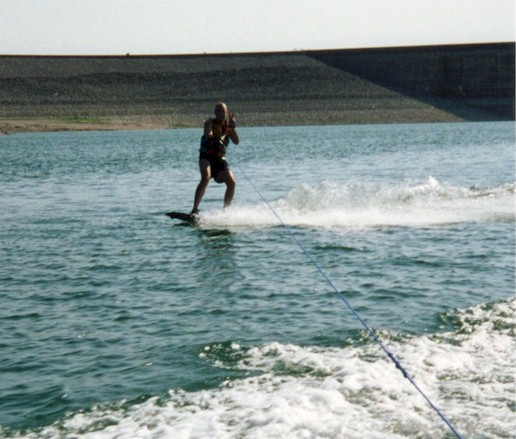 That's me! Peace.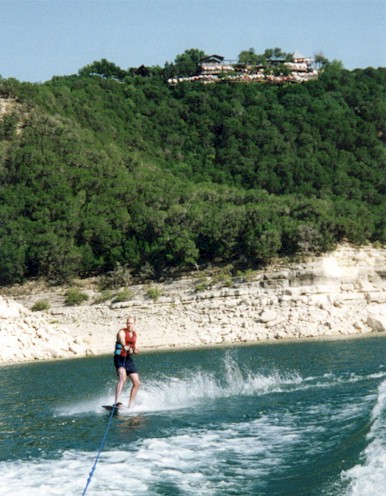 A great pic of me skiing below the Oasis (thanks Lambo)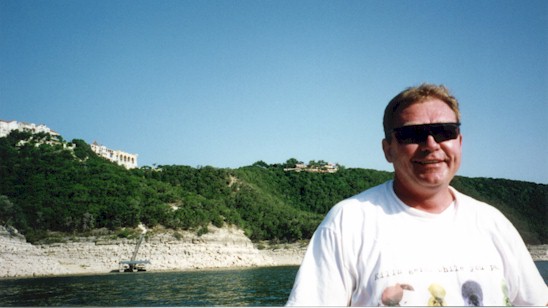 Photographer of the year!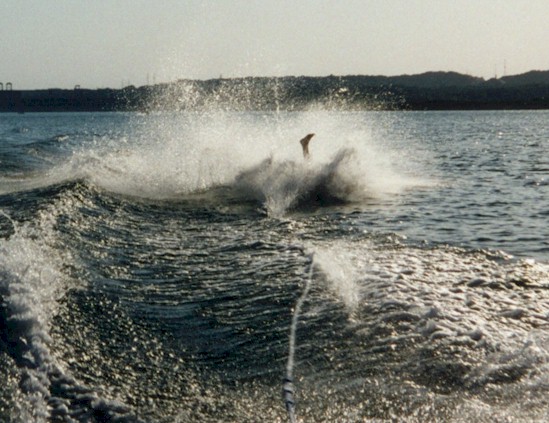 HE'S DOWN!!! (I think that was Pat)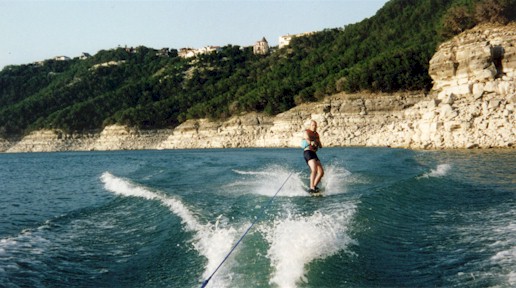 Do I look tired? I was.


Here's another picture where you can see how low the water was.
Look behind Jay - Can you see the other boat and skier?

In the picture above, if you didn't have the other boat and skier to get perspective - it almost looks like we were skiing close to shore - and that band of rocks was maybe 10 feet high - BUT NO! That band of rocks is like 50 feet high - and we were far out enough so that we were skiing in water that was 160 feet deep.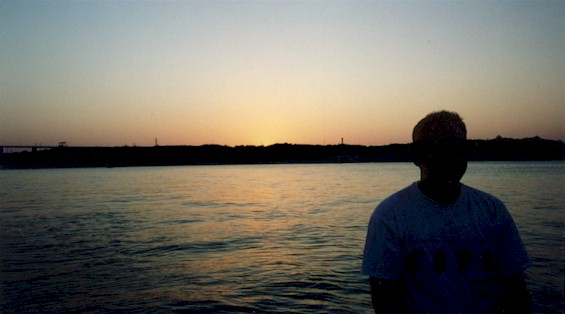 The sun goes down - but the partying didn't stop.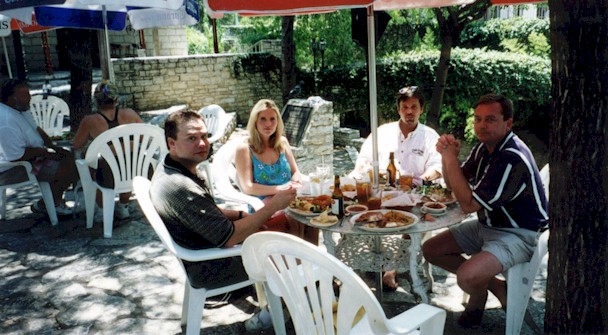 The next day, what better way to re-coup than some Tex-Mex at Serranos.
Many thanks to Jay and Jeff - and a big 'HOWDY' to Pat and Sherrie!
I can't wait to party with y'all again!