TEJAZ LAN 2000
08/09/00
Let the picture posting begin! (WARNING: bandwidth hog - I hope you're not using dial-up)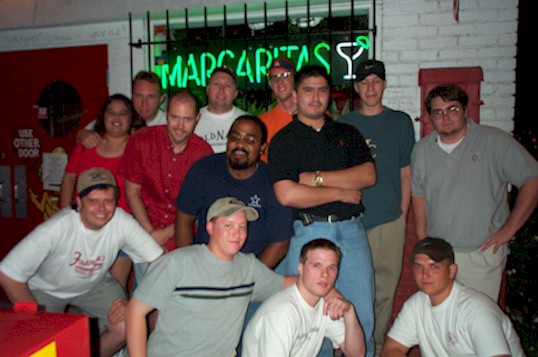 All Hail the Tejaz Clan!
Bottom row: Stanky, Chief, Raptor, Boomer
Middle row: Toni, SunKing, BigRob, Ram, Howitzer
Back row: Glock9, Tiger, Halo, Blue88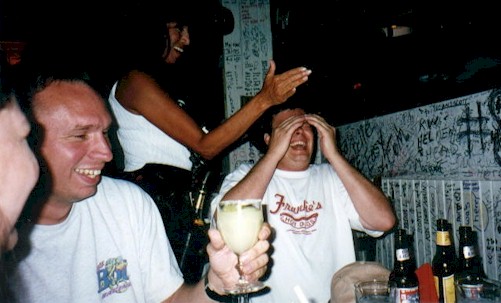 Stanky gets a spanky - right in the face!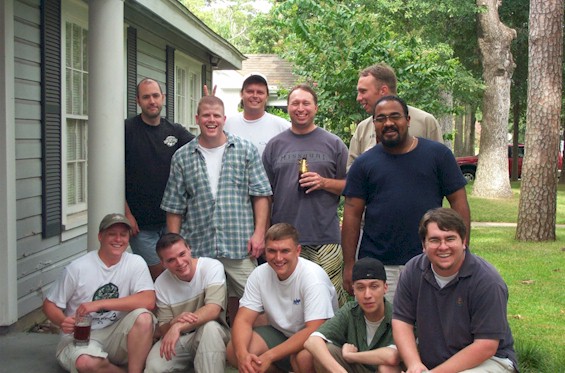 A rare picture of Mr. C1ean and those strange things growing out of his head.
I think he uses them like little Quake antenna - to help with his rail.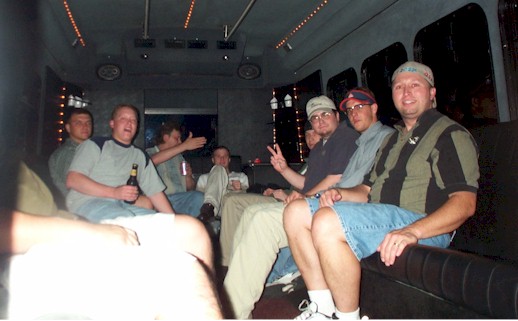 Limo Party! Someone make me a drink!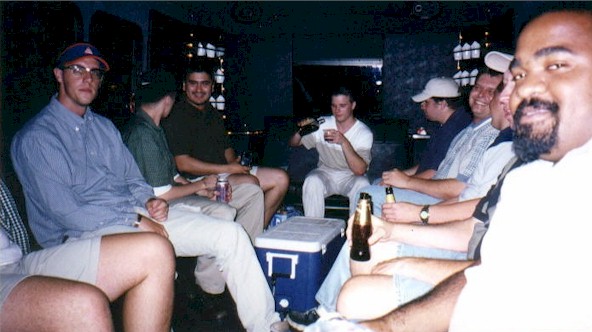 Thanks Rap!
Now, would someone tell BigRob to stop smiling at me like that.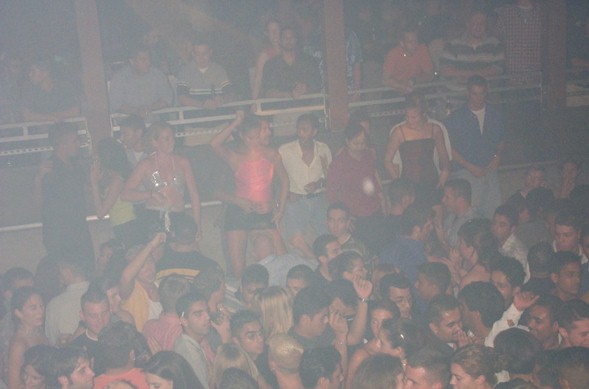 This club was WILD!
[Click HERE for more TJZ LAN 2000 Pictures]
---
07/24/00 3:43pm
YES I HAVE PLENTY OF PICTURES AND I WILL BE POSTING THEM SOON!!!!!

Phew!!! What a weekend we had!! The first guest (Raptor) was to arrive at 9:00am Friday, Continental flight 1067 from St. Louis. I picked Rap up at the airport and when we got back to my house, Tiger and Blue were sitting on my front porch - wondering where the hell I was. Well - gee - we got four people here - that's enough for some LAN ACTION. Sure enough - we had the network up and running before noon.
One thing I did differently this time - was to use a router and allow everyone to have internet access through my cable modem. It worked perfectly. I think everyone really enjoyed being 'connected'....it was so cool to see people with their ICQ up, in IRC and even playing on a public server every now and then. Plus - Lare could update the TJZ main page with pics from the LAN as it was happening!
....anyway - most everyone stumbled in during the day Friday. At about 8:00 we all took off for the Cadillac Bar. It was a little louder there than I remember...and because we had 15 people we had a long wait (in the bar)....but the food was good.
After Cadillac Bar can you guess what we did? Duh - of course - head back to the house for more gaming! We played till the wee hours of the morning and a few played longer than that.
Saturday was the 'official' LAN party. What I mean is, that was the day we had planned on playing all day. SO - we pretty much started once everyone woke up. Well, not EVERYONE....some folks liked to sleep longer than others. LAN LAN LAN PARTY PARTY PARTY....PIZZA PIZZA PIZZA....and more CTF games than you can shake a stick at.
Saturday night - LIMO!!! ....Transco...Sam's Boat...Surfside Sallies....Shock....Whataburger....home.
Sunday....more LAN....BBQ....and people packing up to leave.
---
07/18/00 7:01pm
So damn close I can taste it. Here's what Lare posted on the TJZ main page: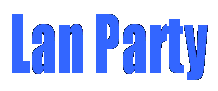 The Tejaz Lan Party #4 is set to begin Friday! This year's party has been in the planning stages for about six months. Some of us are already on the road, coming in from all over the country to Houston for the party of the year. TJZ-Sunking will be hosting this year's party, and TJZ-BigRob is helping out with the arrangements.
It is definitely going to be the best ever for sure! If you don't already have reservations with Sunking, you should talk to him VERY soon about attending as space is limited. Thanks to everyone who has busted their butts in doing the legwork and a very special thanks to yall down in H-town for making this year's event happen! Here's a little taste of the agenda for the weekend.
Thursday:
People start arriving to various hotels around Houston from all over the country, including Memphis, Kansas City, Illinois, Abilene, Dallas, and Austin.
Friday:
Dinner at around 8:30pm and then we crash Rob's house for drinks! Well, that's what Rob said.. lol
Saturday:
Equipment Setup
10-11am People Arriving to the party
11am-1pm Lets have some fun!
1pm Special Presentation
1:30pm Pictures
1:45pm Competitions & Prizes
5pm Dinner and Night on the Town in the Limo
Sunday:
BBQ at Sunking's house, but Rob is going to be cooking, he says there "will be shades and chairs outside for lounging around and music and ac inside".
Sounds like a great time to me! There will be some live updates from the party, and maybe even some live photos if anyone brings a digital camera. Heck there might even be a live webcam link for those who want to see what's going on live. Maybe we can even get a picture of Rob's ASS for the webpage like last year! w00t! We'll fill ya in on things as they happen, and they will begin to happen very soon!!!!!!!!!!!!!!!!!
---
7/13/00 6:19am
We are less than two weeks away!! I've updated the list below - looks like we will have a full house!
---
05/16/00 3:29pm
Here's my own little 'planning page' for the upcoming TJZ LAN - eventually I'll post the pics here. TJZ LAN 2000 will begin Friday, July 21 and continue until Sunday, July 23. Here's the attendee list as it stands right now.
Going to the LAN?
| | |
| --- | --- |
| YES | NO |
| TJZ-Glock9 | TJZ-Mega |
| TJZ-Stanky | TJZ-Andromeda |
| TJZ-BigRob | TJZ-Chammy |
| TJZ-Raptor | TJZ-Sinny |
| TJZ-Blue88 | |
| TJZ-SunKing | |
| TJZ-Stinky | |
| TJZ-Toni | |
| TJZ-C1ean | |
| TJZ-Tiger | |
| TJZ-Vertigo - NOPE :-( | |
| TJZ-Boomer | |
| TJZ-Halo | |
| Ram | |
BigRob had this to say:
Friday I will be leaving work at NOON!!!!! That is so that I may be home and ready to meet anyone coming in to town and may get stuck in traffic somwhere and I can meet them or give them directions once they come into the houston area...that Night once everyone has gotten together...sunkings place or mine we can all head out to an interesting dinner and drinks...I am thinking Cafe Adobe or maybe Cabo's (whats your thoughts Old Fart Sunking??) Then from there we can head home for the early birds and maybe back to the house for a few more drinks...
Saturday I see us setting up talking about the funny moments from Friday night and getting ready to LAN!!!! After everyone kicking my ass one on one in Q3 I will quit to walk around and make fun of everyone else getting their arses kicked...then comes LUNCH!! where who how I dont know yet...but I am thinking Hooters or maybe a caberet? *BIG GRIN* From there back to lan'n and any girls that are there well need to leave around 5pm so that they can start getting ready for the night out..seeing how it takes multiple hours for them to get ready...then HOPEFULLYy we will have a limo and we will start off with viewing the many nice views of houston...start in downtown, enron field, waterfalls/herman park, richmond/westheimer, waterfalls park lakes ducks galleria, club strip richmond, club strip sheppard park caberet strip and so on :)
Sunday if everyone made it home ok :) we will gather slowly at sunkings and barbq...there will be shades and chairs outside for lounging around and music and ac inside...plus I think I WILL be barbq, considering sunkings last lan barbq scenario...
then after that I will have no idea of what is to come..