October 2000
10/30/00 6:50pm
Well, the big party of the year was last Saturday. Oh yeah - I love Halloween. We had a costume party at Micci & Mark & Terry & Susan's house. I just finished scanning the pics (what a PAIN. I need a digi-cam BAD) ...anyway - i should have those posted here VERY soon....hang in there. In the meantime, I've put up one more pic from the FragtoberFest - a fridge full of beer!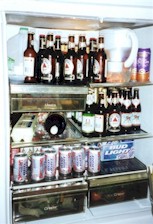 This is what a well stocked fridge should look like.
---
10/20/00 8:34am
I can't believe October is more than halfway over - Amazing! I've got a couple interesting things to tell ya about. First, I'm doing something a little different with my website. I've received several comments on how slow the pages load - so I've decided to post tiny pictures, which you can click for the full image. Hopefully that will help speed things up.
October 7th was the FragtoberFest - Rocket Arena and Cervesa Mas Fina LAN party. In attendance were, Angulimala, lull, Wideout, KidChronic, Annon, Neutone, SocialEnforcer and Jim Skipper. We also had a couple spectators - Mark Antil and special celebrity guest Kyle Bennett from the HardOCP.
I took some pictures - but haven't developed them yet. However, Jim was kind enough to forward a couple he took with his digi-cam. Remember, you can click these for the full size image.

Everyone's getting ready to play
Notice the Octoberfest decorations - thanx Angulimala!


Mark helps me watch for incoming enemies.

---
10/06/00 noon
October is here!! October is here!! Yes, my favorite month of the year. Why is that? Well, mostly because of HALLOWEEN - but also because we're finally going to get a break from the Houston heat. I've got a bunch of fun stuff planned this month - LAN parties and Halloween parties, and I haven't been to the Gib-O-Rama in a couple months - so I'm really looking forward to that too.
Jacqui and I had another Doctor visit this week - and we got some more pictures of the baby

Can you see the baby head?
It looks like he's scratching his left cheek.



This is any easy one to see - it's a baby leg!



And in the spirit of Halloween - it's SCARY BABY FACE!!
---