January 2000
01/31/00 4:17pm
OK - get ready for some CANCUN pictures! Yep - getting ready to scan them right now - but before I do - might as well quickly post the last few Paris pics. They were on the roll of film we took to CANCUN - plus they should be here on the same page with the other Paris pics and all....so anyway - here's the last few good ones from the roll.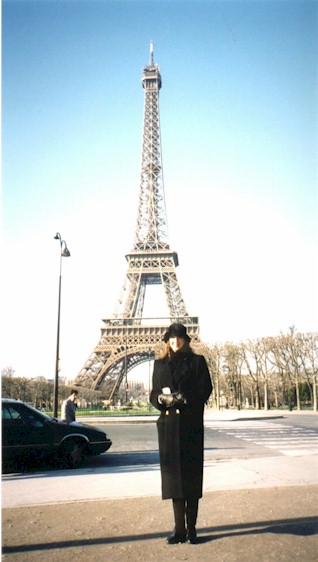 The Eiffel Tower is 7,000 tons of metal reaching 1,000 feet in the air (and it gets six inches taller in hot weather). It covers 2.5 acres, and requires 50 tons of paint. Built by bridge-builder Gustave Eiffel for the 1889 Centennial World's Fair. To most people, the Tower was the marvel of it's age - a symbol of progress and of man's ingenuity. To others it was a monstrosity.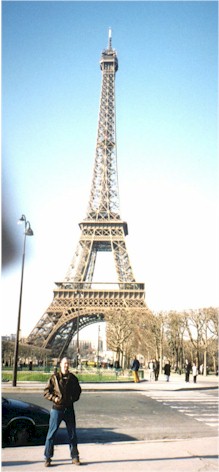 I was WAAAAAYYYYY up at the top there - and this is what it looked like.


That's the Arc De Triumph in the middle
---
01/18/00 5:30pm
Here are the pictures from Paris - displayed in the same order that they were taken.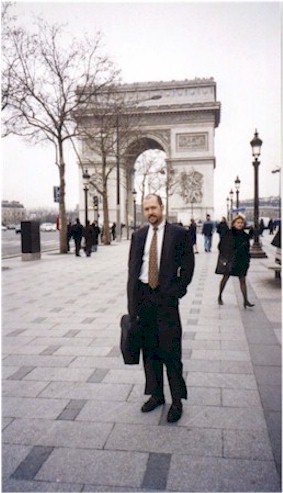 Me on the Champs Elysee. Work on the Arc De Triumph started in 1806.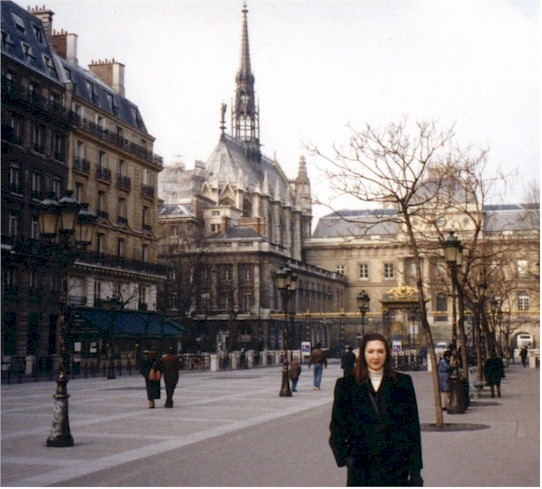 Jacqui stands in front of St. Chappel (built in 1248!!!) and the Ministry of Justice.
You'll see the insides of St. Chappel further down..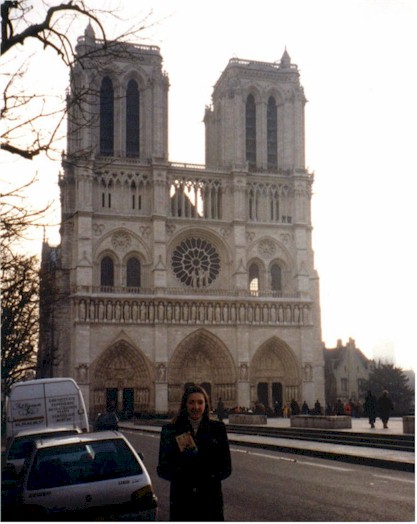 This was our primary destination Saturday morning - the Notre-Dame Cathedral.
Work on this amazing church started in 1163 and it wasn't finished until 1345.
Quoted from 'Rick Steven's Paris': Look at the 200 foot bell-towers and imagine a small mideaval community mustering the money and energy to build this. Master stone masons supervised, but the people did much of the grunt work themselves for free - hauling the huge stones from distant quarries, digging a 30 foot deep trench to lay the foundations, and treading like rats on a wheel designed to lift the stones up, one by one. This kind of backbreaking, arduos manual labor created the real hunchbacks of Notre-Dame.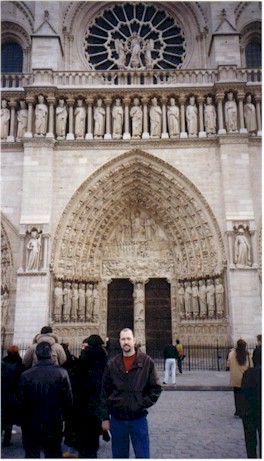 All the people carved into the walls have their own interesting story.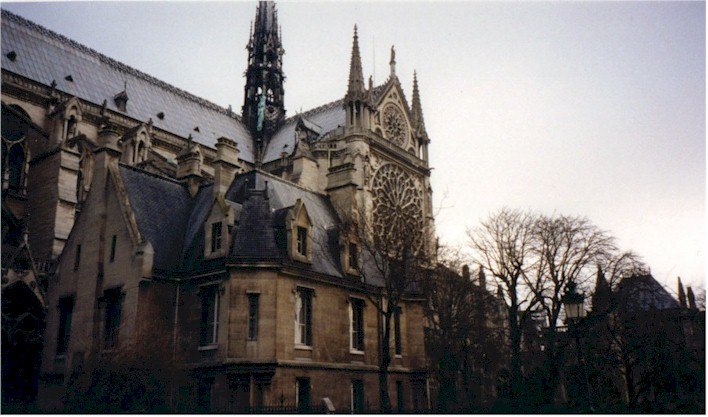 Notre-Dame from the side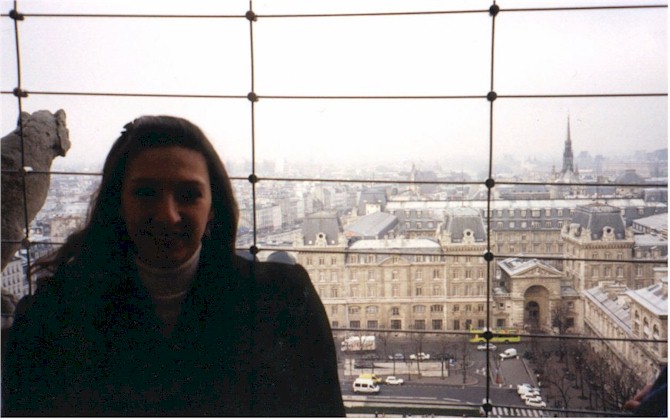 This shot was taken from the 'bridge' between the bell towers of Notre-Dame.
There were a lot of stairs to climb in a skinny worn stone stairway.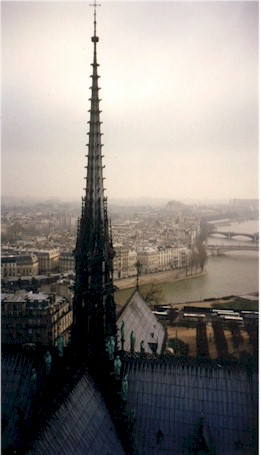 Steeple of Notre-Dame - can you see the little green men?


I love this picture - you can see a bigger version in the 1/17/00 post (below)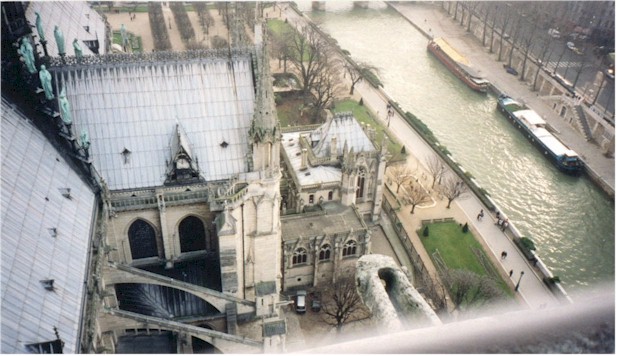 Looking down at the River Seine from the top of one of the belltowers. Notice how some gargoyles are also drain spouts.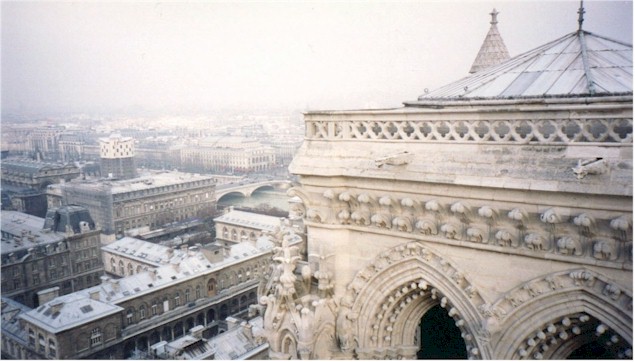 Looking from one belltower to the other - the detail of the stone carvings is amazing.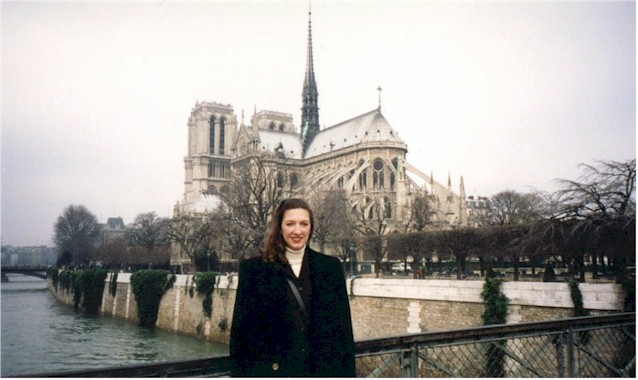 The back of Notre-Dame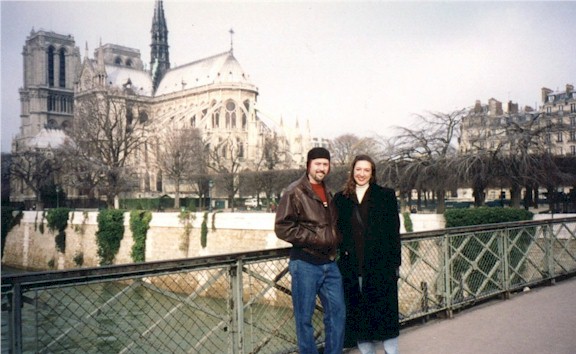 That's a hat on my head - not hair (darn it).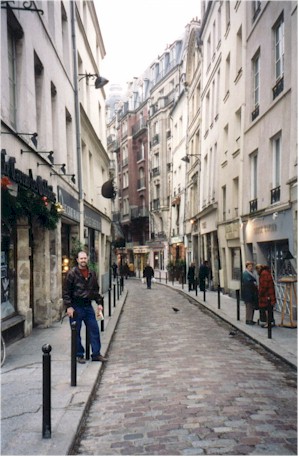 The Latin district of Paris has some very narrow streets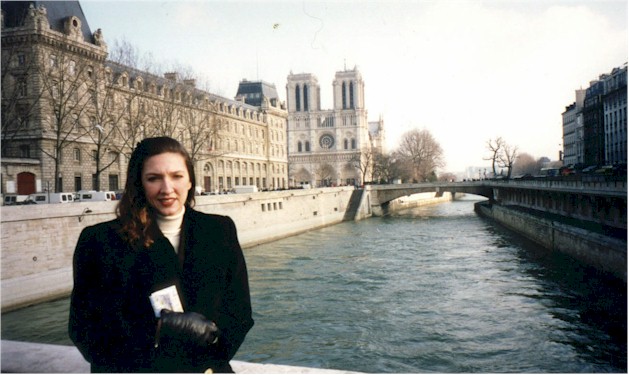 A look down the River Seine at the Notre-Dame.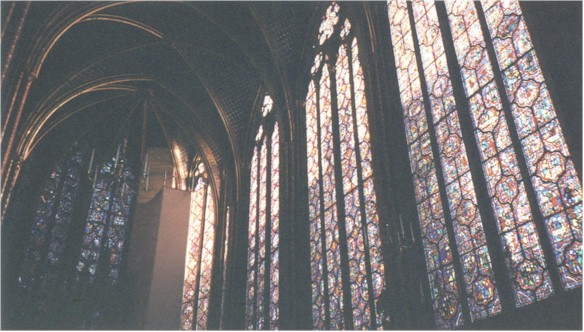 The inside of St. Chappel. These pictures do NOT do justice to the beauty of this church built 750 years ago.




The windows told stories of the bible - with stained glass pictures.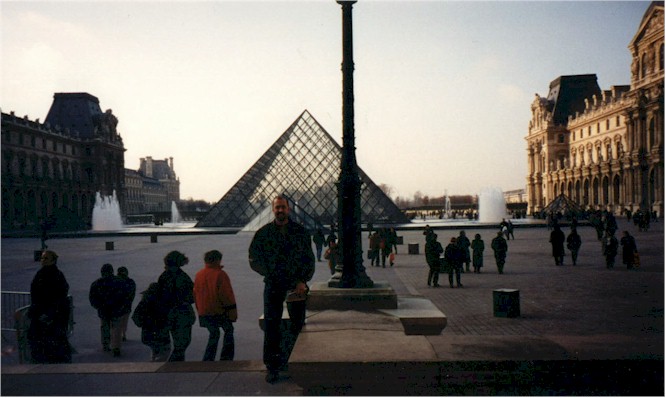 Formerly a fortress - The Louvre now contains over 300,000 works of art, including the Mona Lisa and Venus de Milo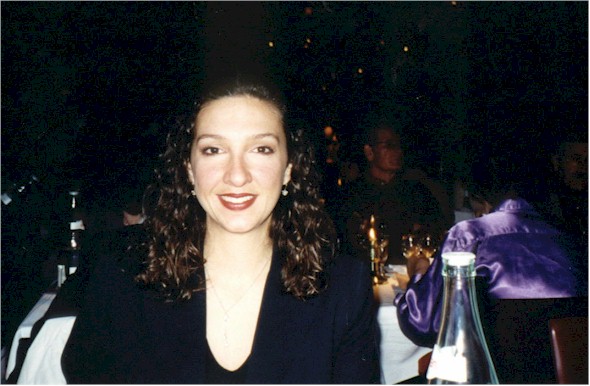 This was taken on our dinner cruise.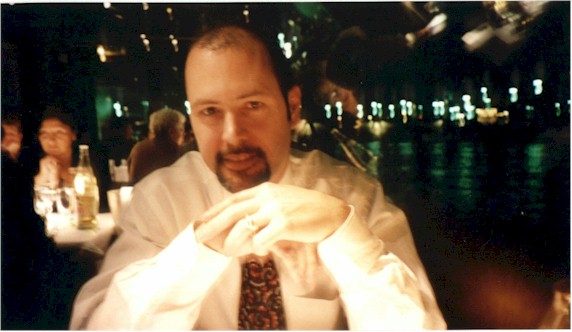 Notice the reflections and how it makes the picture a little fuzzy?
Well, that's the way I felt too - before dinner they served champagne,
a bottle of white wine with the appitiser and a bottle of red wine with the entre.
Jacqui wasn't drinking - and it WAS paid for already.....sooo.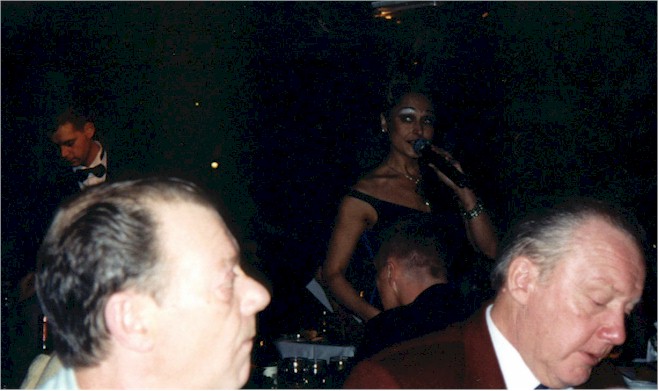 The singer from our dinner cruise - plus a couple drunk old French dudes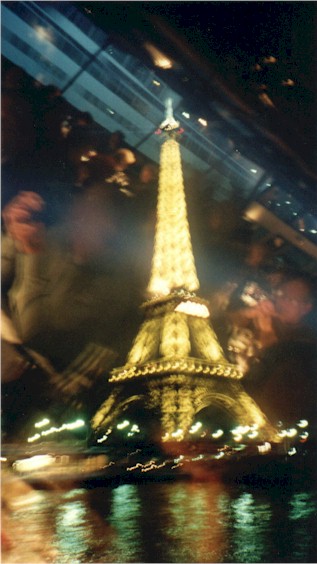 My favorite pic of them all - notice the refelctions of my dinner cruise mates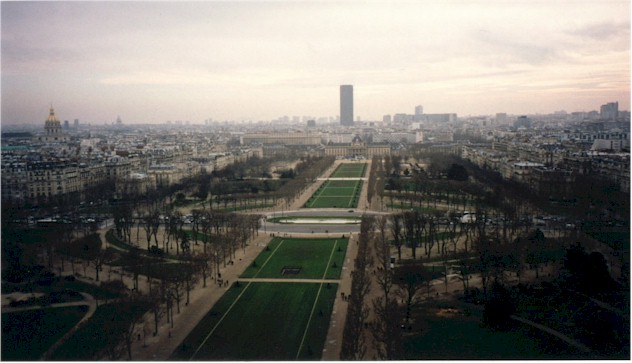 Jacqui and I begin our long climb to the top of the Eiffel tower.
The lawn leads to the Ecole Militaire - an elite Military acadamy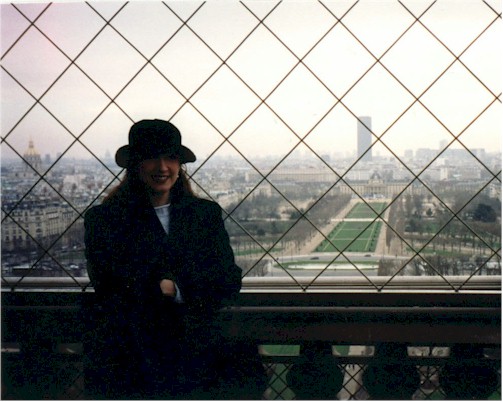 Lucky for you - we ran out of film at this point.
Once we finish the roll in the camera - I'll hog up more of your bandwidth.
---
01/17/00 8:38pm (Houston time) - 3:39am 1/18/00 (Paris time)
Today - at the date above -I returned from my trip to Paris. Accompanied, with all fine fashion and accord, by my wife. from this city so rich in history....
ok - if you made it through that understand I've been awake now for...over 20 hours.


so many incredible places.....
If only all trips could be as nice as the one I just returned from. geez....understand.....I'm really humbled for words ....seeing such history.....enjoying such luxury. Jacqui and I left Wednesday evening - and boarded one of Continental Airlines finest DC10-30's...first class. I'm thinking ...gee I could post a small pic of the dinner menue we had...but maybe later...suffice to say...1st class kicks ass! Now - let me get back to how COOL it was to see and walk through and touch these 600 year old treasures. The pic above of Notra Dame...look at the detail of the gargoyls..carved in stone so many hundred years ago
OK - I'm getting LOOPY here - so I'm gong to bed - will clean up this mess later....and post more pics from Paris...might even spot Jacqui or me in one of them.
---
01/10/00 5:31pm
My 3rd post of the NEW MILLENNIUM!! A NEW CENTURY!! I don't know about you - but has the magic worn off? Do you think all the 'millennium' hype was overblown? I mean - it's just another date on a calendar. There have been many calendars over the ages of man - so why should Y2K on this Christian calendar be so special? My opinion is - if it IS special in any way - it's not the date or the name given to the date ...but it's how for the first time the world watched a new day come with a sense of wonder - with a slight fear of the unknown. A sense of standing at a point in man's history that was pivotal. For some anyway, a wonder at man's accomplishments in just a few hundred years.
Wow, where did that come from? Well, anyway - enough rambling - get on with it. This past weekend was the GIB-O-RAMA! I'm gonna spare this space and post all that crap on the Quake page. Oh, ok - one sneak peak.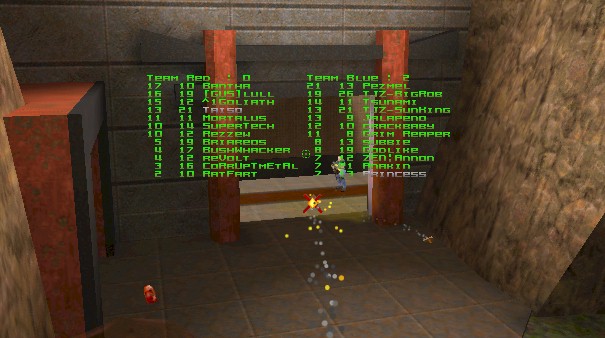 ---
01/06/00 10:54pm
I've been playing around with my new scanner. I'm so stupid sometimes - when I first scanned some images I thought "gee - the picture quality is not very good". Guess I should have read the directions - cause when I finally figured out how to change the resolution from 100 to 600 DPI - I was like - DUH - of course! Man - the level of detail that you can capture at 600 DPI is amazing. The pic below of Jacqui and I at our company x-mas party is posted at 200 DPI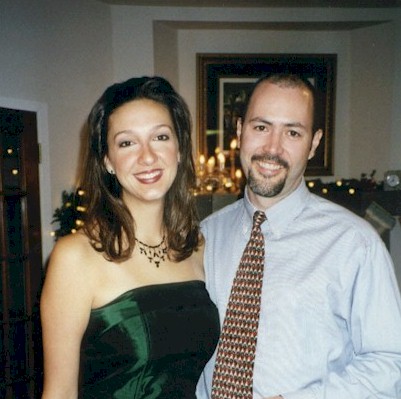 I sure do love the green dress Jacqui wore that night
---
01/03/00 6:44pm
PHHEEEEWWWW!!! Looks like I made it through the Holidaze in one piece. How 'bout you? Was Santa good to you this year? OK - here we go...I've got a lot to cover, so this will be a very 'free form' ramble kinda post - don't gripe about the grammar!
As you can see from the home page, I've FINALLY received my copy of Q3. Here's what happened - when Jac asked what I wanted for X-mas 1st thing out of my mouth was "QUAKE THREE". Well, when the game hit the shelves (a couple weeks before x-mas) I was dying to get my copy - and start playing. Of course - Jac then tells me "but my mom has already bought you Q3 - can't you wait?" Being the WONDERFUL husband I am, I said "of course honey, anything for you my dear" or something like that...maybe more like "damnit! You're kidding right? Awww crap."
Anyway, I decided to suck it up and wait until Dec 25 when, on that morning I could tear open my copy of Q3. Well, a day or so before x-mas I learn that we aren't exchanging gifts with Jacqui's mom until JANUARY 2! Another WEEK of waiting.....keep in mind the next big Gib-O-Rama LAN party is scheduled for Jan 8. And all the talk on the Gib and Clan message boards is about the awesome Q3 maps - the bots - the weapons. Finally, IT IS HERE. I will conquer you ALL!!
Isn't that a cheery way to begin my Christmas/New Years post? Ok - well....here's the run down...spent x-mas here with the folks (think I mentioned that already). We had the 'Berryman' x-mas party on the afternoon of the 24th this year. Aunt Mary hosted (again?)....and it was TEX-MEX - Yummm!! It is interesting to note that, as I get older I appreciate the time with family more. So shout-outs to Aunt Mary&Uncle Dave, David&Julie (little Tanner), John&Shelly (little Noah), Joe&Claire, Mary Louise&Richard (I give special treatment to those that have visited my page), Brian&Gretchen, Chad, W.O.Berryman Sr. (Hi Dad!), Mom (she visits the site - but Dad 'drives' so he gets the credit)..my big (but shorter) brother Bill&Ilonka (little Trey), Robert Jr., Colleen......I know I'm missing someone, if I left you out or spelled someone's name wrong - please let me know so I can fix it.
So the next day was Christmas. Here is a picture taken that morning. From left to right - little Trey, Ilonka, the much shorter Bill, Jacqui and me.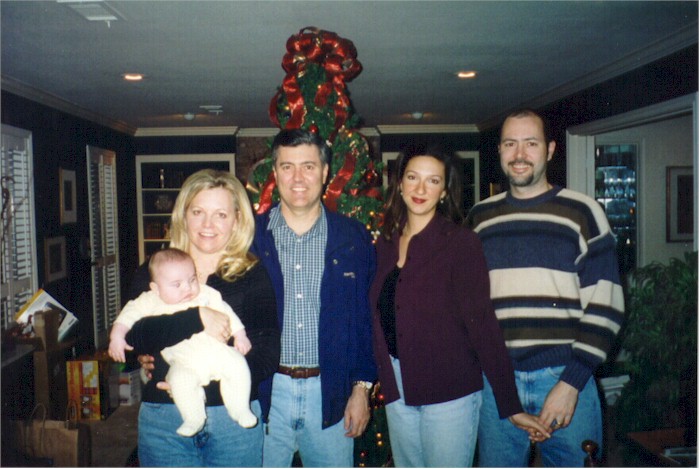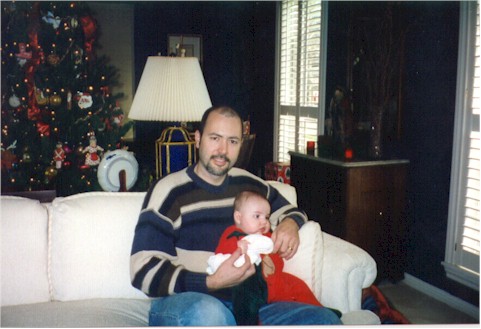 Me and little Trey. Look at those baby cheeks!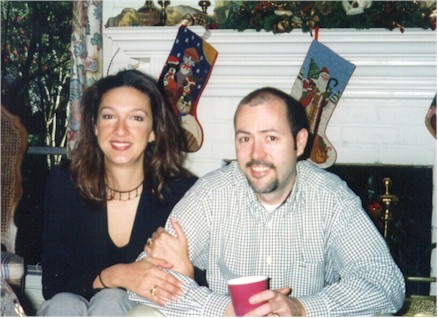 Jacqui and I
I don't have nearly as many x-mas and New Years pictures as I'd like. Do YOU have any? If you've got some good Holiday pics - send 'em my way!
---