Double B Ranch - January through April 2023

As I type this, it's Friday, April 14. Last weekend was Easter, and Jacqui enjoyed a trip to the ranch. I try to go every other weekend, but it's harder for Jacqui to get away (or so she tells me), so it's a treat for me when she does. What's been going on at the Double B Ranch? For the most part, I've been working to finish the dipping pool deck. Of course, I always make time to sit in the deer blinds. For my agricultural tax exemption I document the White Tail and take out any feral hogs. The hogs are terrible, they destroy the natural environment, steal resources from native species, and will even kill smaller animals like White Tail fawn. For those and other reasons, the State of Texas encourages eliminating them - and it does make for some fun hunting.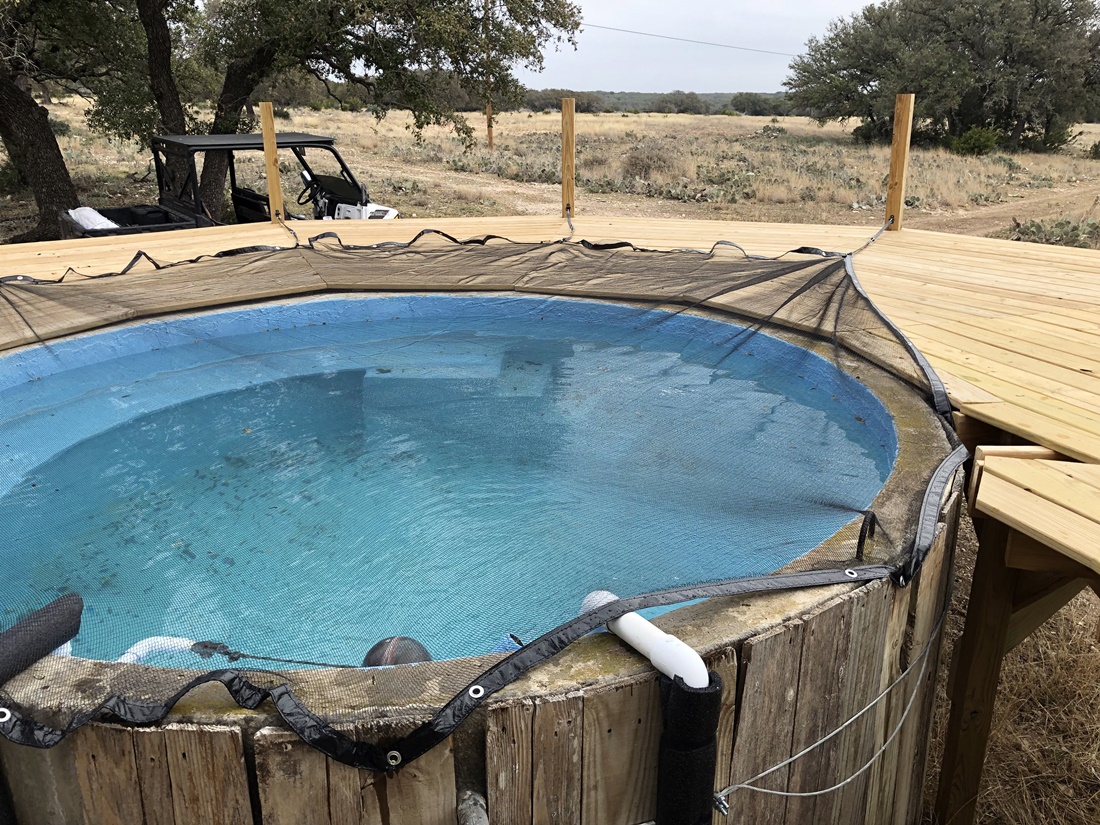 I put a temporary leaf cover over the dipping pool - not sure how the finished product will look, but this works for now.
DISCLAIMER: Picture of dead hog below - leave now if that offends you.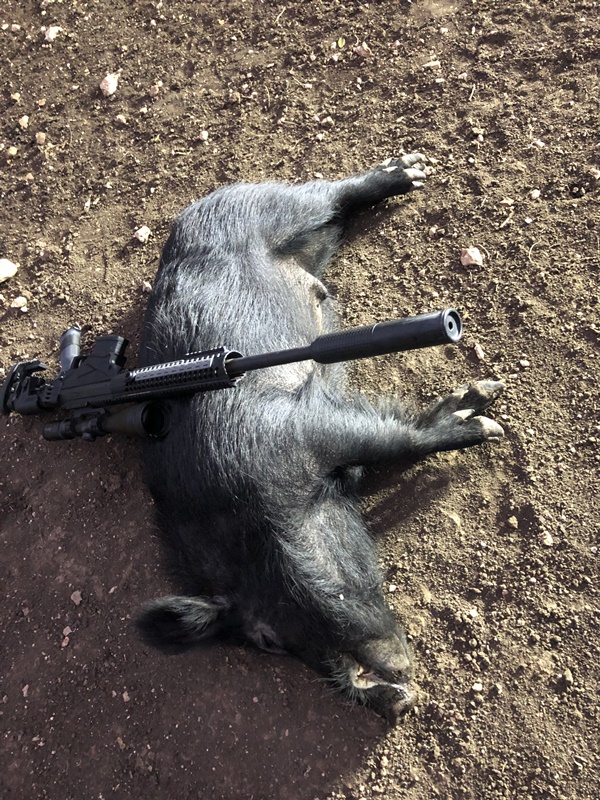 1st hog killed this year - guy was easily 100lbs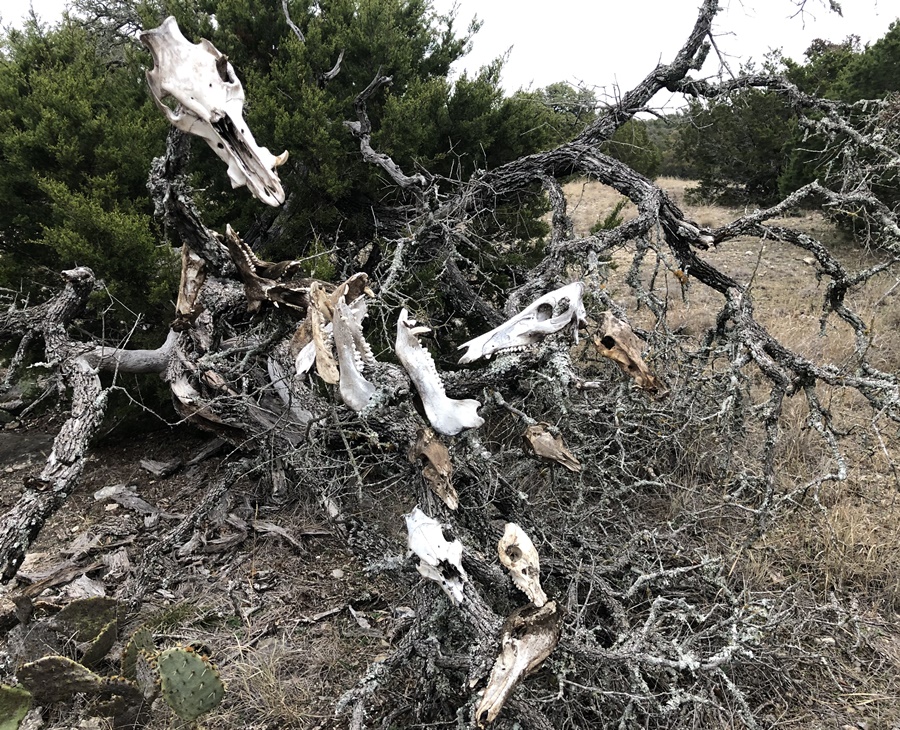 Using the Polaris, I drag the dead hogs far away.
If the coyotes don't take them, I'll return later and collect the skulls for my hog trophy tree.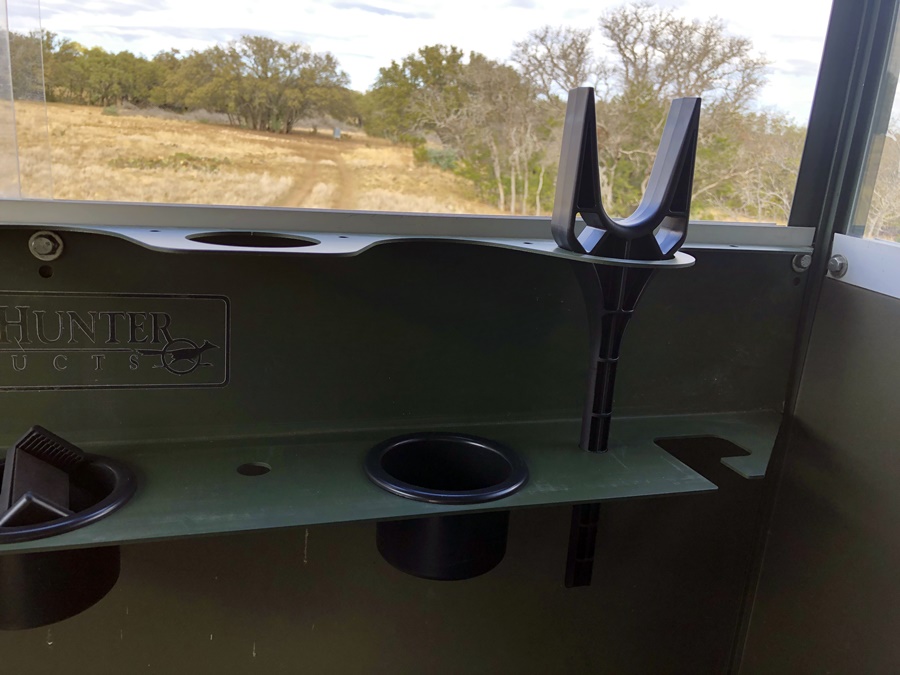 A Christmas gift - this cool cup holder/gun mount for one of my deer blinds.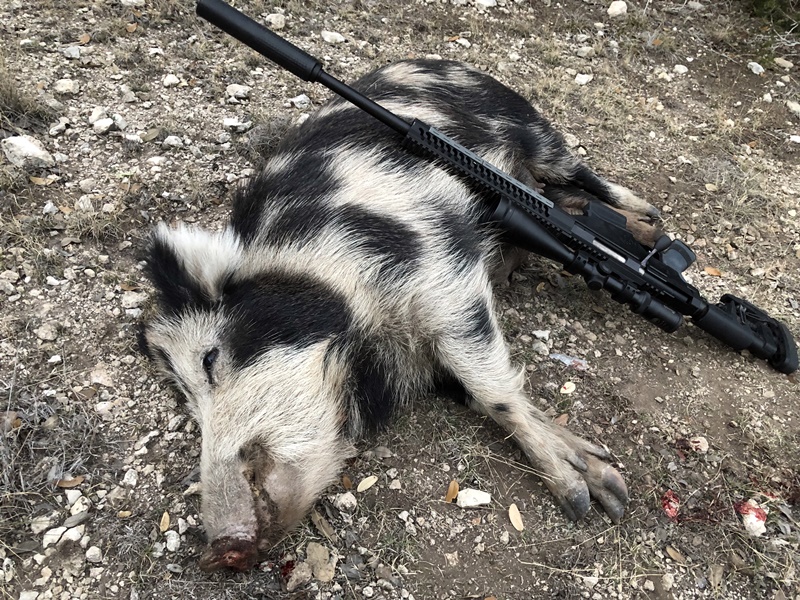 ...and another one bites the dust.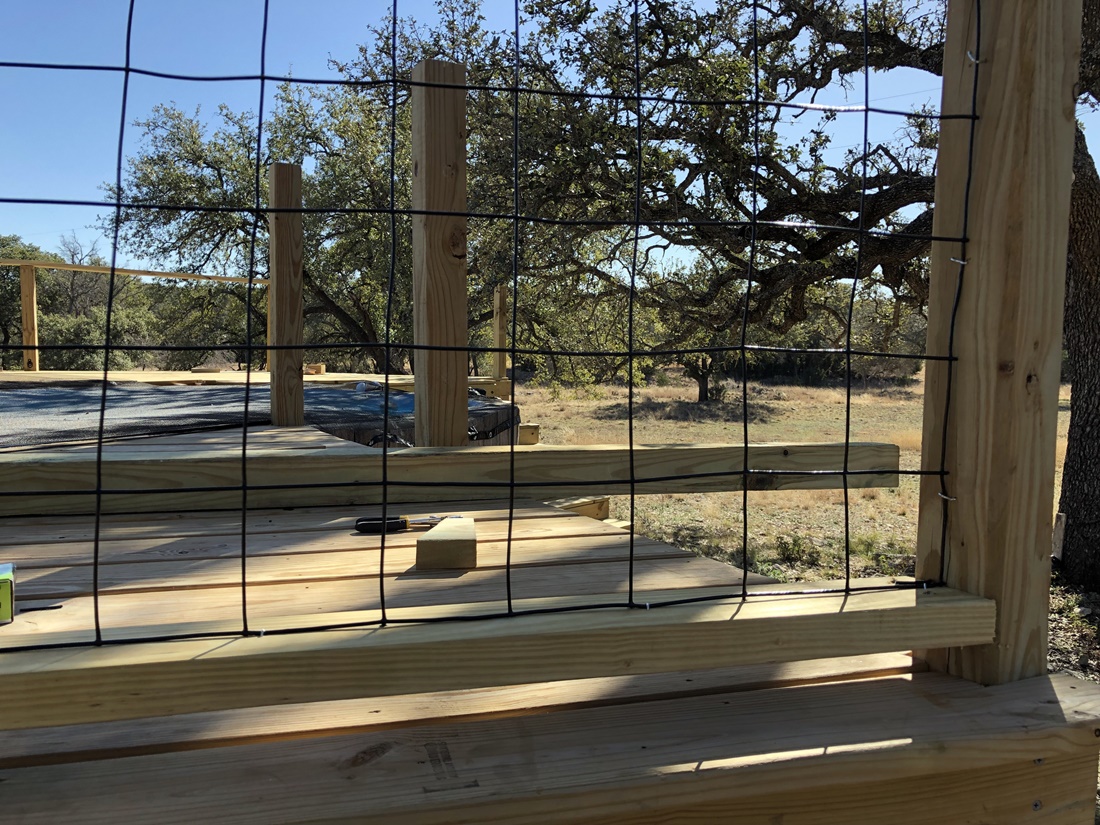 This was a failed test of how I was going to build the railing - adding the wire one section at a time WITHIN the frame..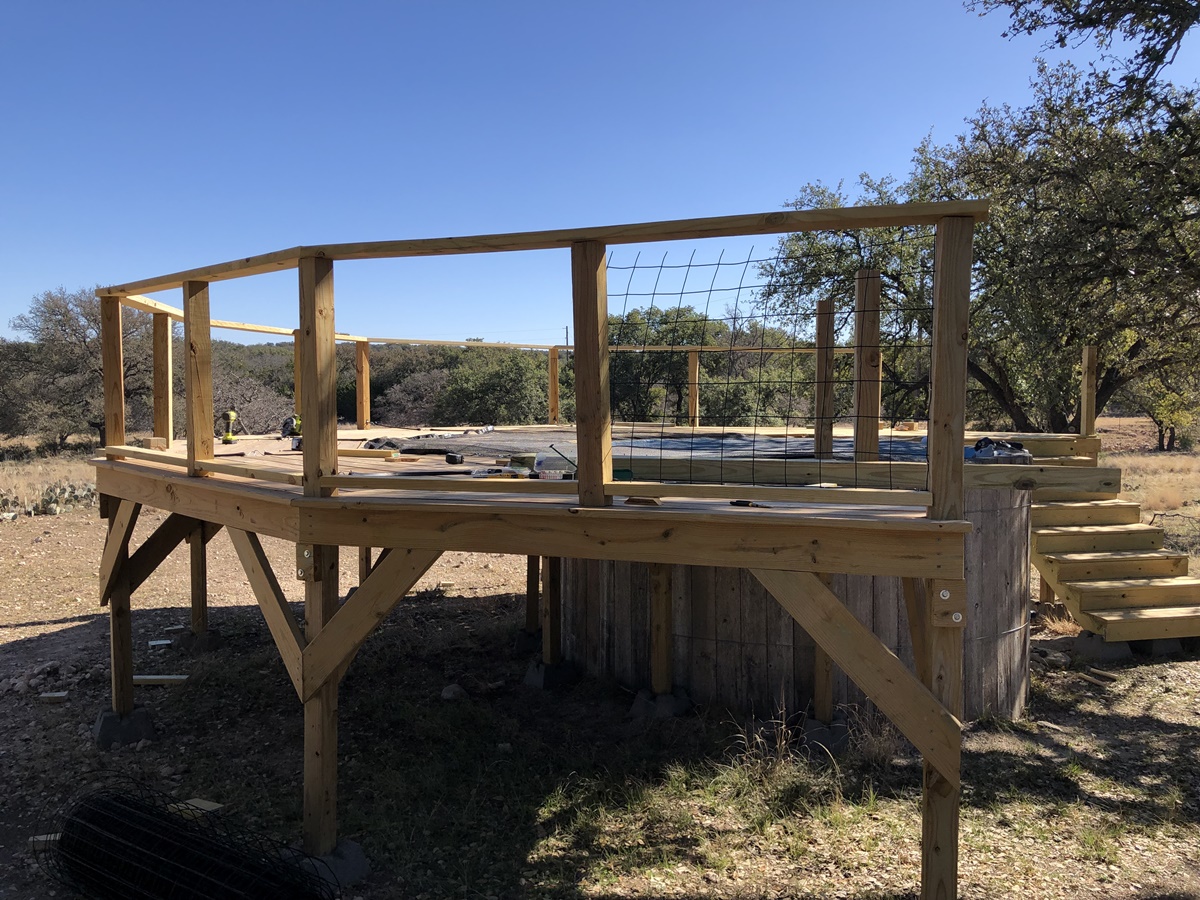 It ended up being way too tedious and would have taken way too long.
Instead of doing each section within the frame, I just wrapped the wire the entire length around the outside of the frame.
Not only did it work better, it probably saved me several days of work.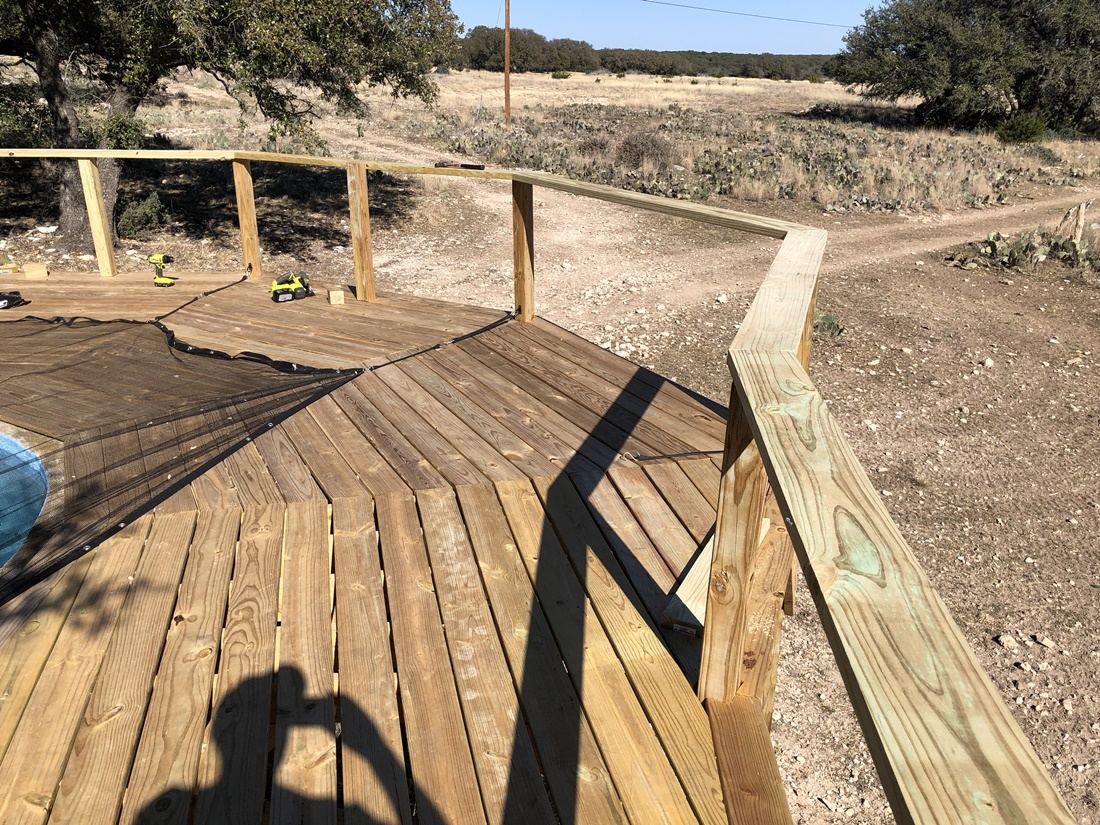 Now that I've decided how to build the railing, I still had to actually build it.
Here I'm adding middle 4x4 posts between the main supports.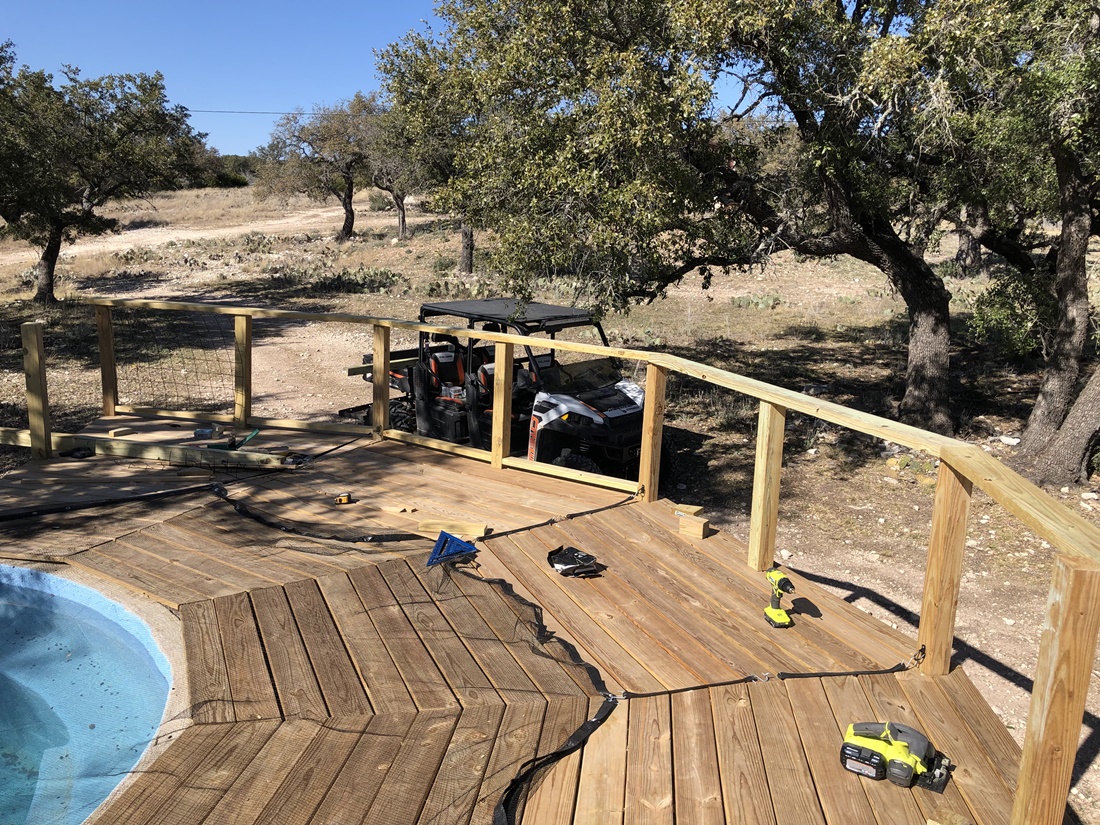 Once all the 4x4 posts are installed, I had to build the frame for the wire.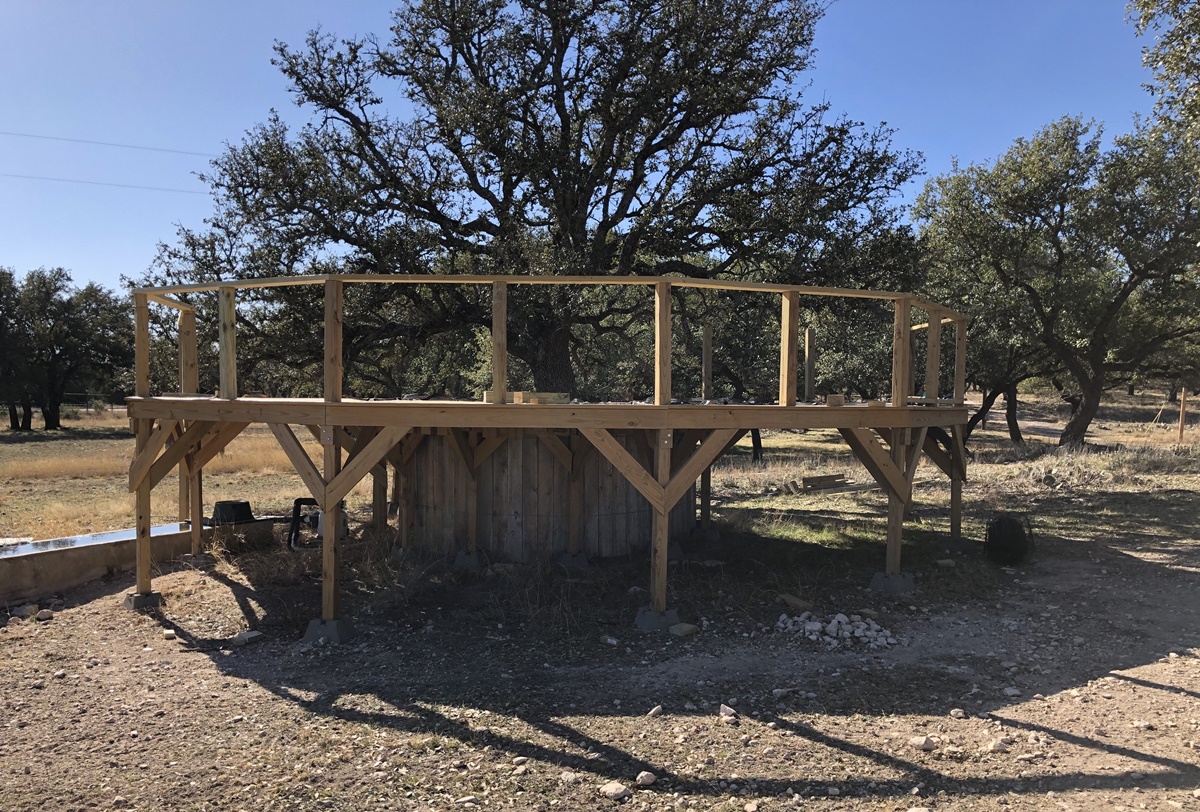 Looking good so far!

I remember this early morning in the blind.
It was 28 degrees, and the windows were so frozen they would not open - I had to remove one instead.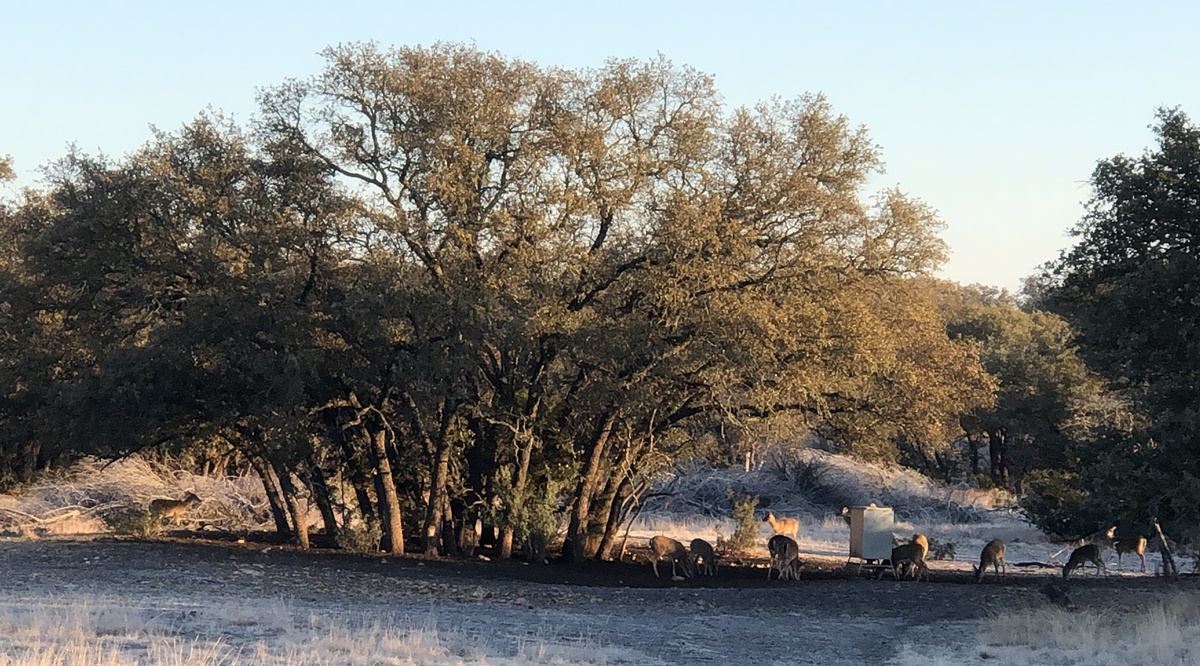 Despite the cold, there were plenty of deer.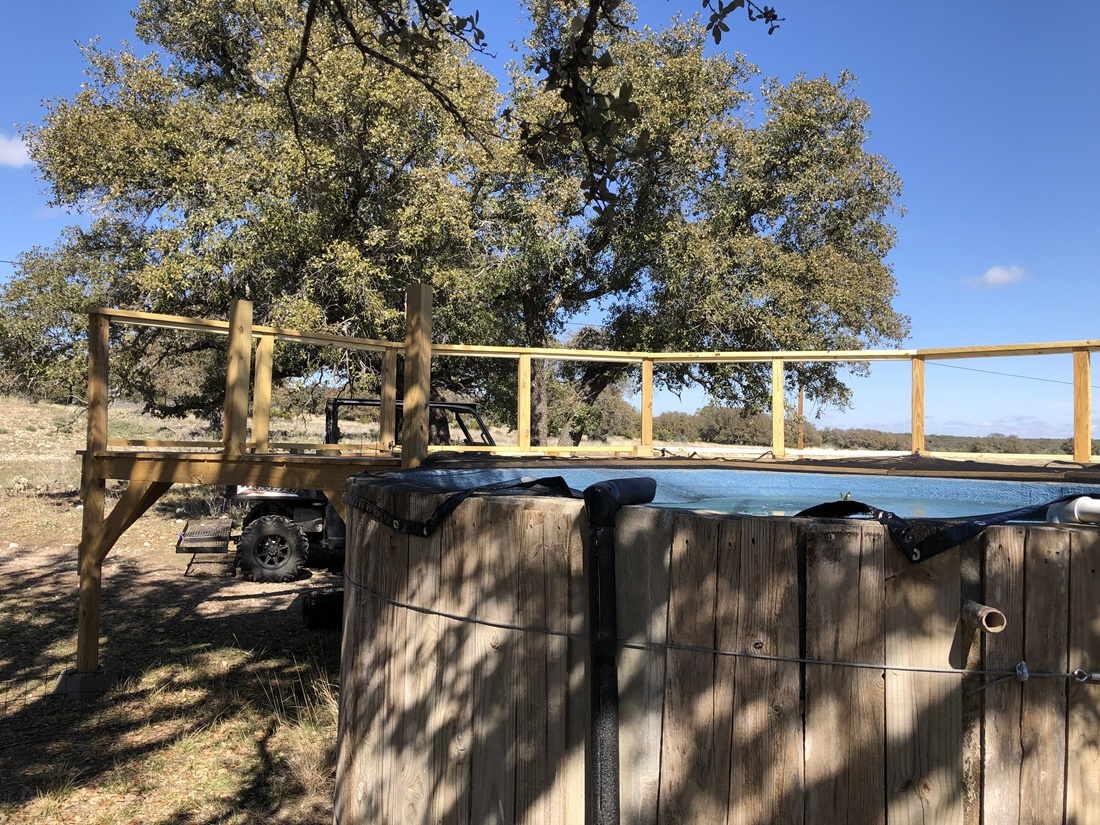 ...still working on the railing.
You can see I'm adding a 2x4 under the 2x6 rail to form the top of the wire frame.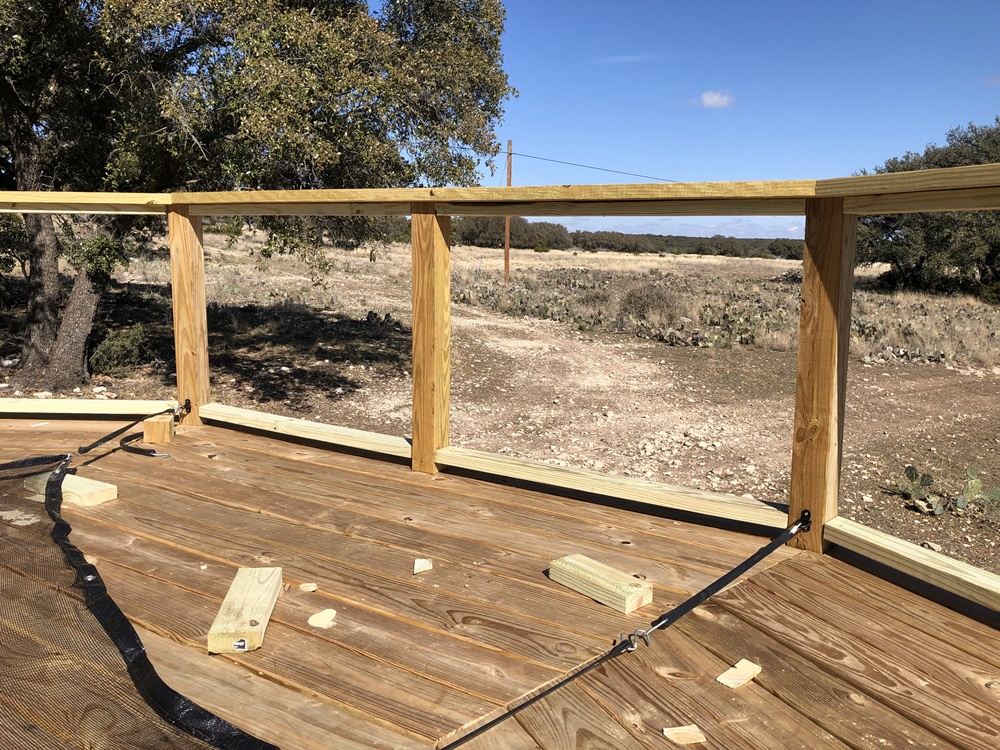 Nothing is square, and most everything is at a different angle, so it was a bit tricky.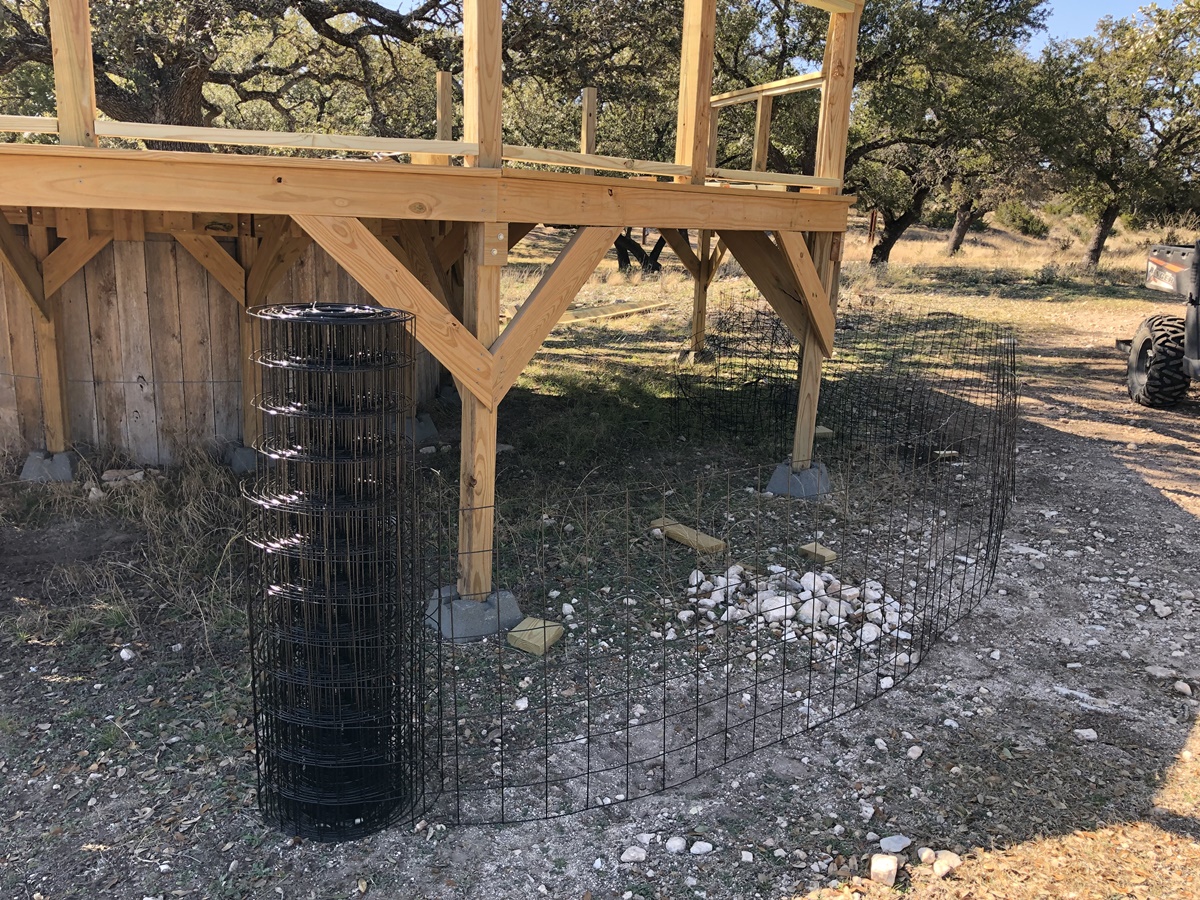 OK - I'm ready to put up some wire!
First, I had to cut it down to the right size, then lifted it up and tacked it into place.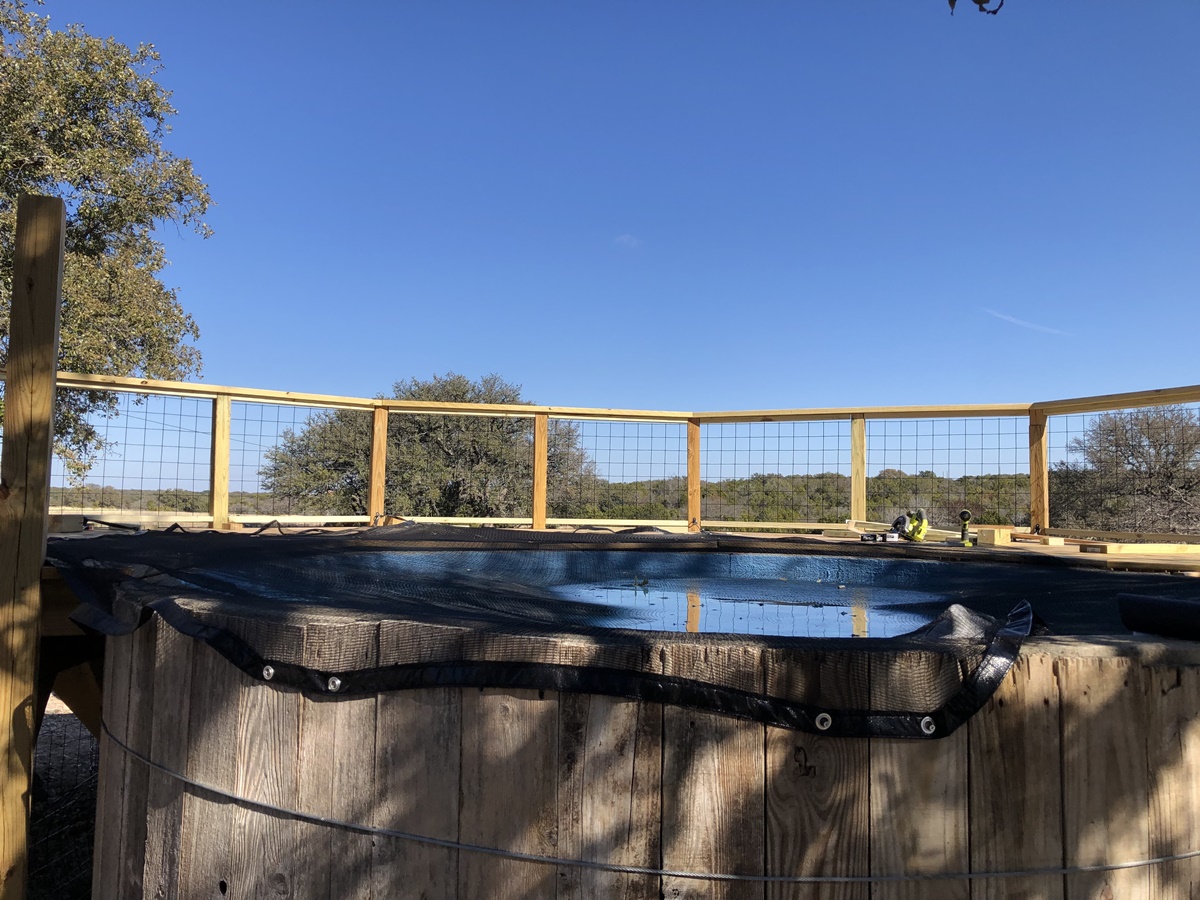 BOOM!!
I think that looks pretty damn good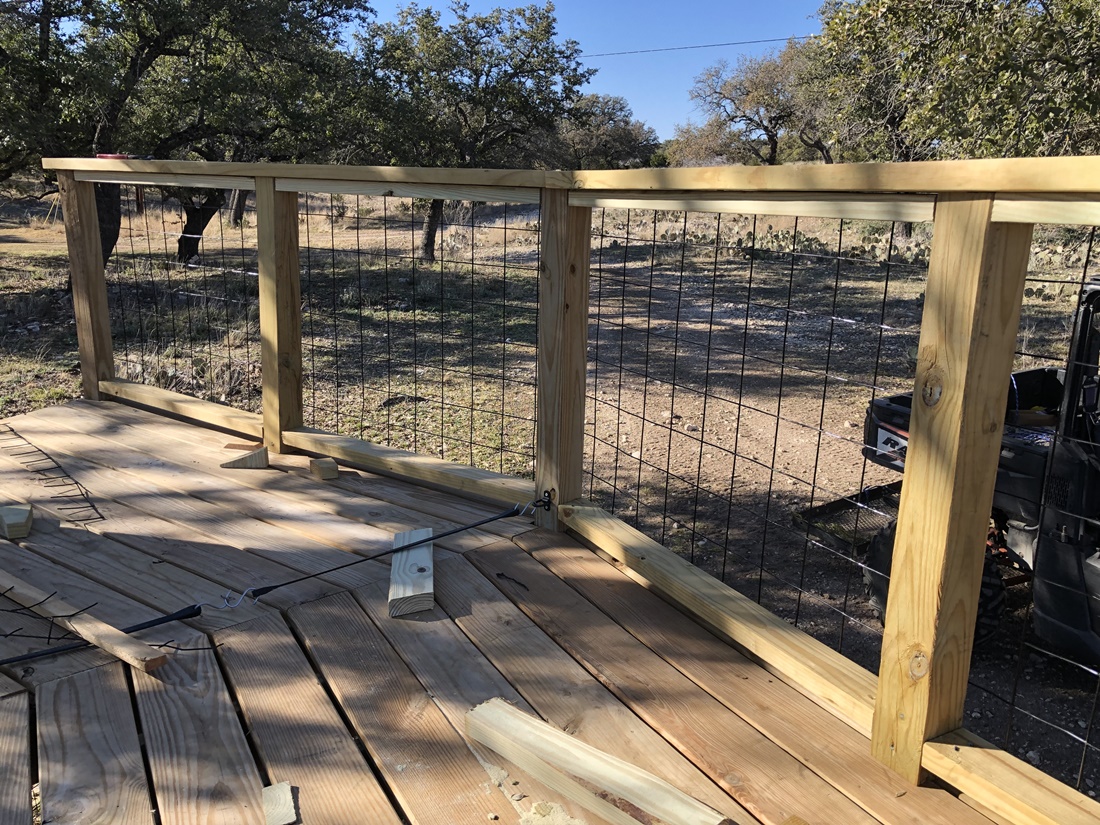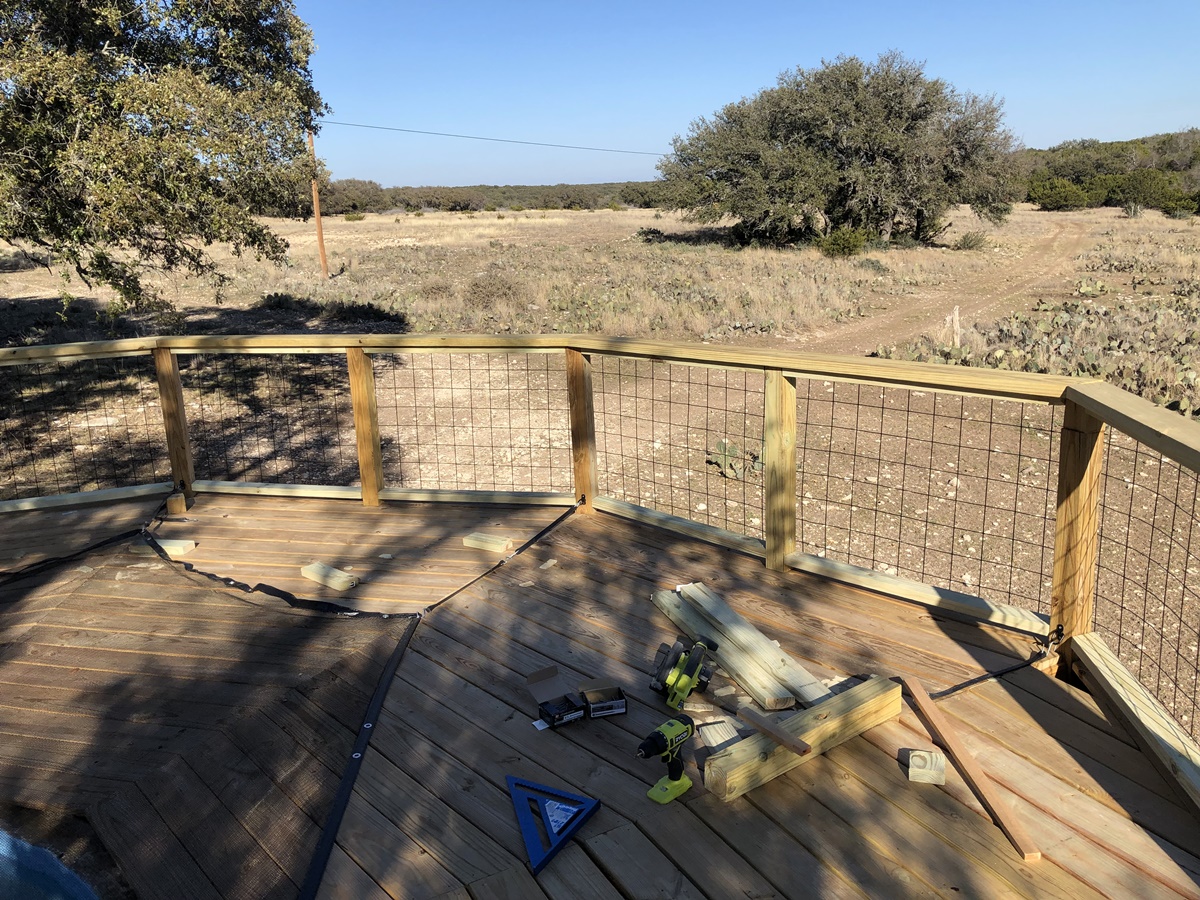 Allright allright allright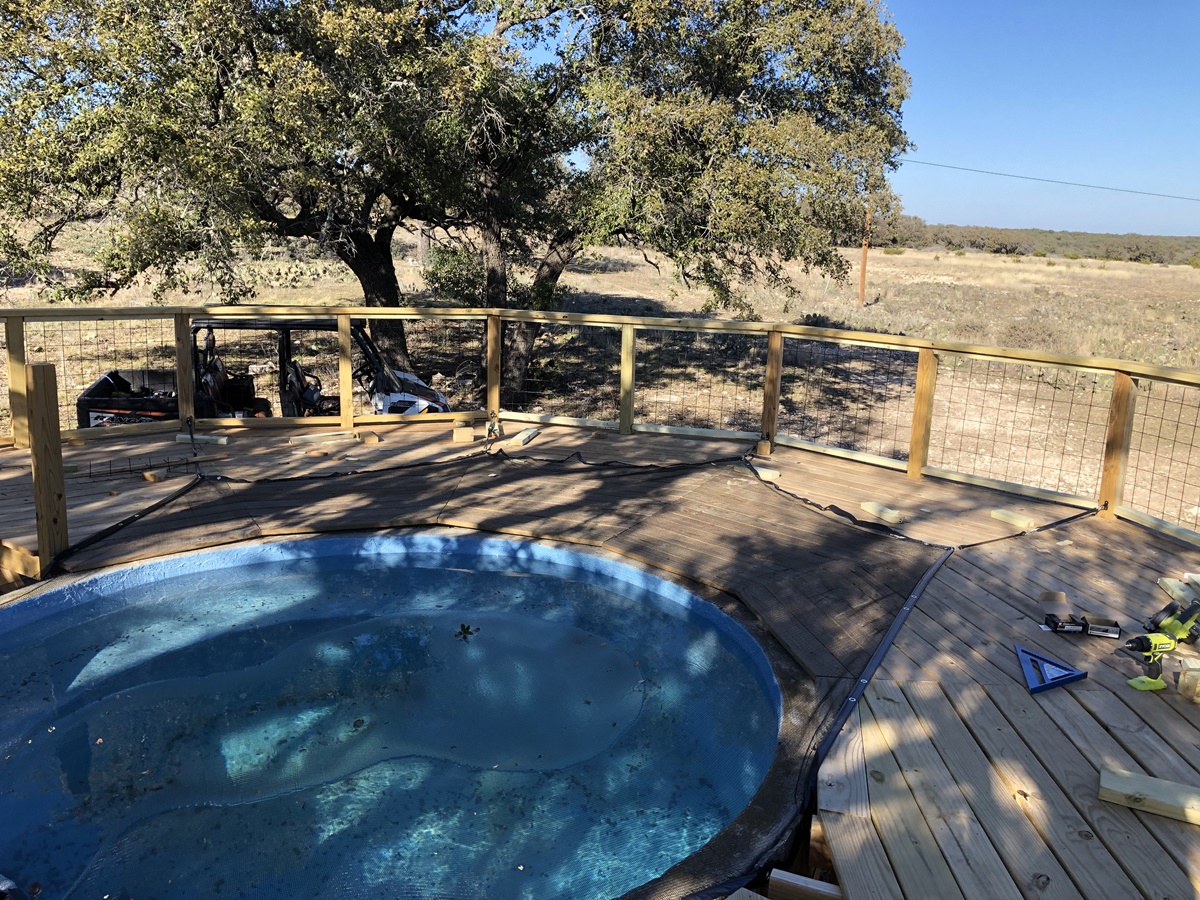 If it wasn't so cold I'd jump right in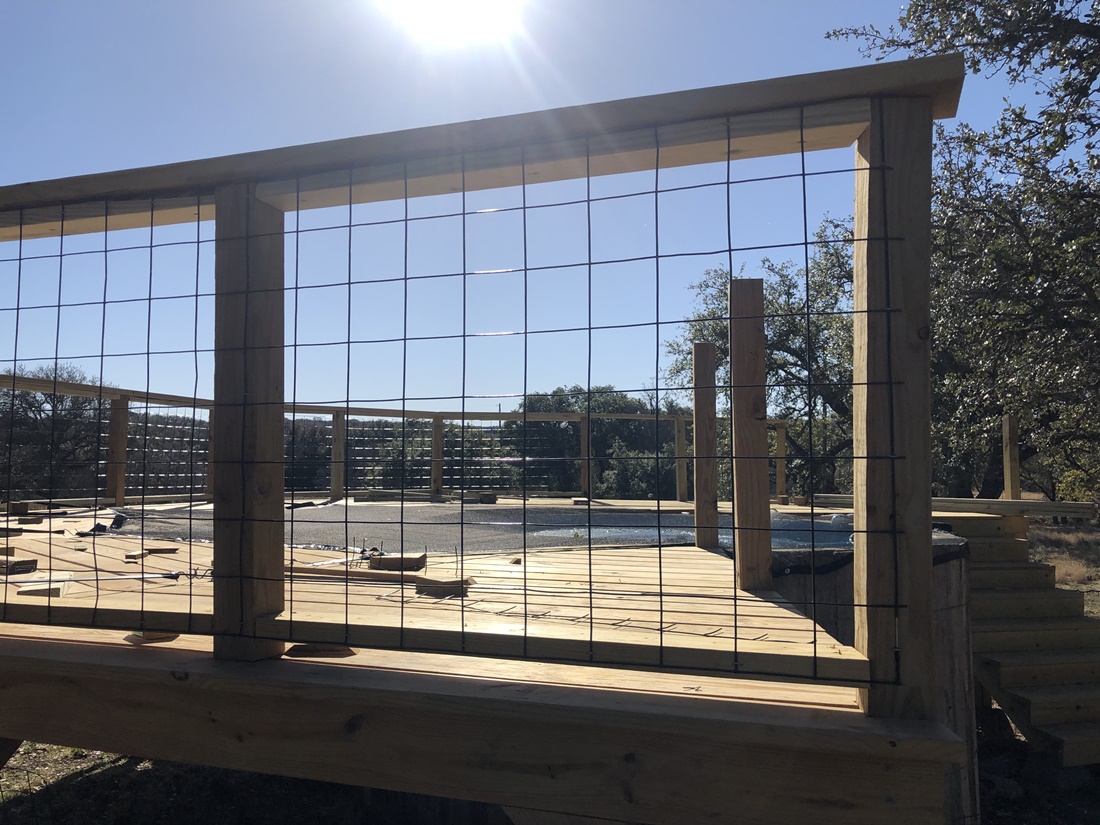 You can see how I mounted the wire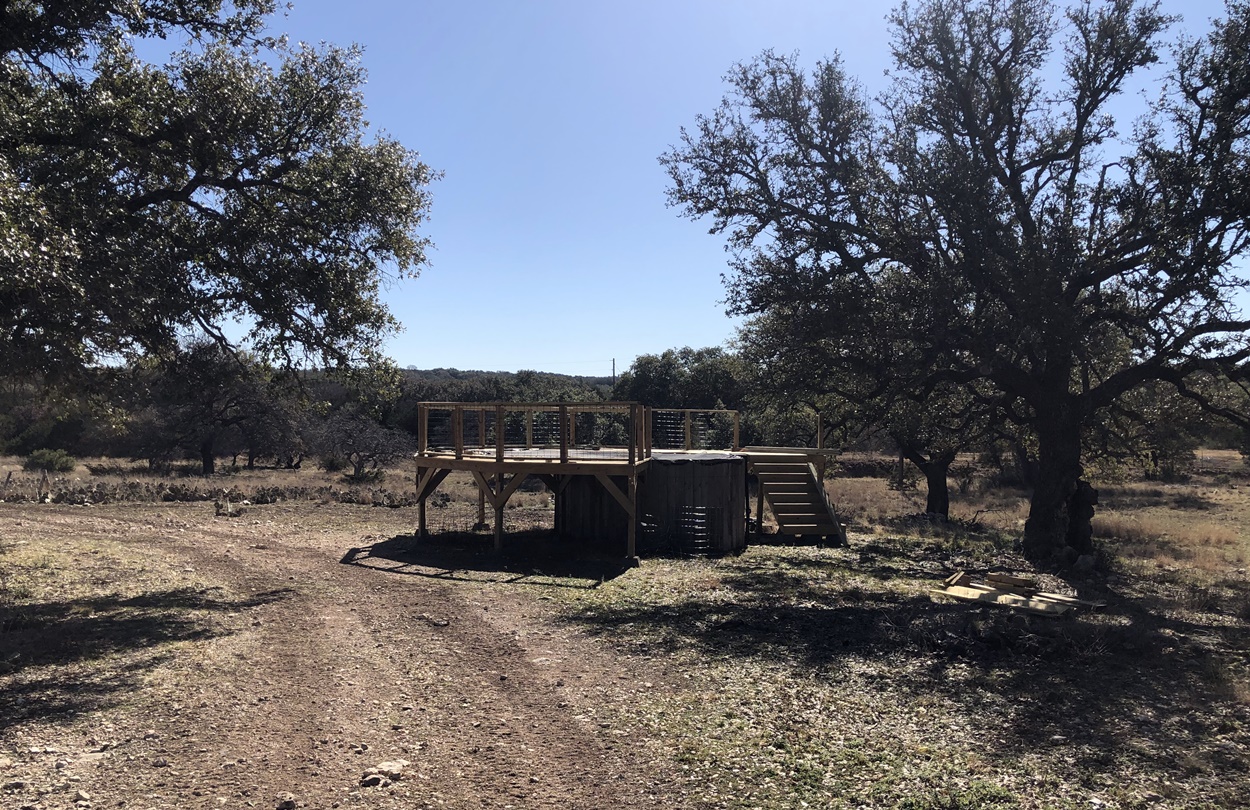 Yep, I'm almost done...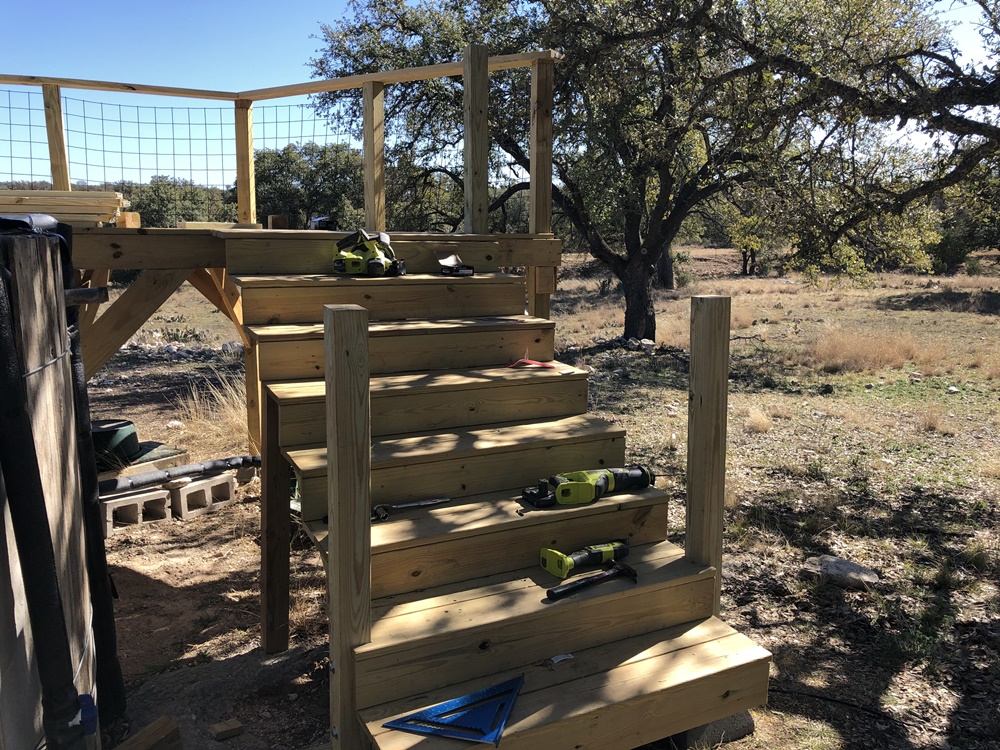 ...but still have this part to do.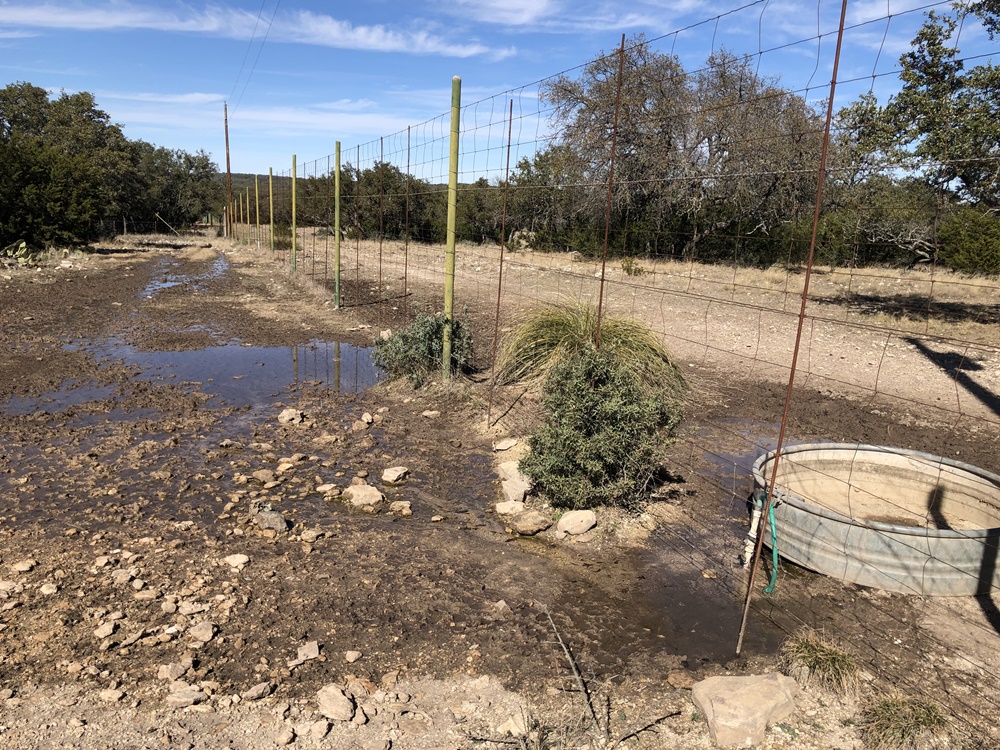 While riding around the property, I found my neighbors watering trough was leaking.
While I appreciate any water, I did let him know so he could fix it.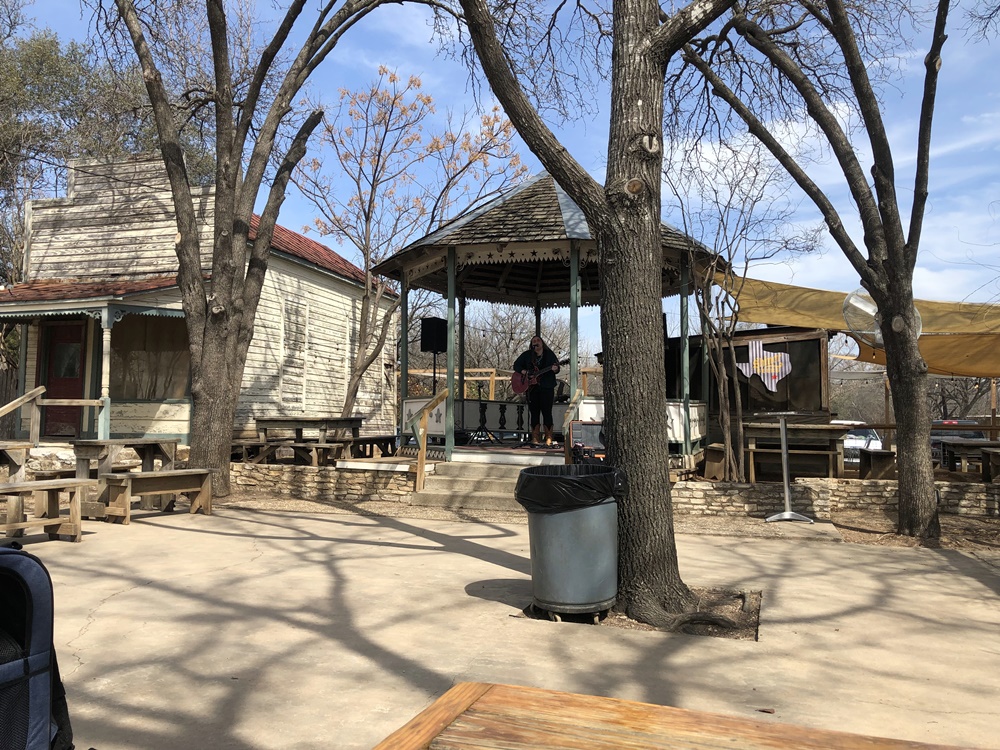 Oh - and I met Lauren and Trey at Hondo's in Fredericksburg
Trey picked up his deer meat, and we enjoyed a nice lunch.
I was pretty sure we took a selfie together...but I can't find it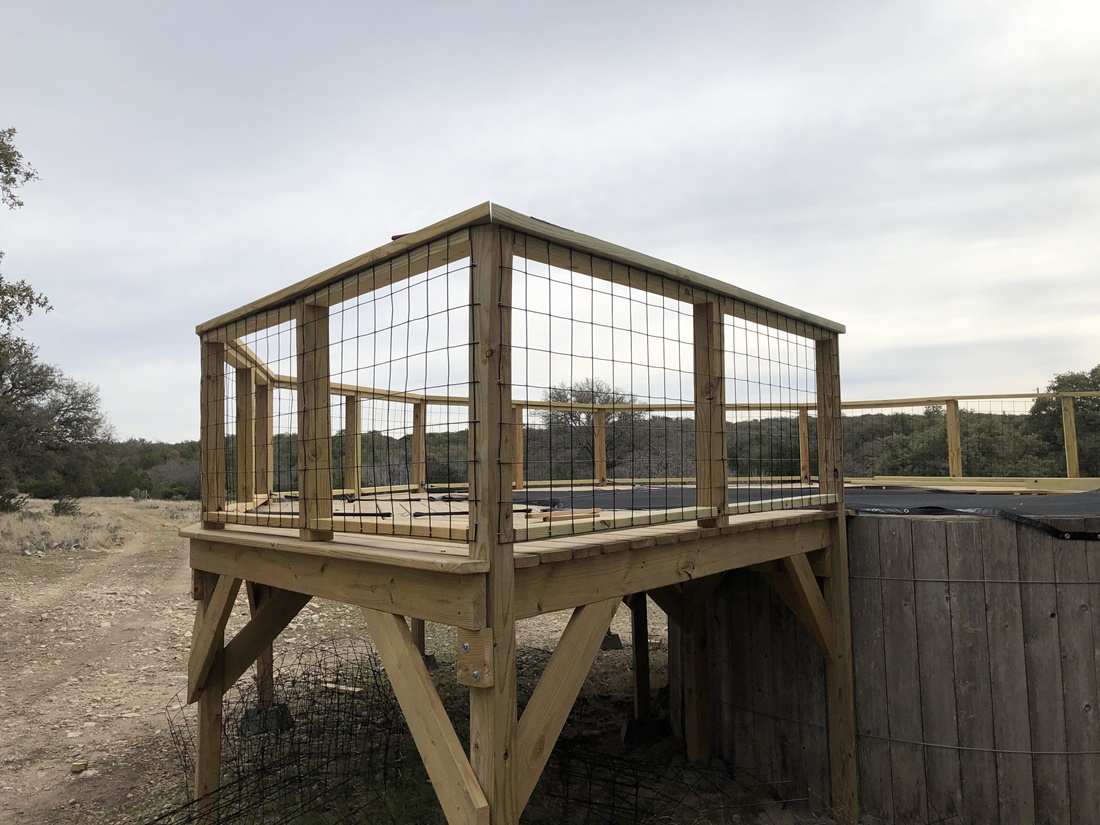 Back at the deck, I finished this corner.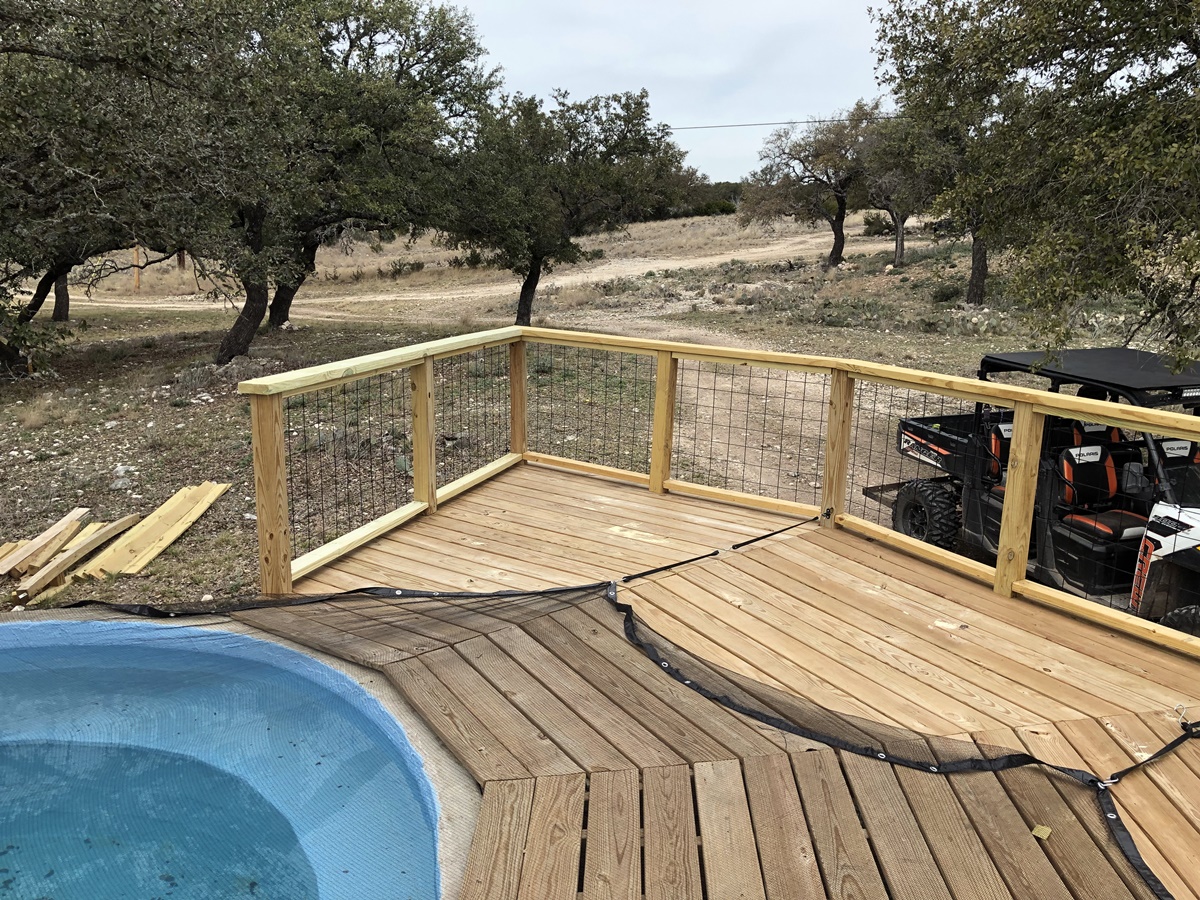 Yep - there it is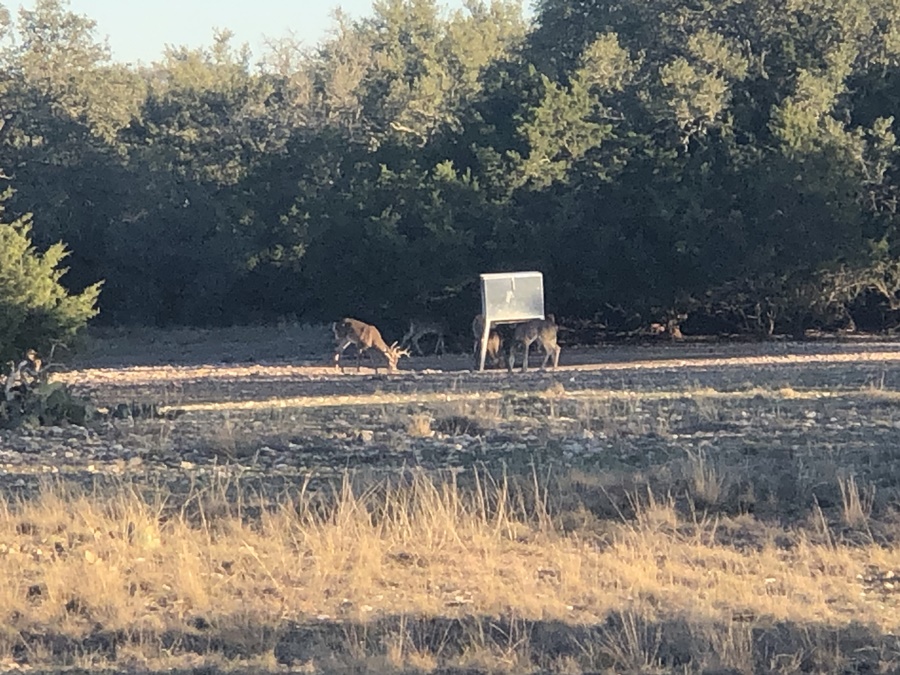 At this point in the year (late February) the deer start to shed their antlers.
This was the last eight point I saw in early 2023
CLICK HERE TO SEE VIDEO OF THE EIGHT POINT BUCK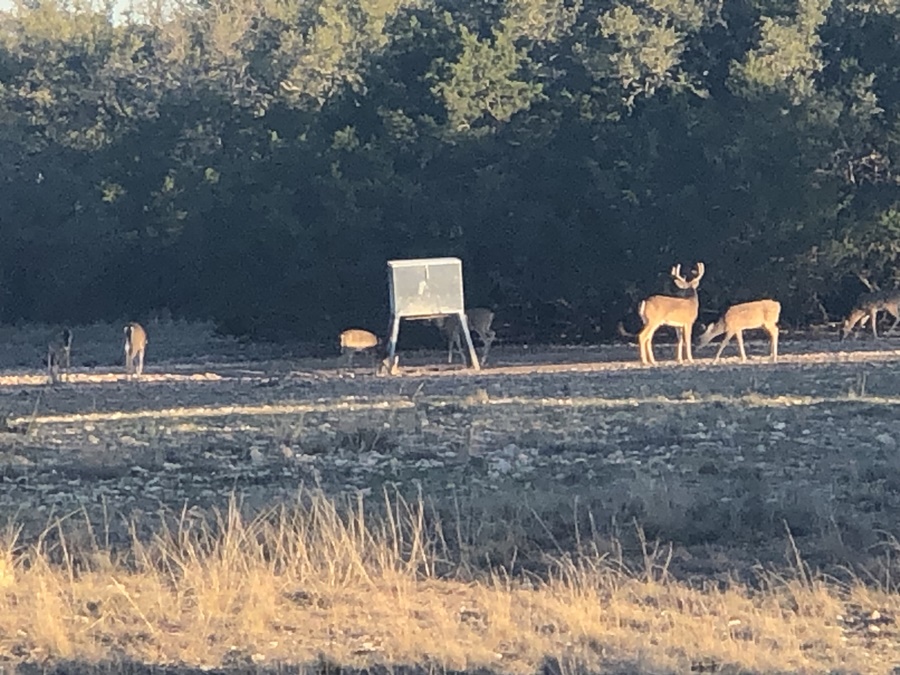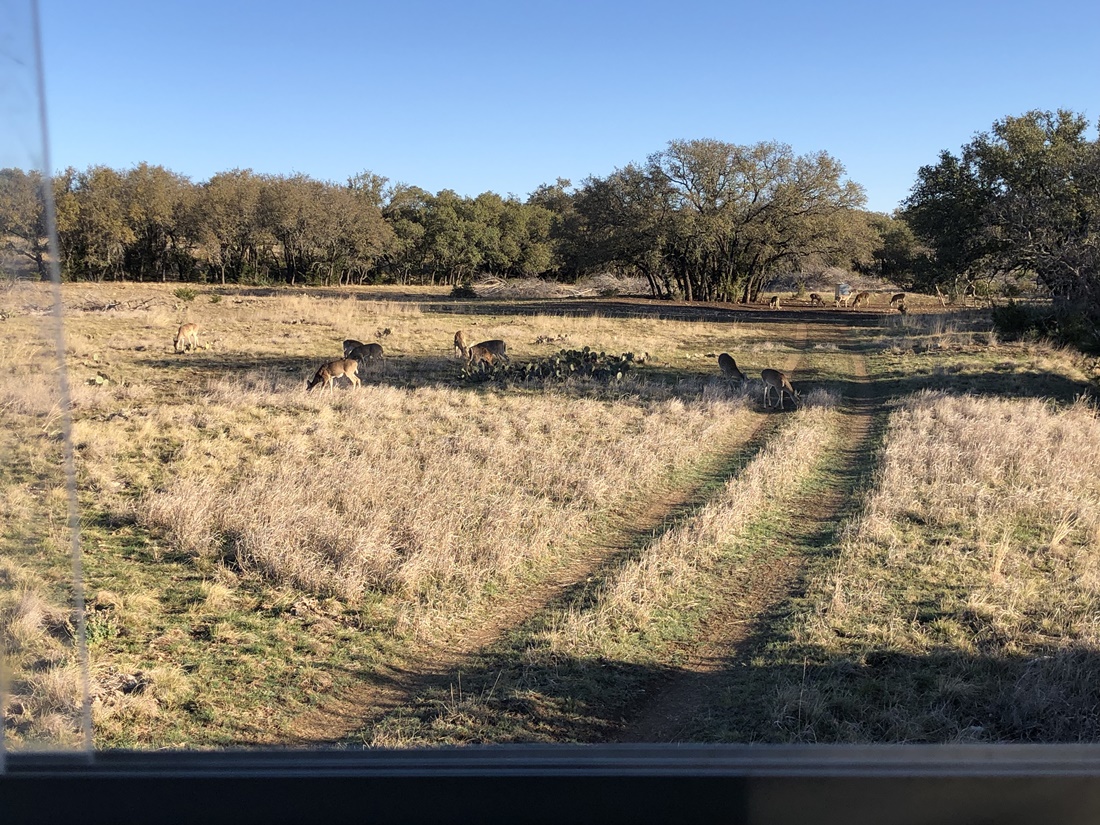 It's neat when the deer get so close
CLICK HERE TO SEE VIDEO OF THE DEER GETTING REALLY CLOSE!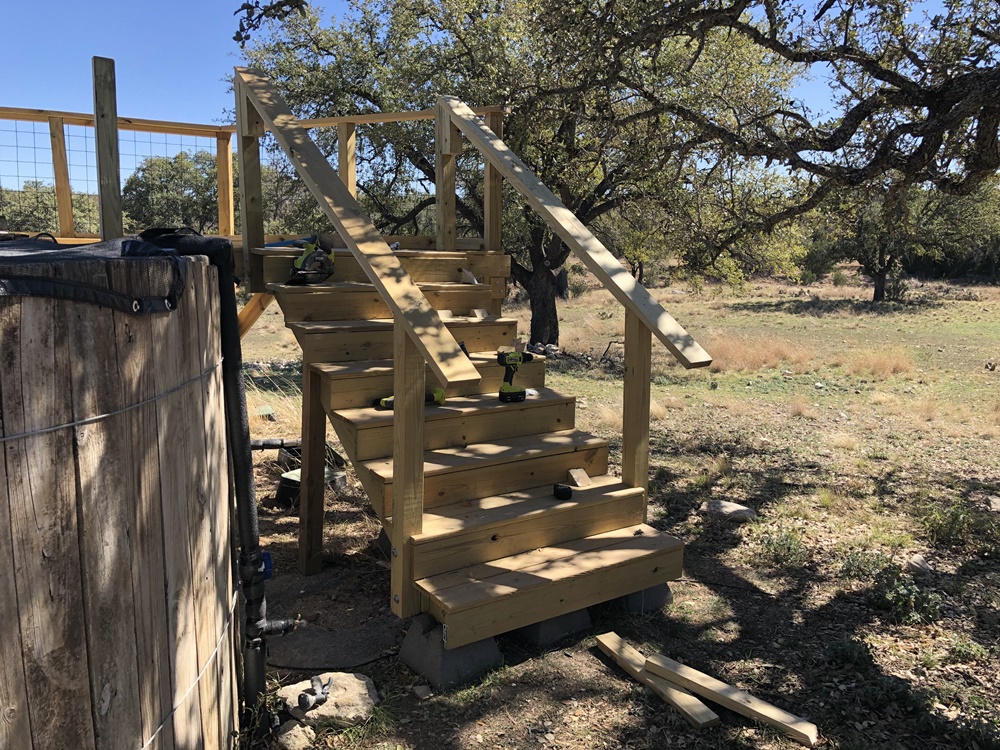 OK - back to the deck now - time to finish the stairs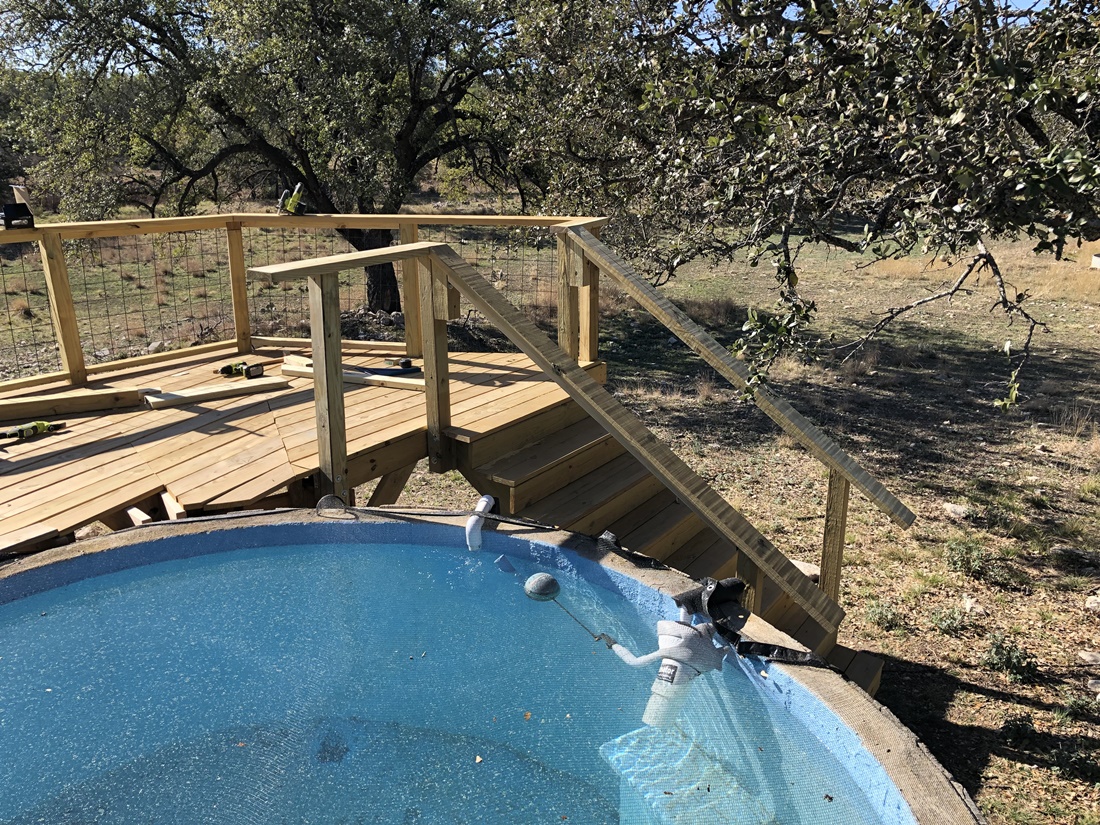 So close to being done!
I've been working on this dipping pool project since the end of 2021 - and I'm ready to be FINISHED
!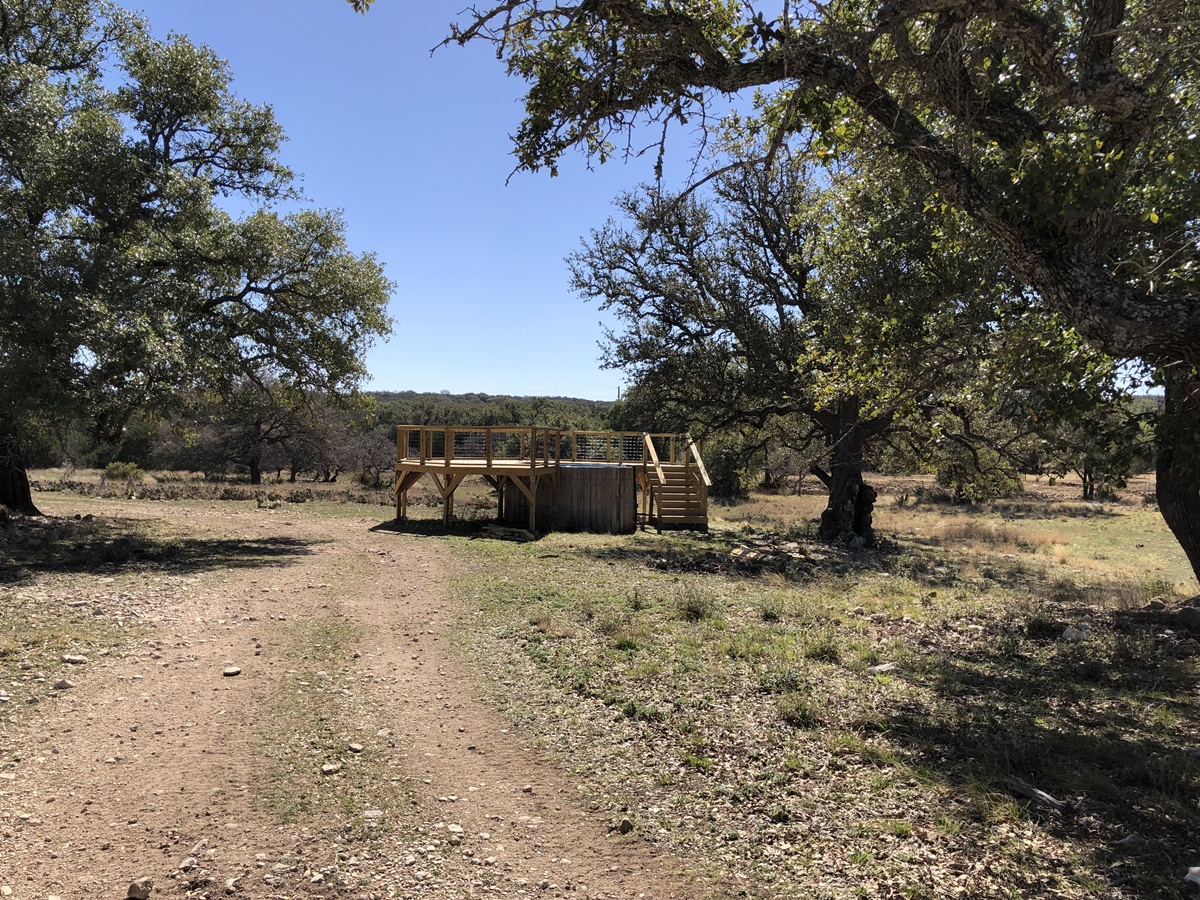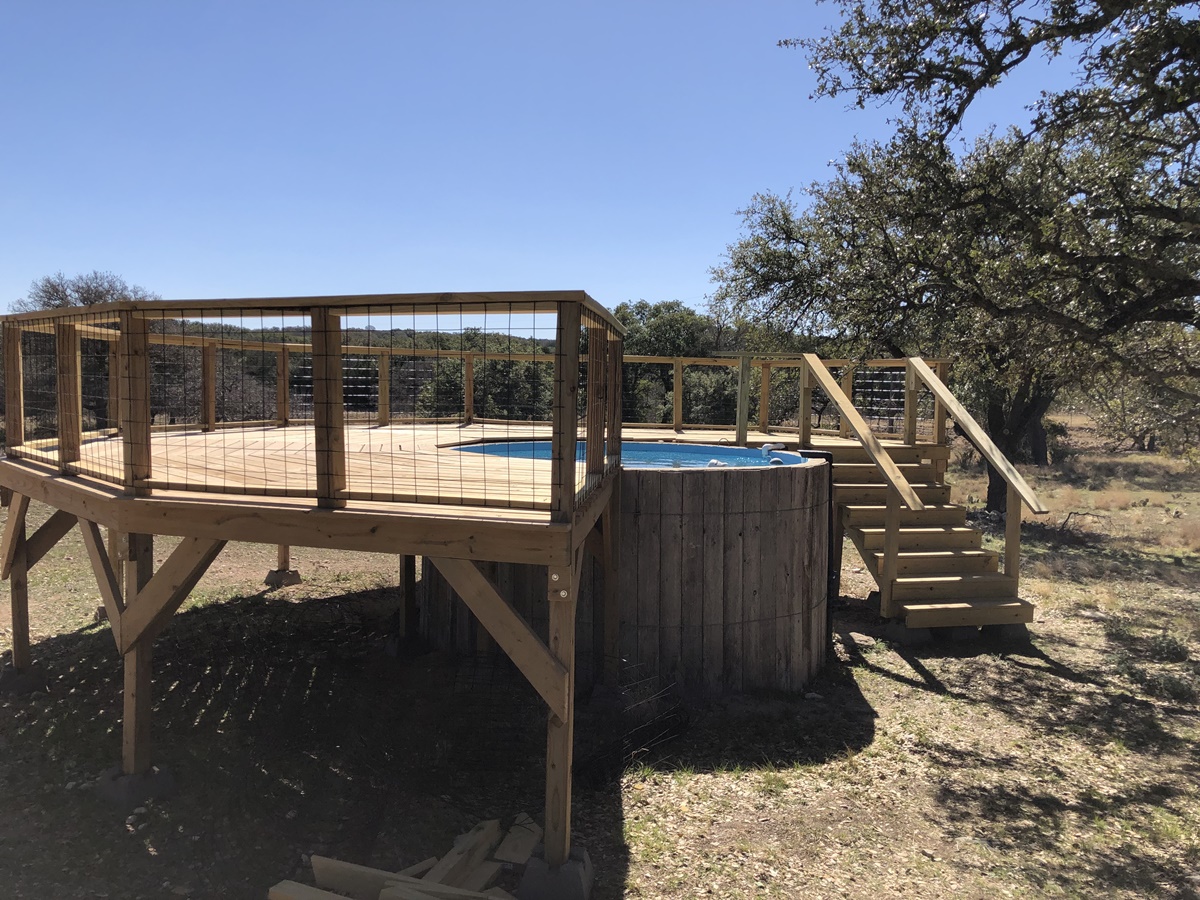 Structurally, I'm about 99% done.
It still needs to be stained, and I plan to put down some astro turf between the road and the steps.


We are going to have some pool parties at the Double B Ranch!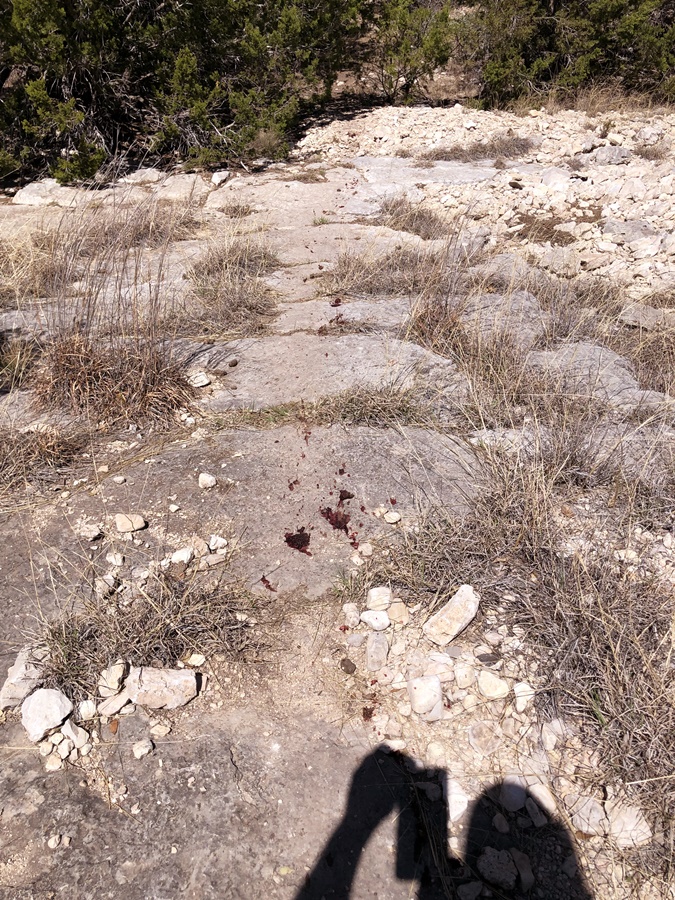 Shot another hog, but he didn't drop right away. He did leave a nice bloody trail to track.
I was so confident I'd find this guy - the blood trail was thick and easy to follow.
But these hogs are TOUGH!
I tracked this guy across Toby creek, and up the steep bank on the other side.
He (and I) went through some thick brush and all the way up the hill
As confident as I was I'd find him, after maybe 300 yards going through a lot of thick brush - I gave up
...the blood trail had tapered off and I was sure he was dead somewhere closeby...
In the end I thought it was funny that when I took the video I was SO confident I'd find him just a few feet away.
CLICK HERE IF YOU WANT TO SEE VIDEO OF THE BLOOD TRAIL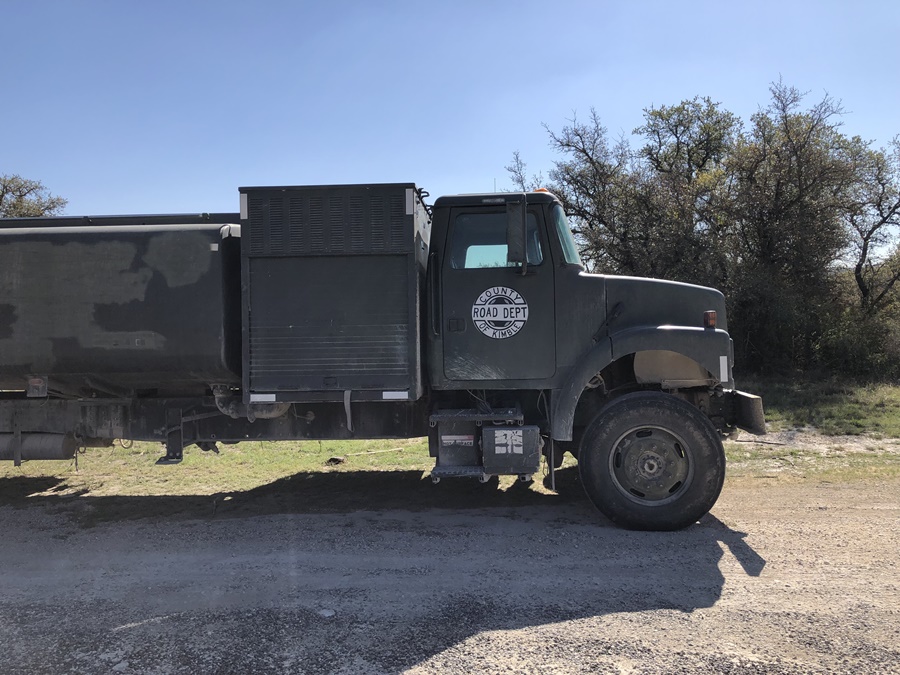 Kimble County's finest road repair equipment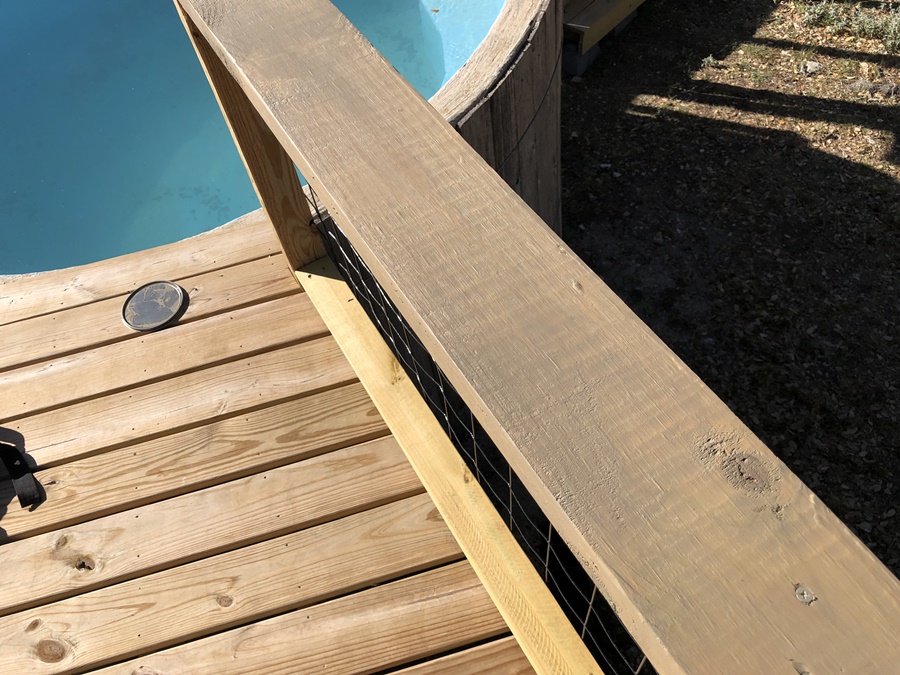 Time to stain the deck!
Jacqui and I decided on this stain color.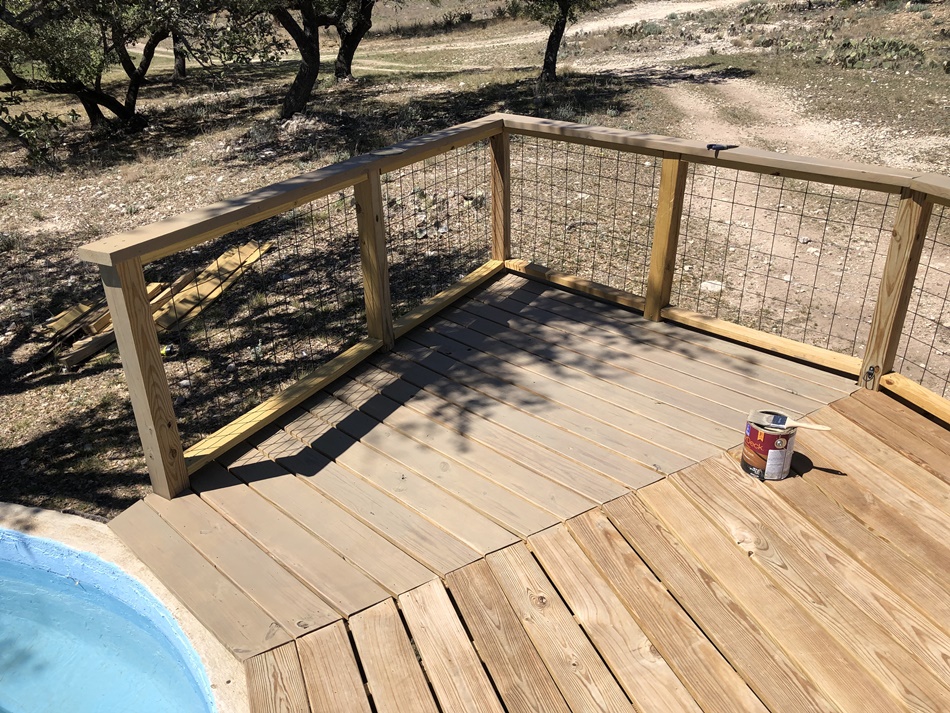 We are both happy with the color - it's not a drastic change, but it tones down the red and makes it blend in better.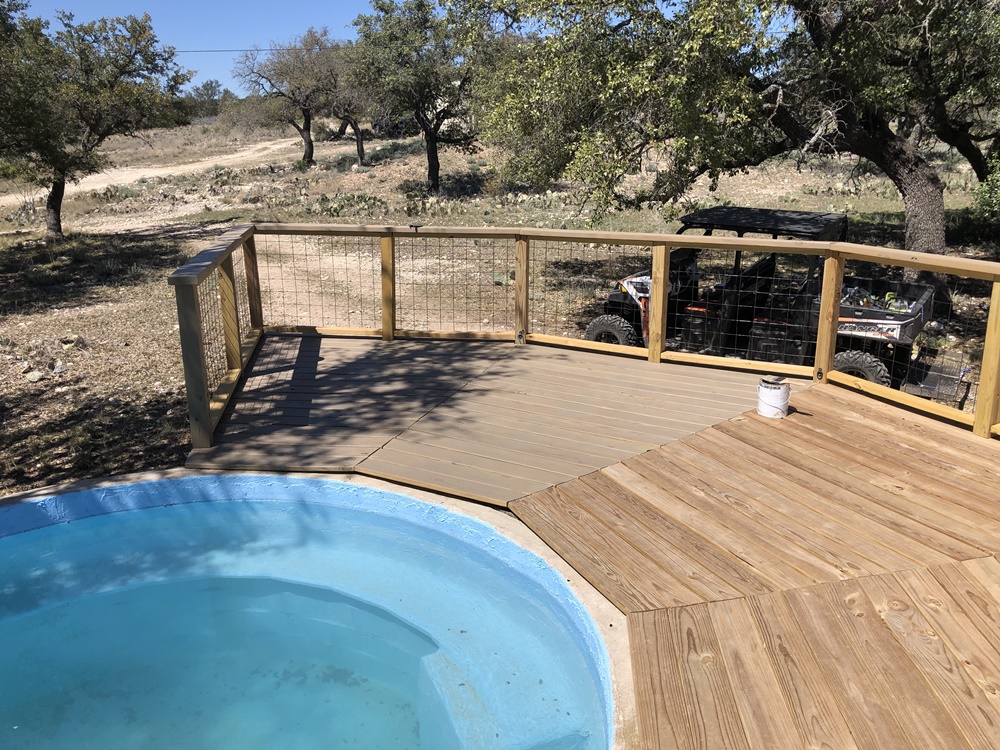 I finished the top rail, and now two sections....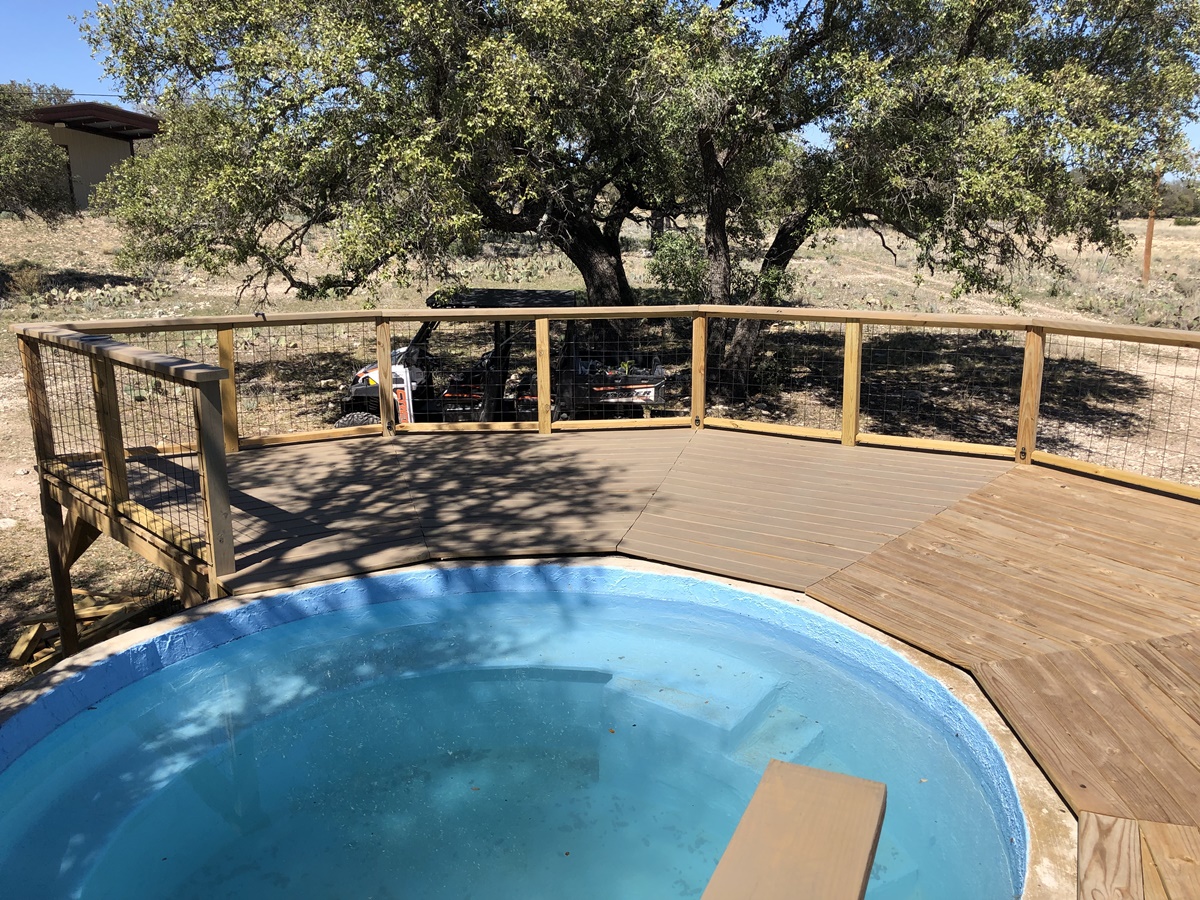 ...and now three.
This is where I stopped for the weekend.

It's nice to take a break from working and enjoy the scenery

Which brings us to Easter weekend of 2023.
Jacqui was a HUGE help.
She finished staining the rest of the deck while I worked to finish the stairs and a couple other spots.
That's it for now - see y'all later!
---