Double B Ranch - January 2021
At the end of the crappy Covid year that was 2020, I "'voluntarily" retired from United Airlines after 20+ years of service. In other words - I took the best severance package they offered before getting fired. It was a nice package, so I felt I'd earned a little time off, and spent a good chunk of it at the ranch. Here's some pics and vids from four weekend visits I made between January and mid-February 2021 where me and the dogs worked on various projects at the Double B Ranch.
WEEKEND #1
Thursday, January 7, 2021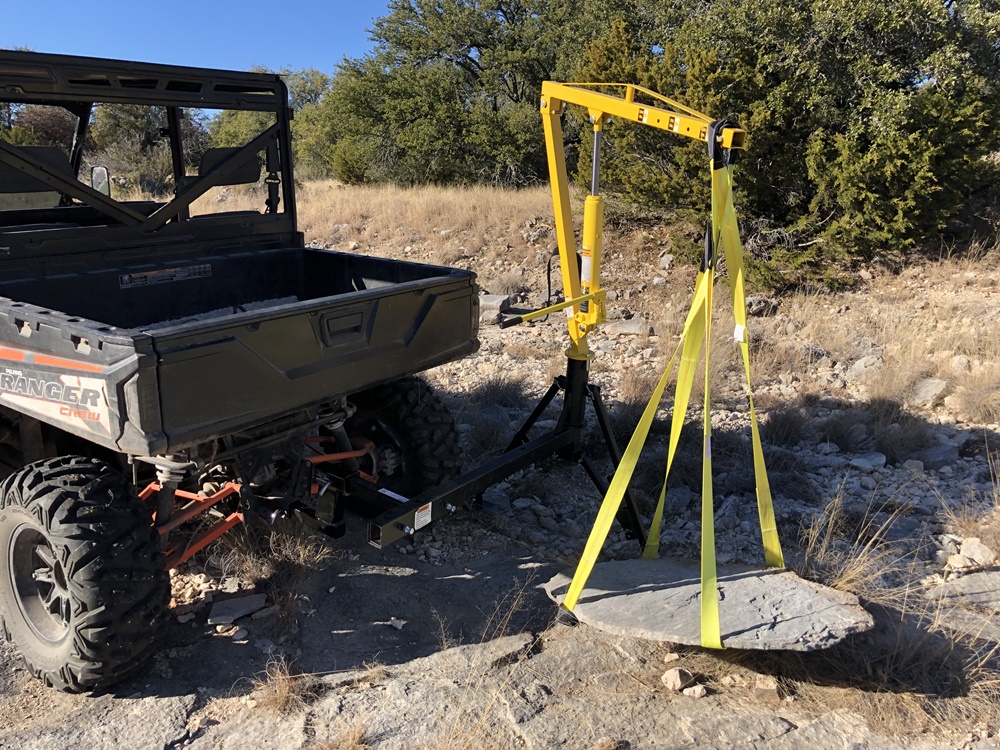 Check out my new rock wench crane...thing.
I'd wanted to build a walkway at the barn that used natural rock from the ranch.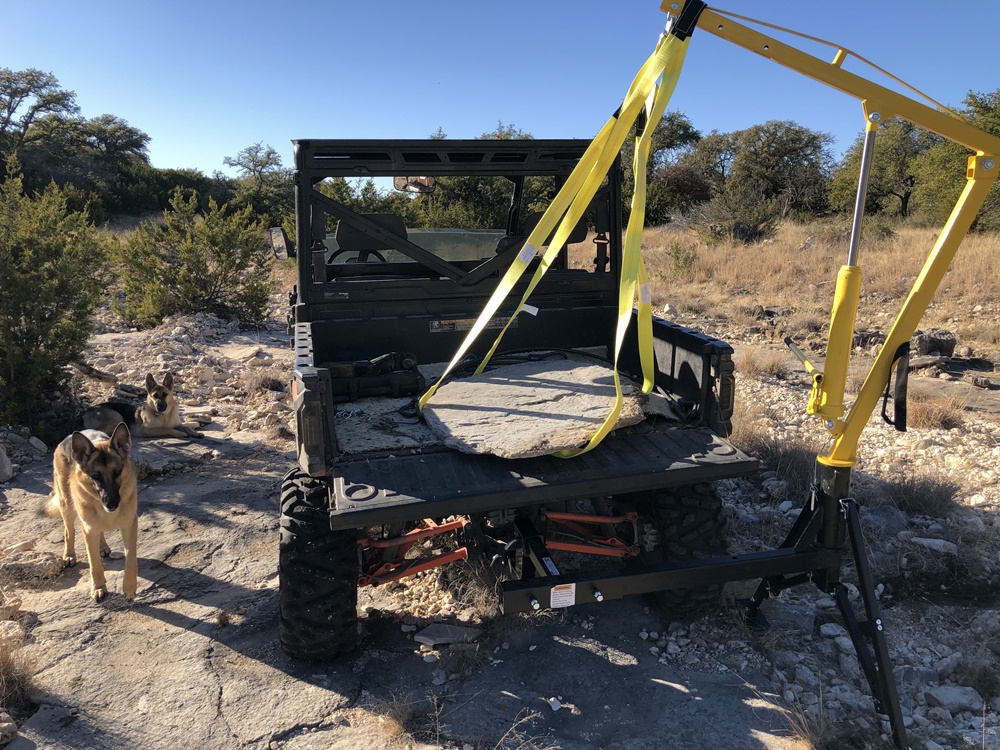 Pick it up, and pivot it into the Polaris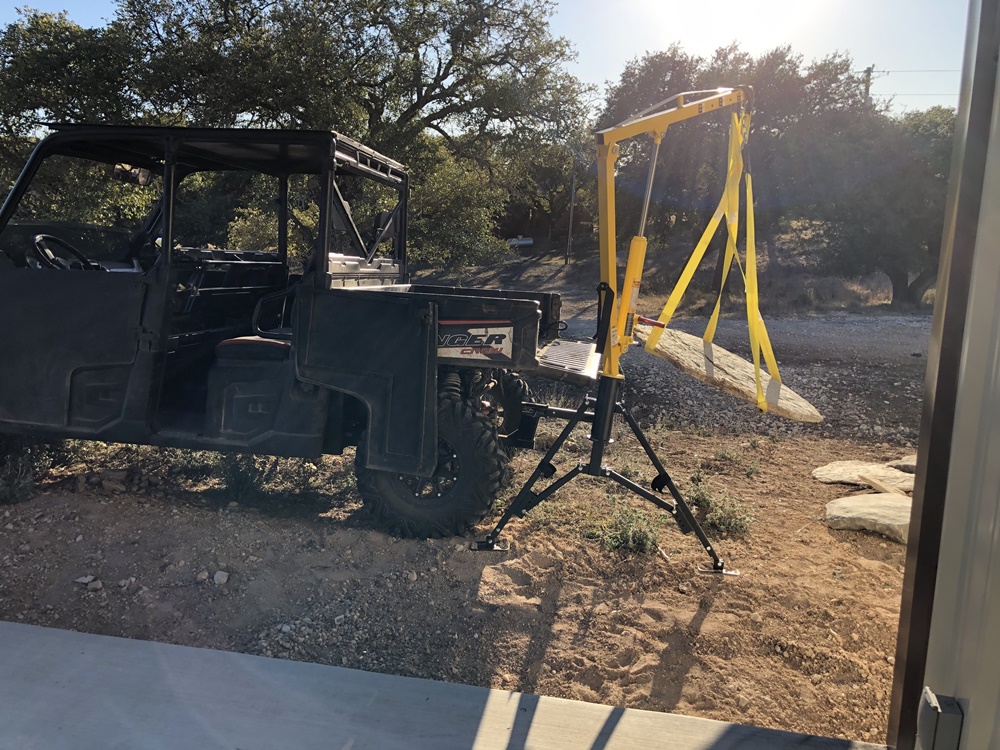 Then reverse the process, and drop the rock where you want it.
Cool~!
Friday, January 8, 2021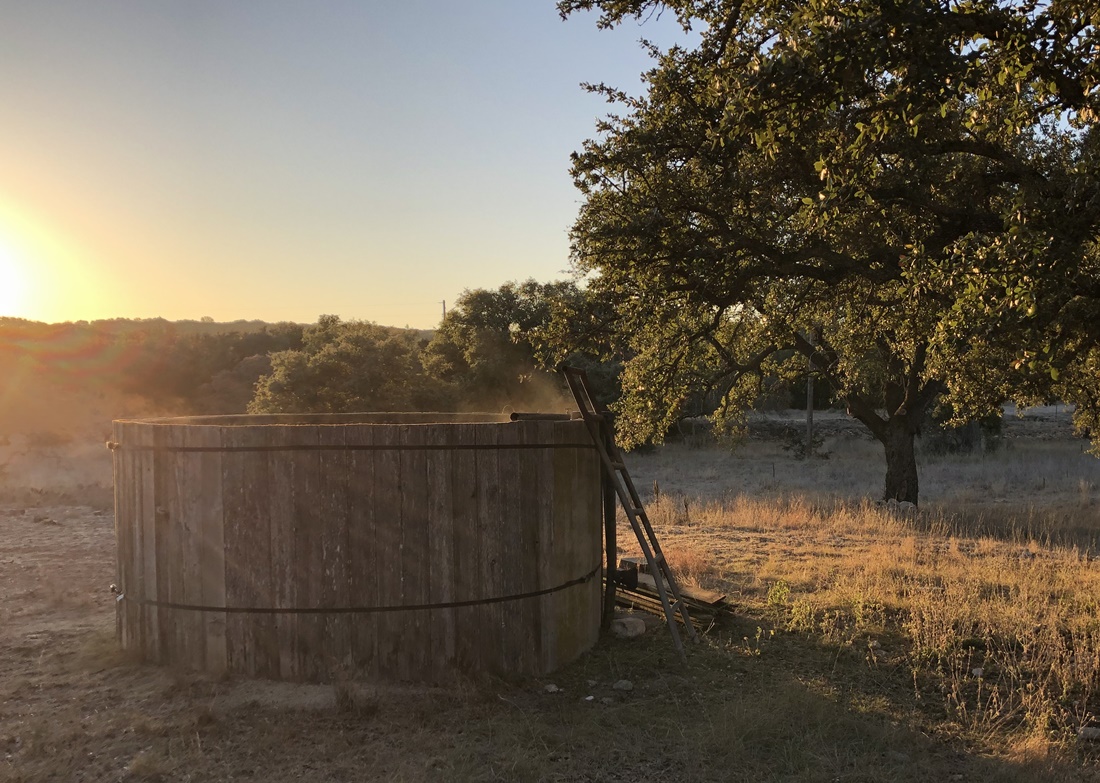 It was a cold morning - check out the steam coming from the cistern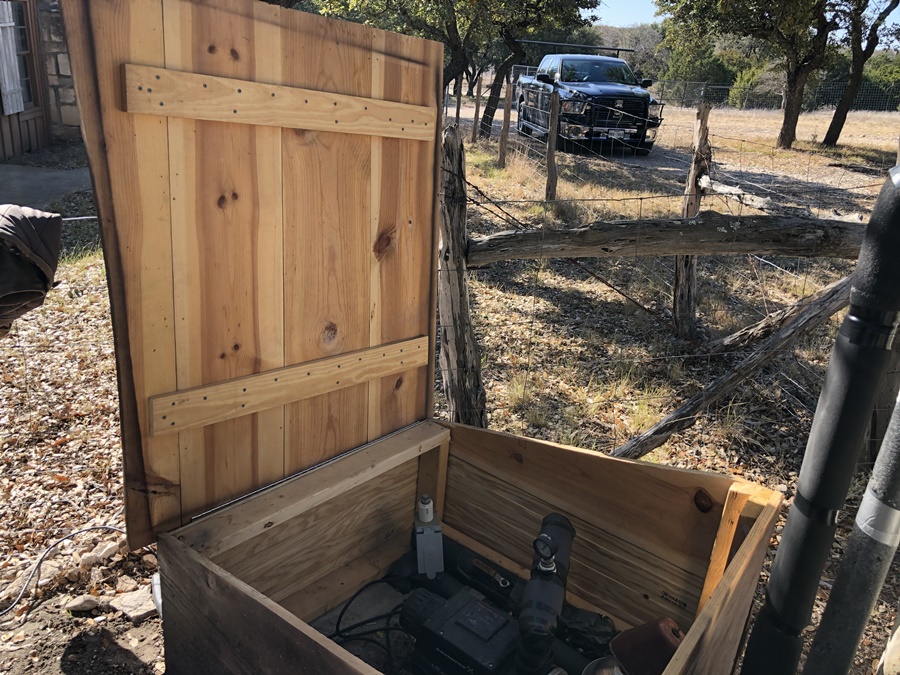 Here's a project I finished.
I built a mini pump house for the water pump to the house.
The finishing touch was the piano hinge for the top.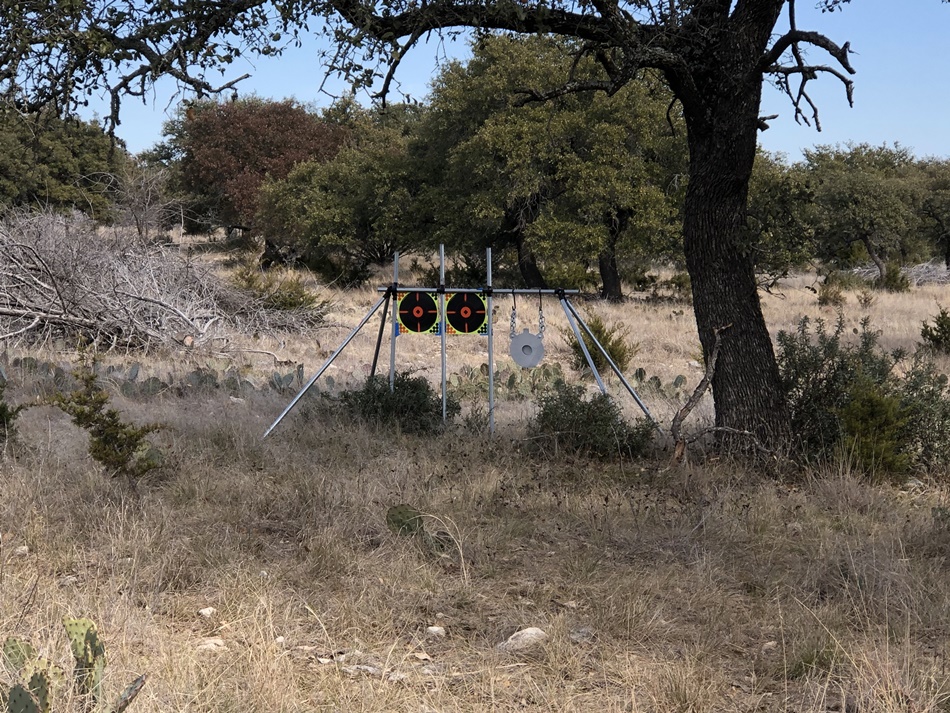 Set up a 50 yard target to help sight in a new optic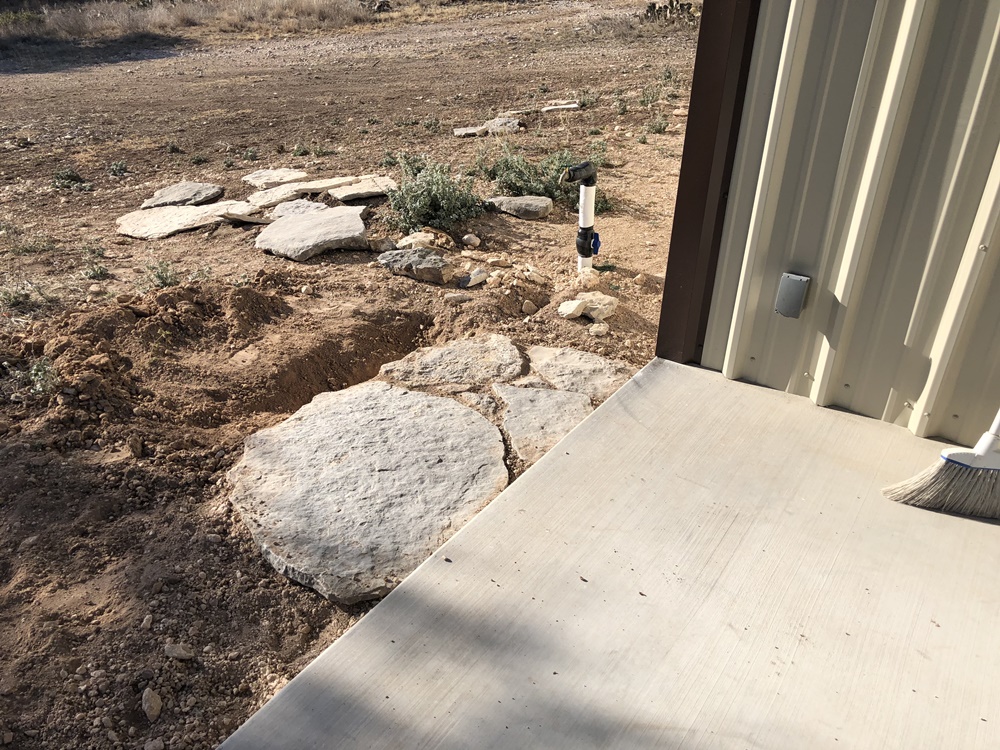 Making some progress on the walkway.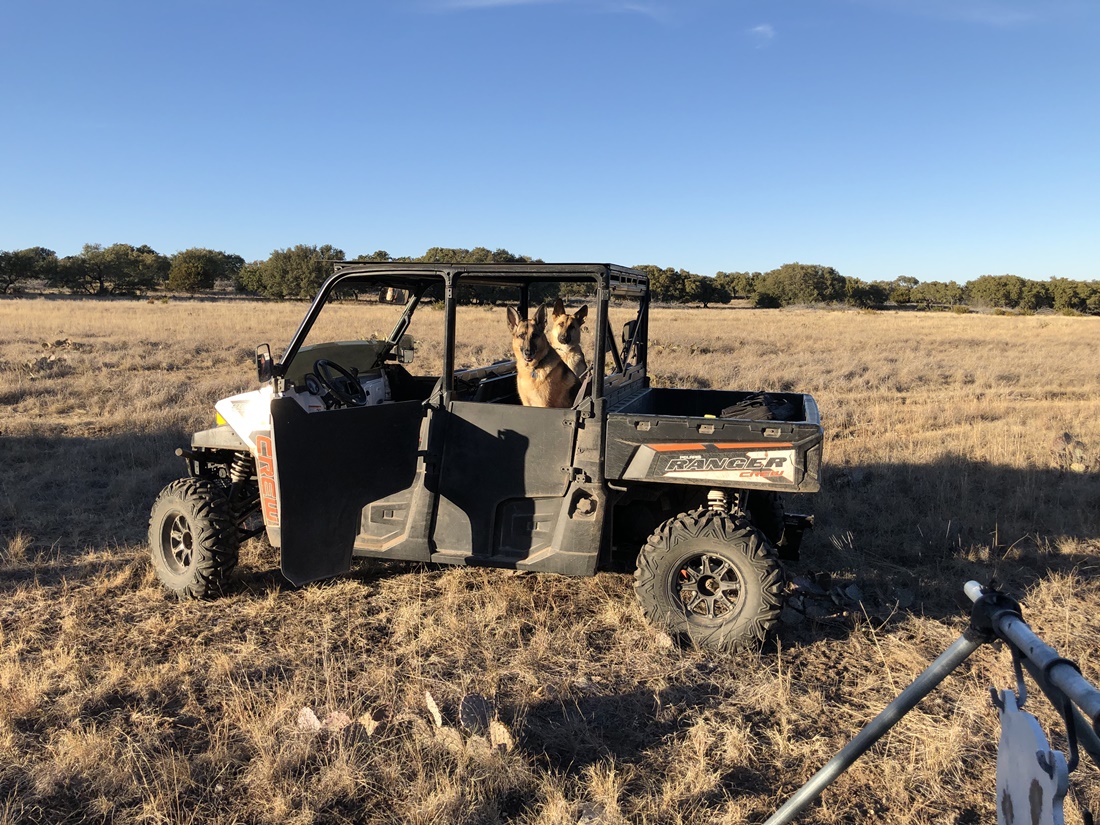 The dogs love to go for a ride.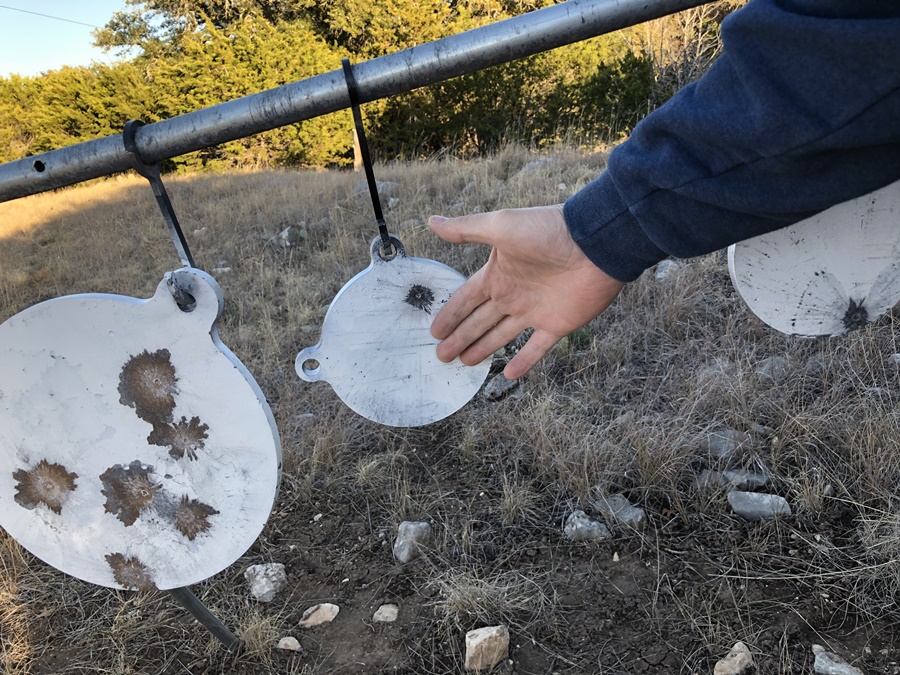 After getting it dialed in, I was able to hit this target at 200 yards.
Saturday, January 9, 2021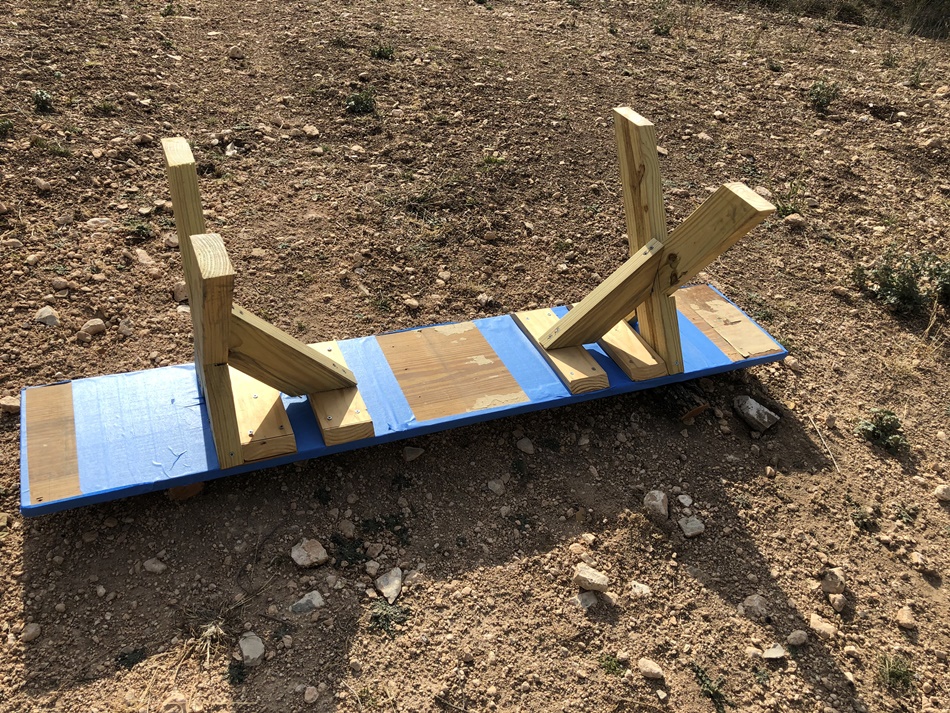 For today's fun project - painting!
This time I'm painting the legs of the benches that I built a nice flat black.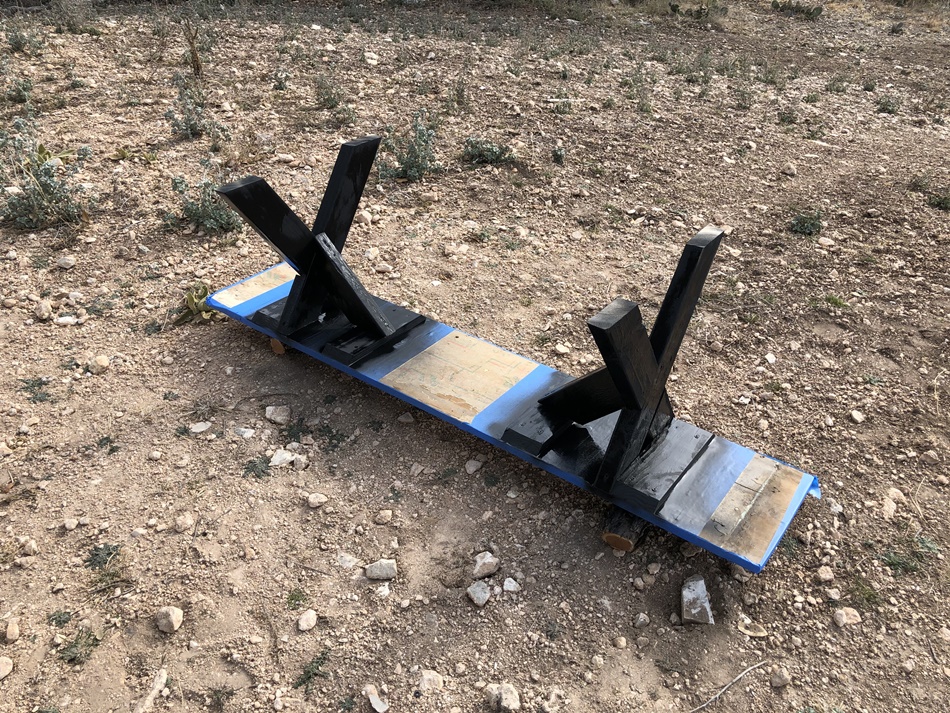 Taa-Daa!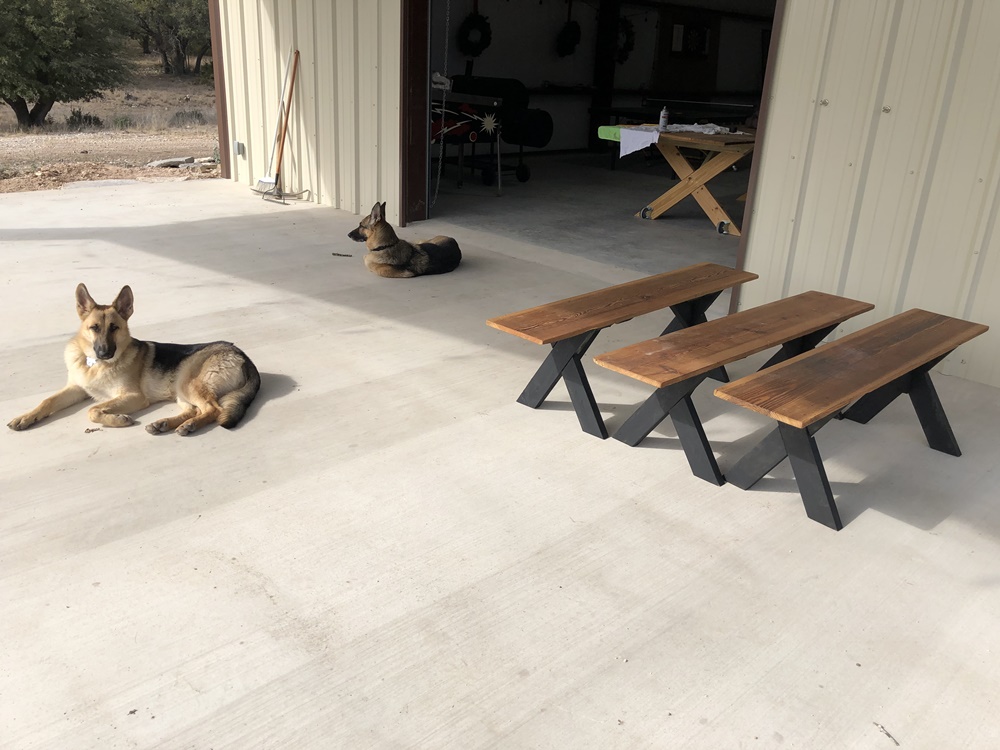 The dogs supervise as I paint the last one.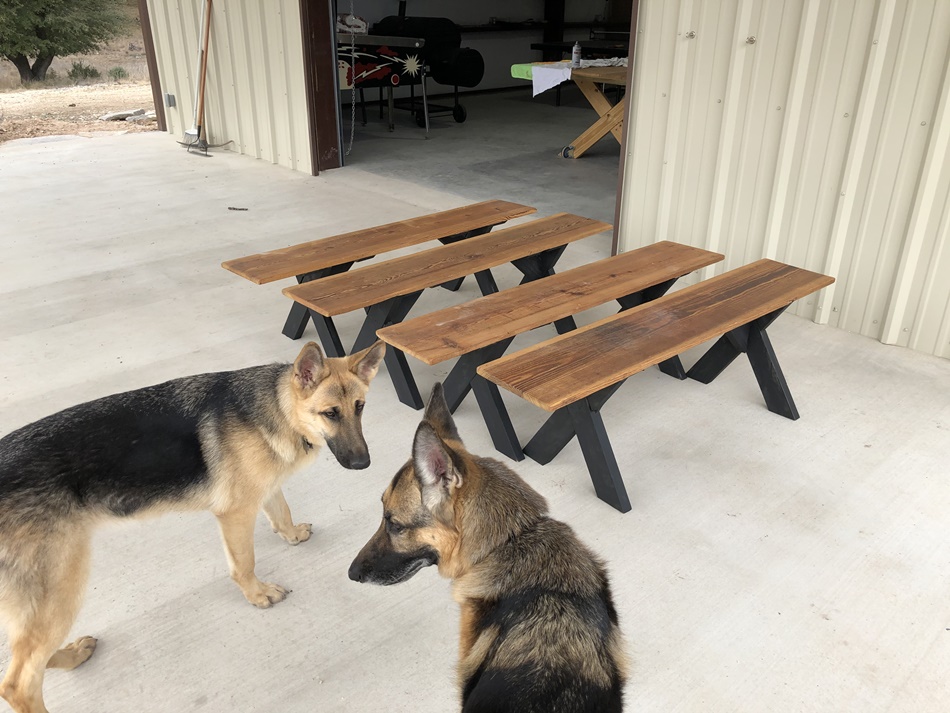 OK - Done!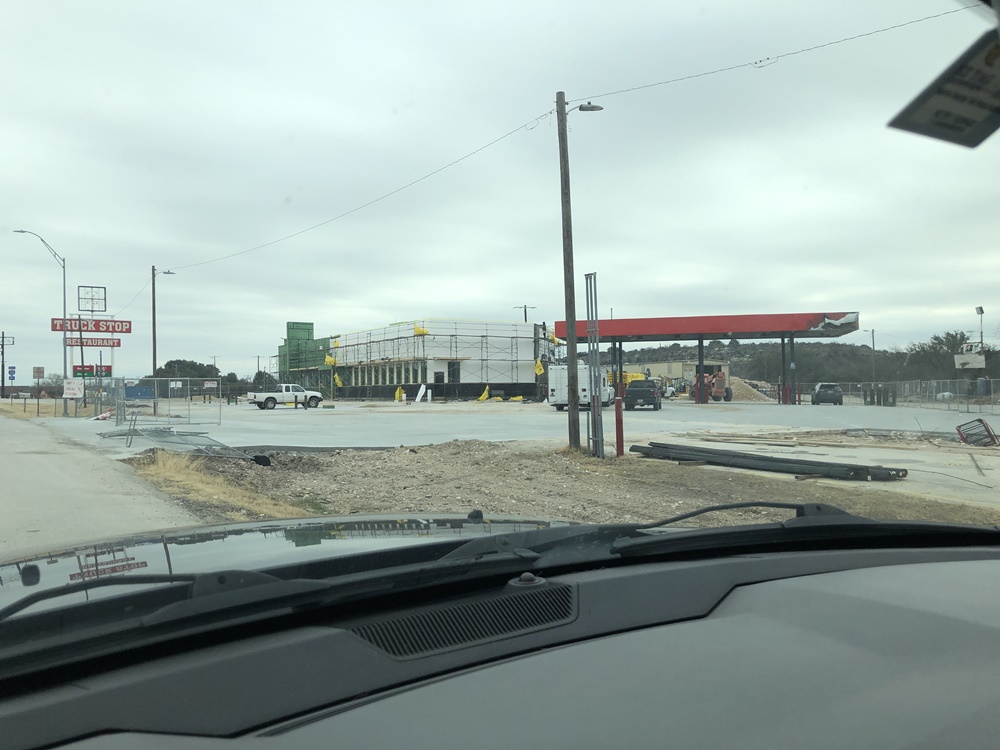 The new Segovia Truck Stop is coming along.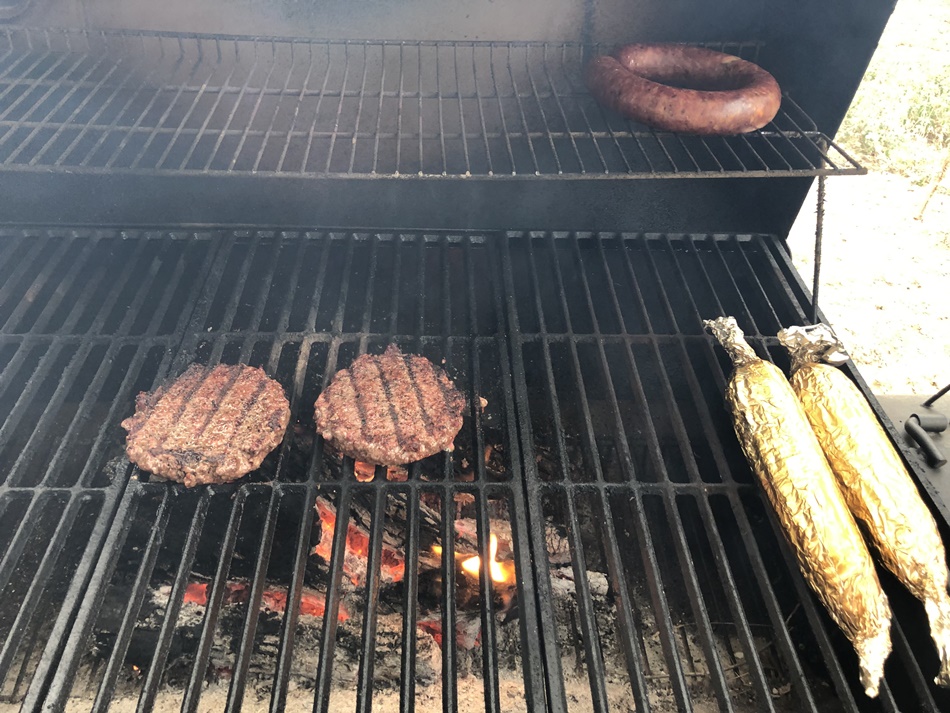 There's no better way to wrap up a hard days work than to fire up the grill and cook some tasty meats.
....and you can throw some corn on there too.
Sunday, January 10, 2021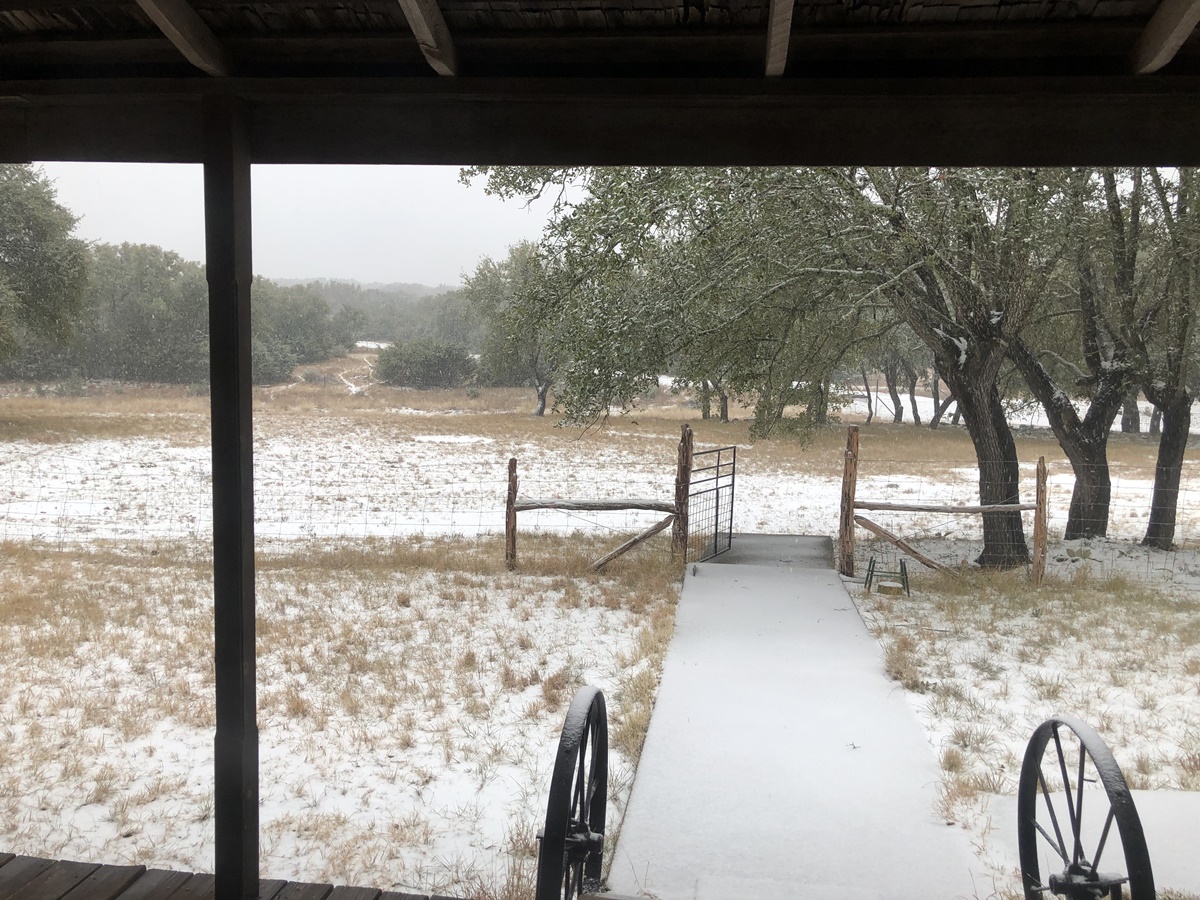 Look what I woke up to today!

CLICK HERE TO SEE VIEO #1
Snow at the Double B Ranch!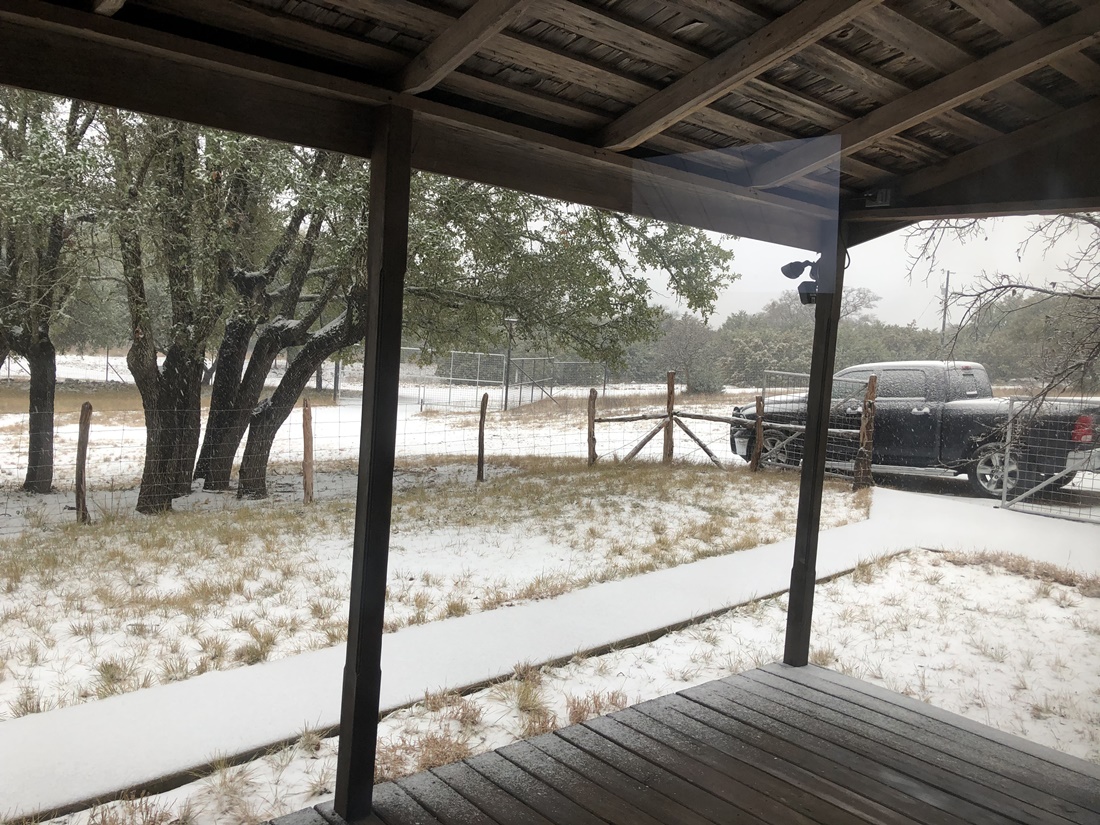 It snowed pretty hard for several hours solid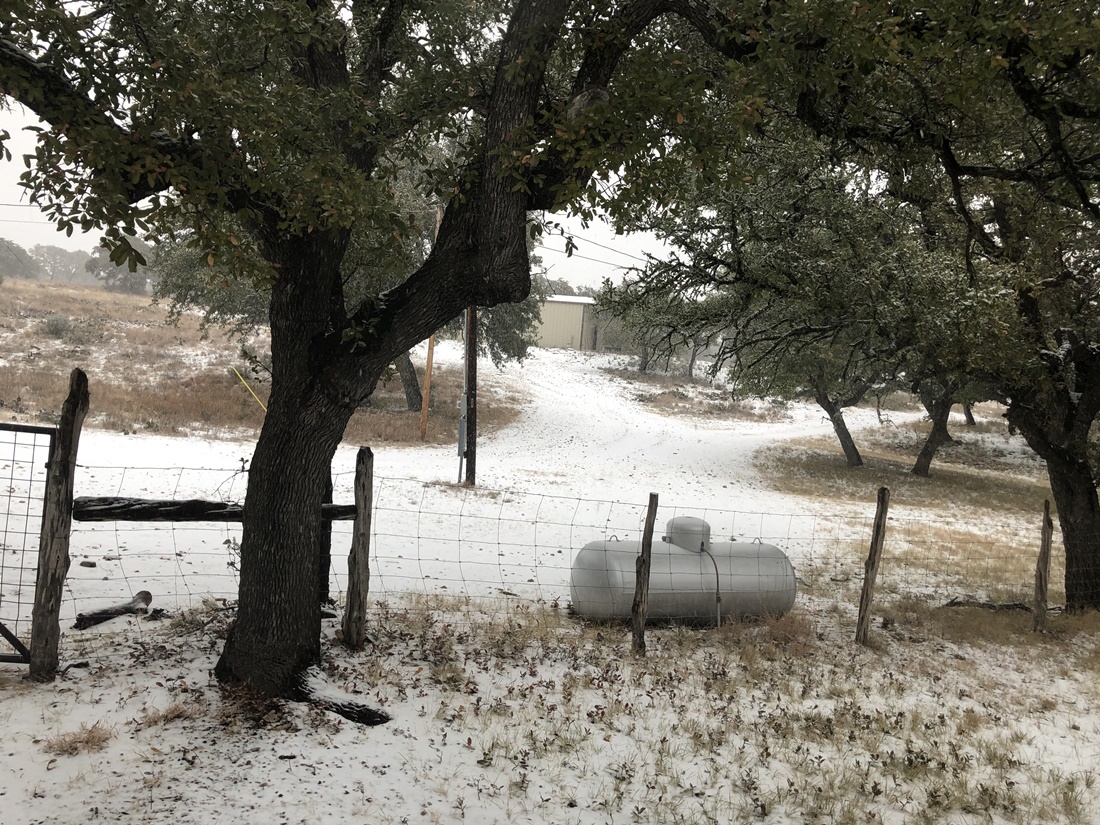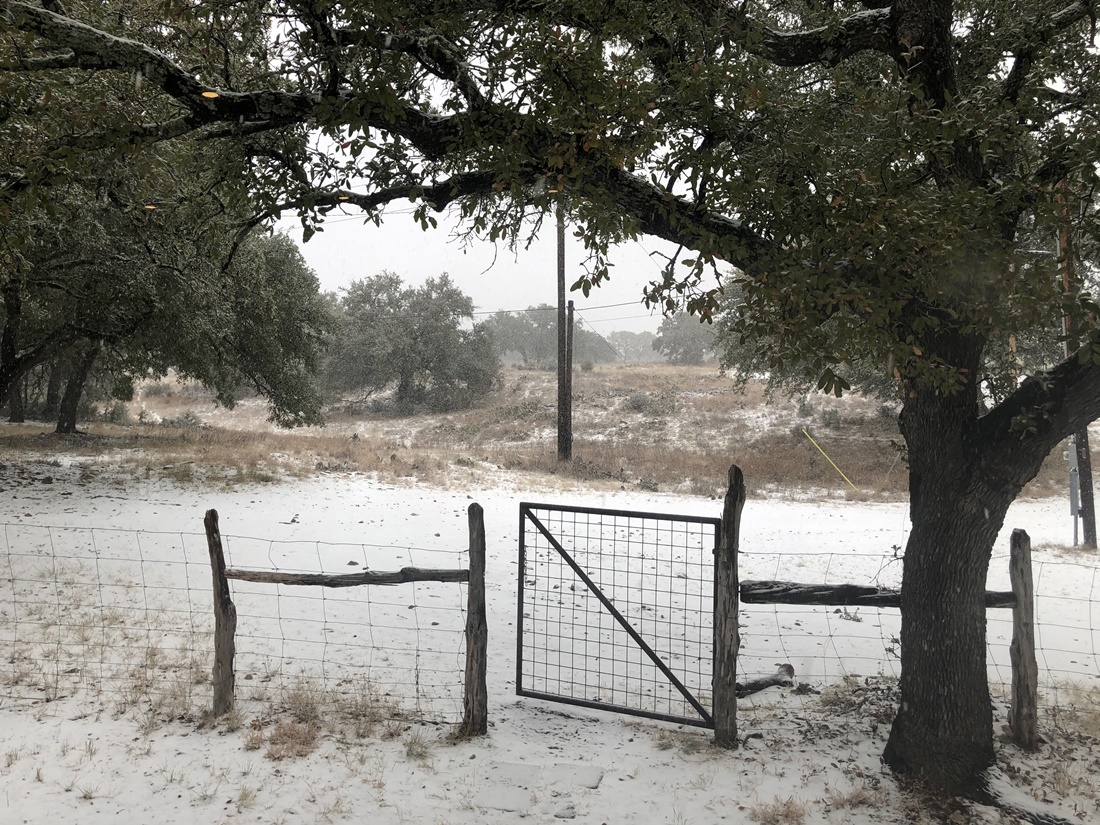 It's still coming down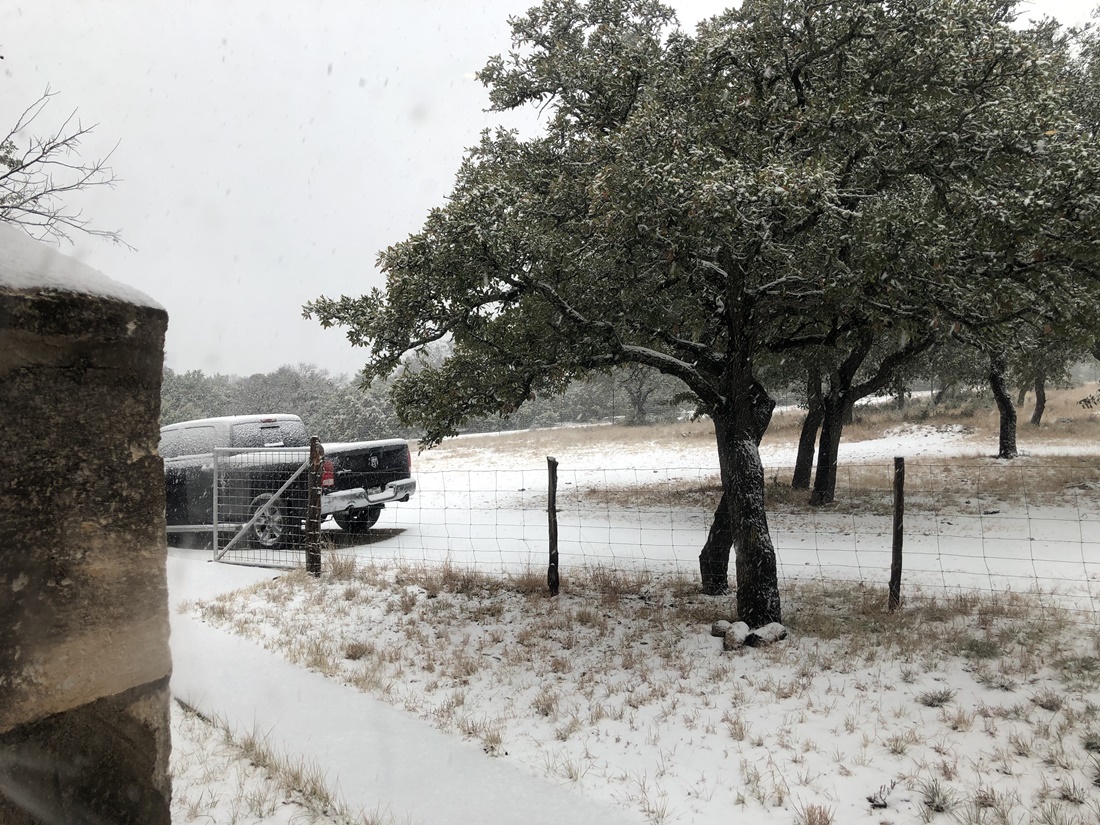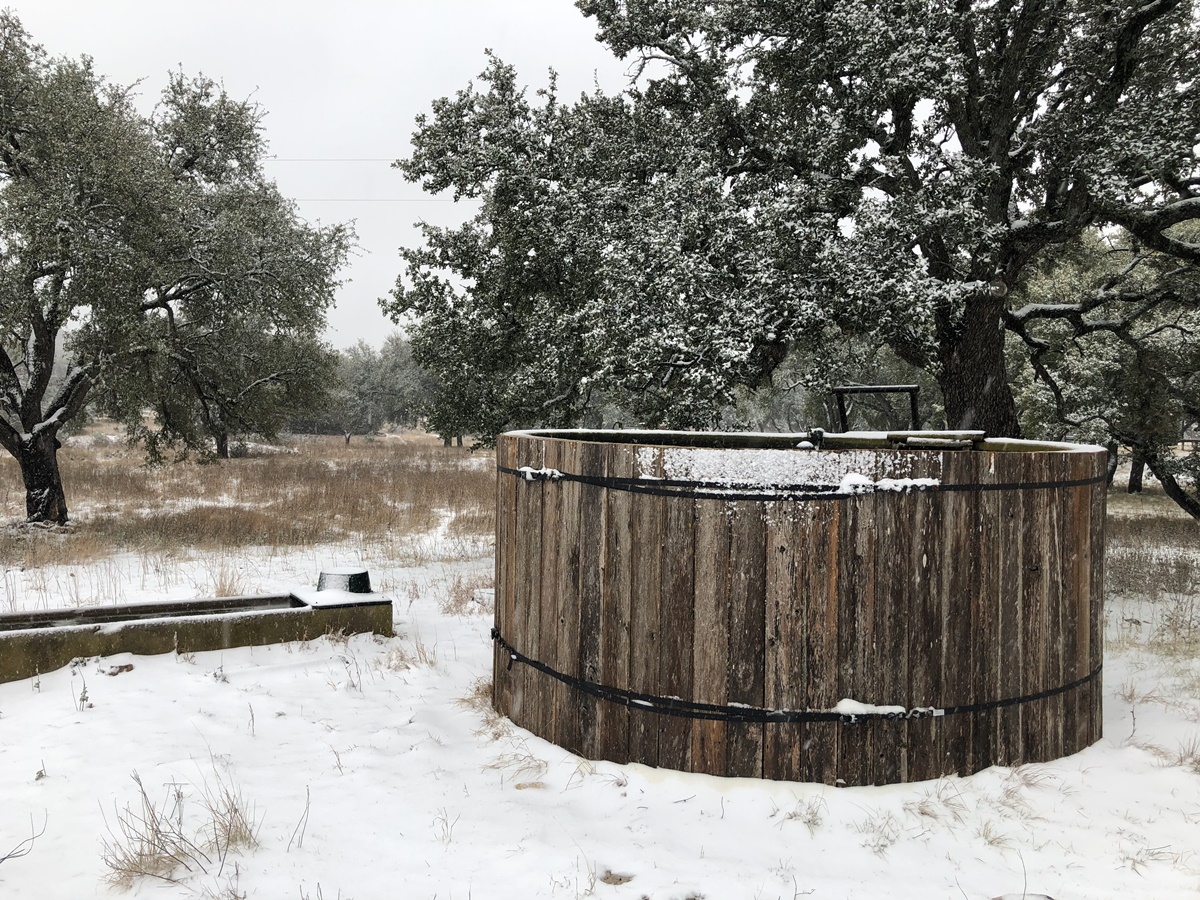 I think it looks so pretty with the snow - so I took a lot of pictures.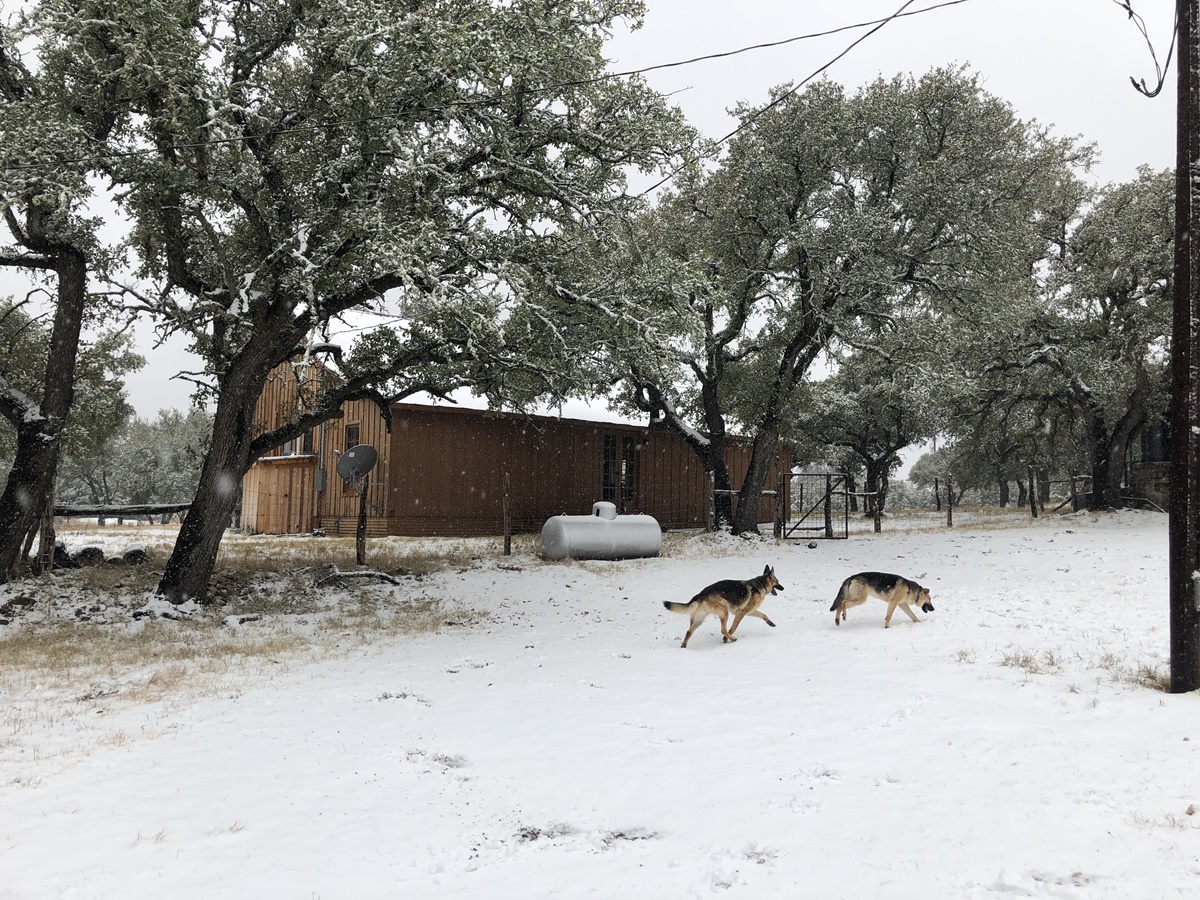 ...and the dogs LOVED playing in the snow!!
CLICK HERE TO SEE VIEO #2
The dogs LOVE playing in the snow!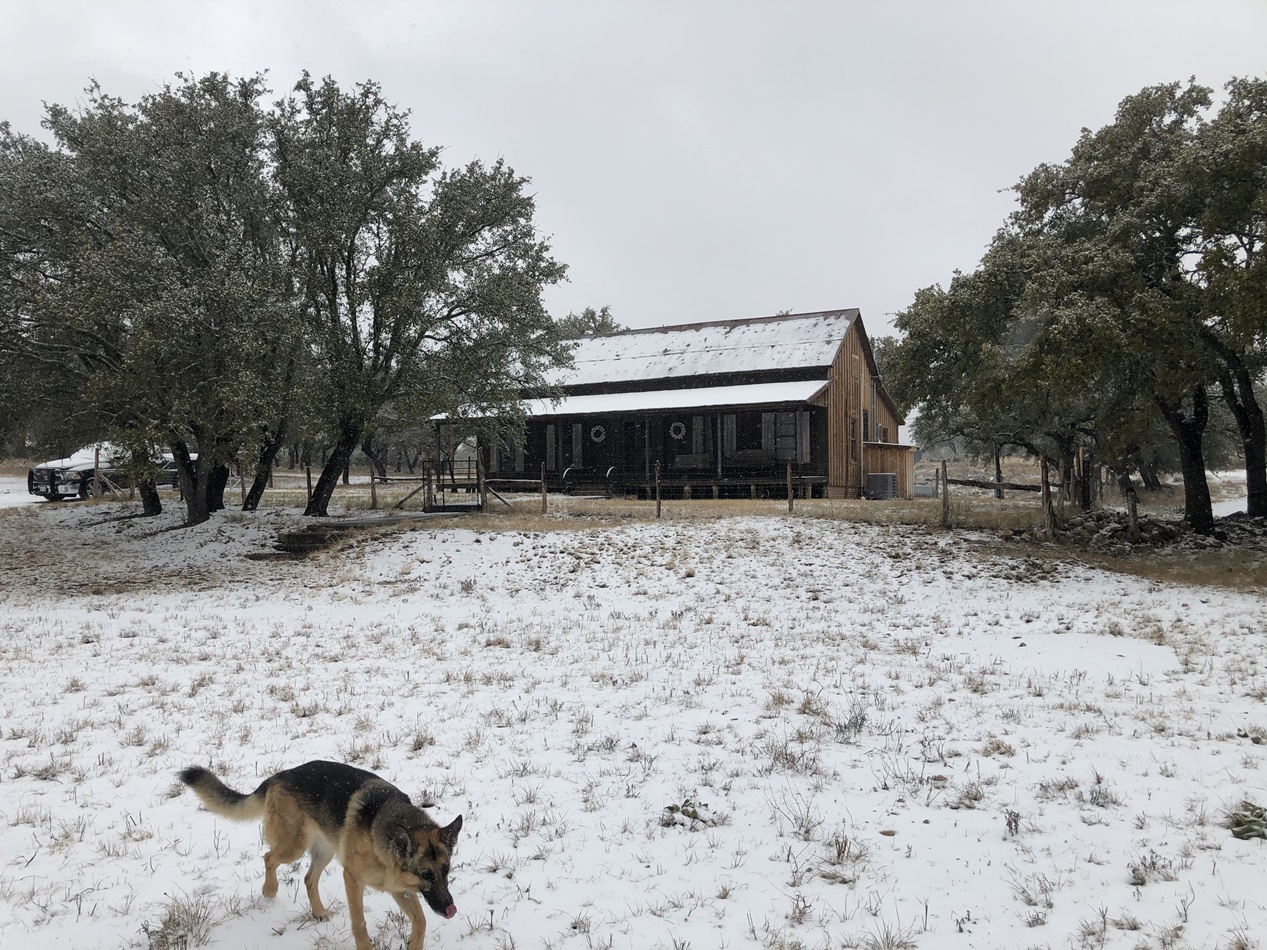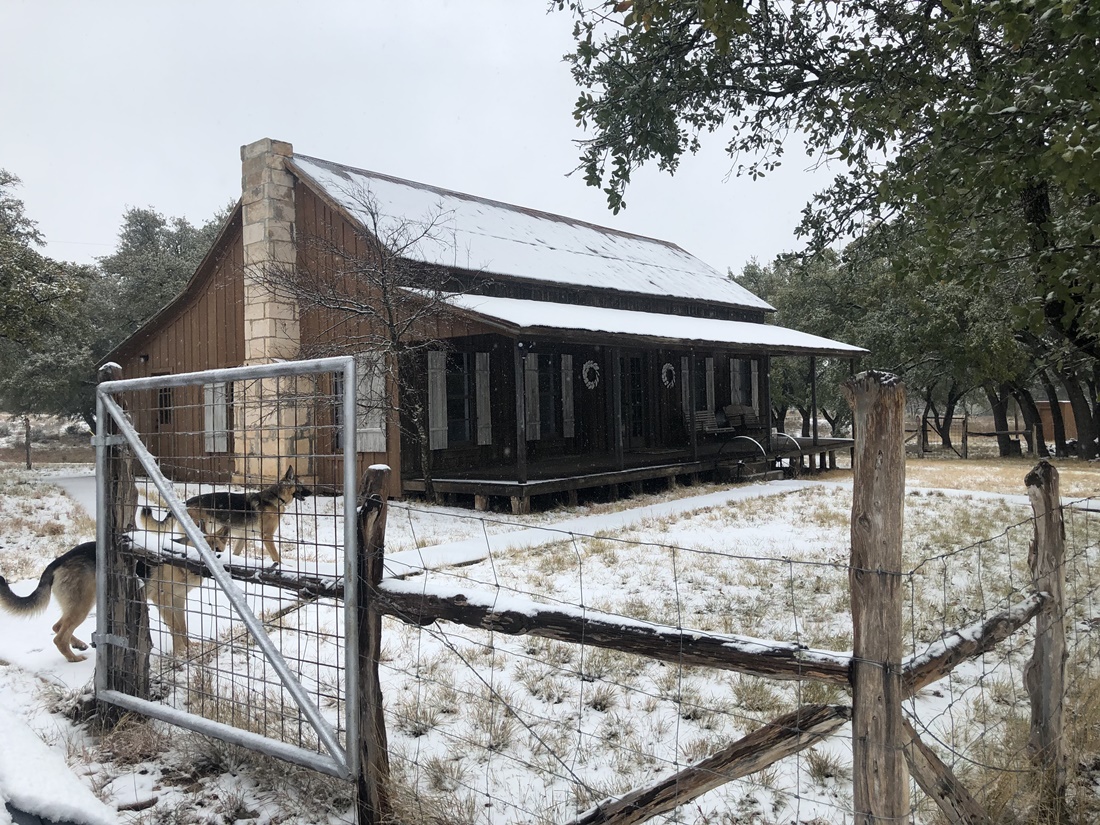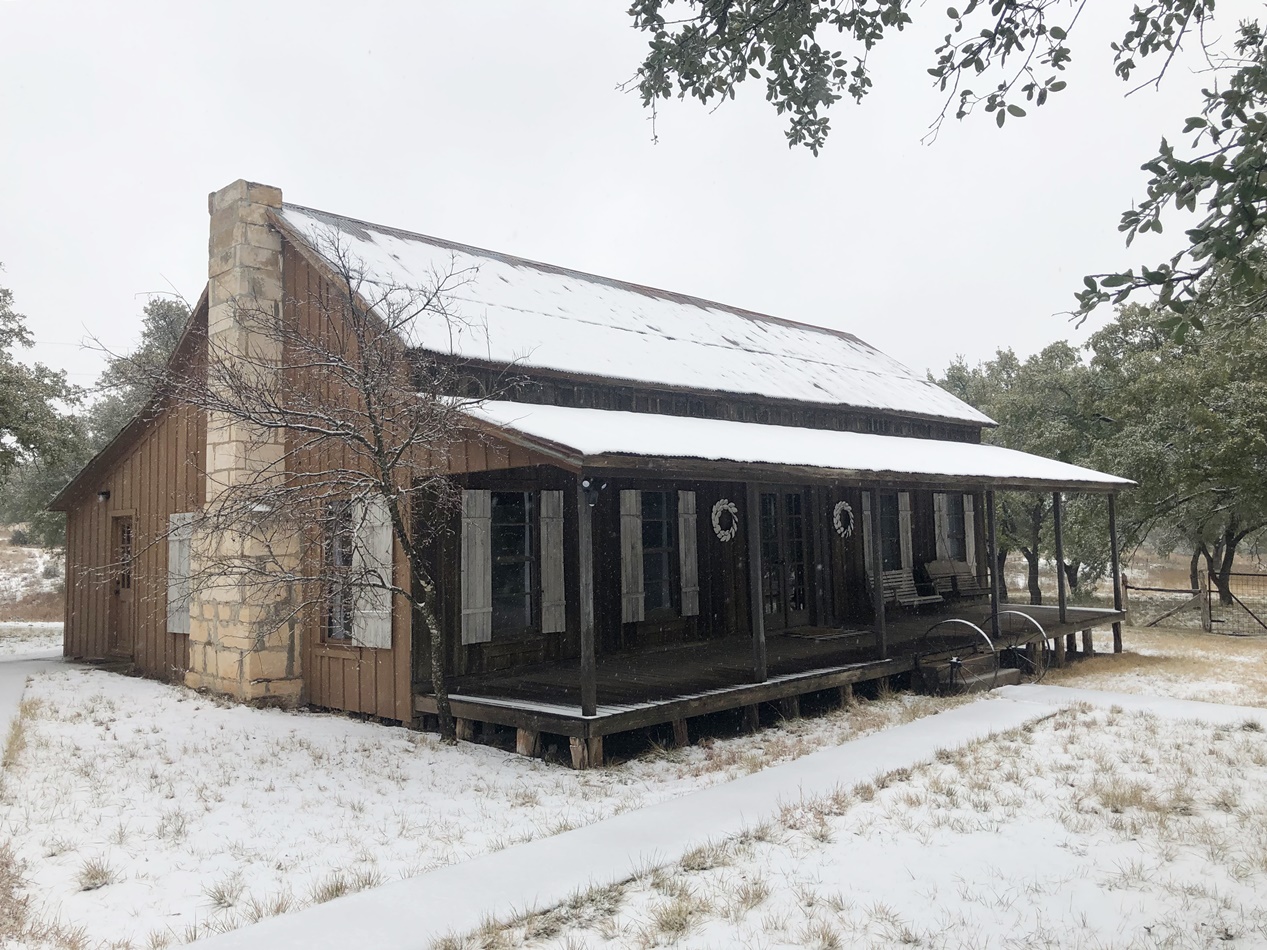 I might have to use this picture on a Christmas card one year.

But now it starts to melt....
Monday, January 11, 2021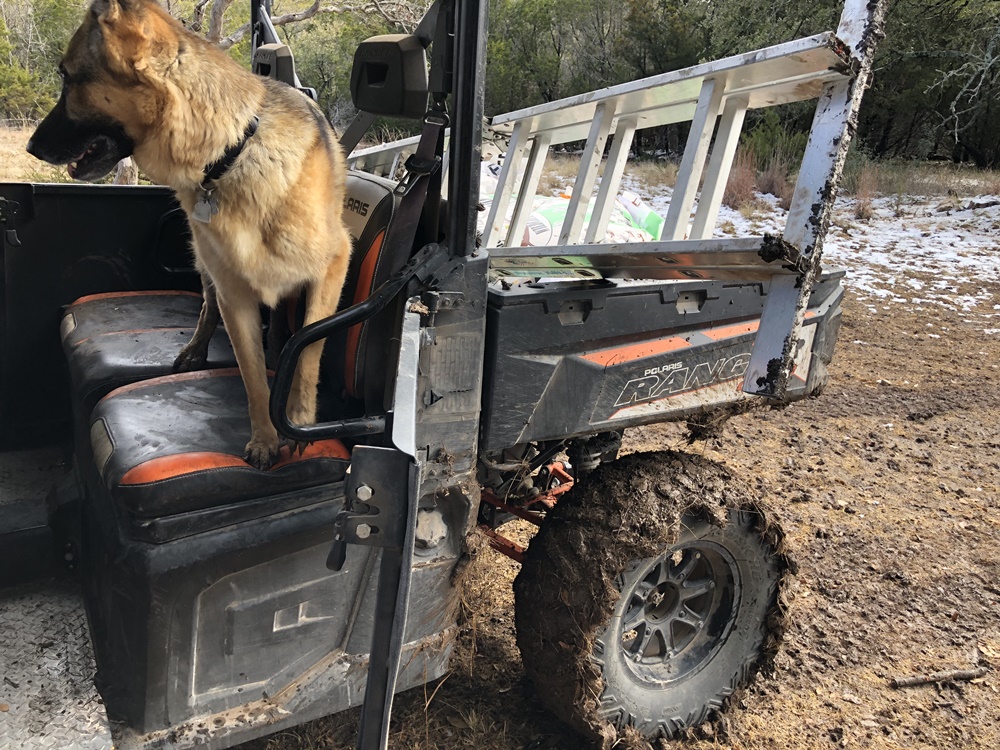 ...and that leaves a lot of mud.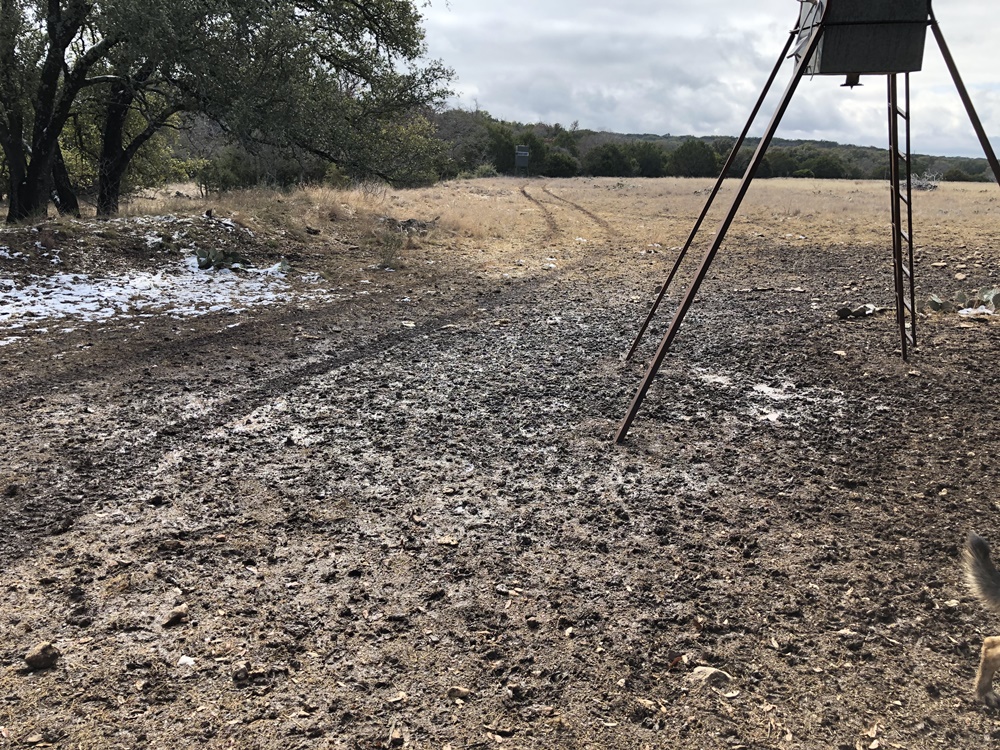 I had to fill the feeders before I left, but it sure was a messy job.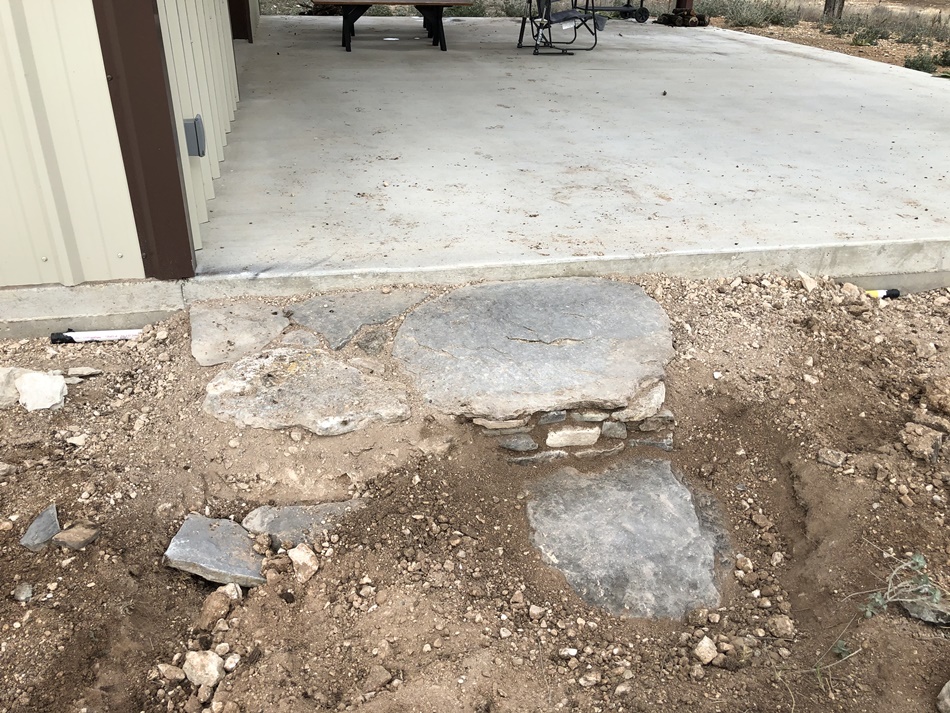 The snow and water did help make it easier to work on the walkway, as the dirt wasn't rock hard.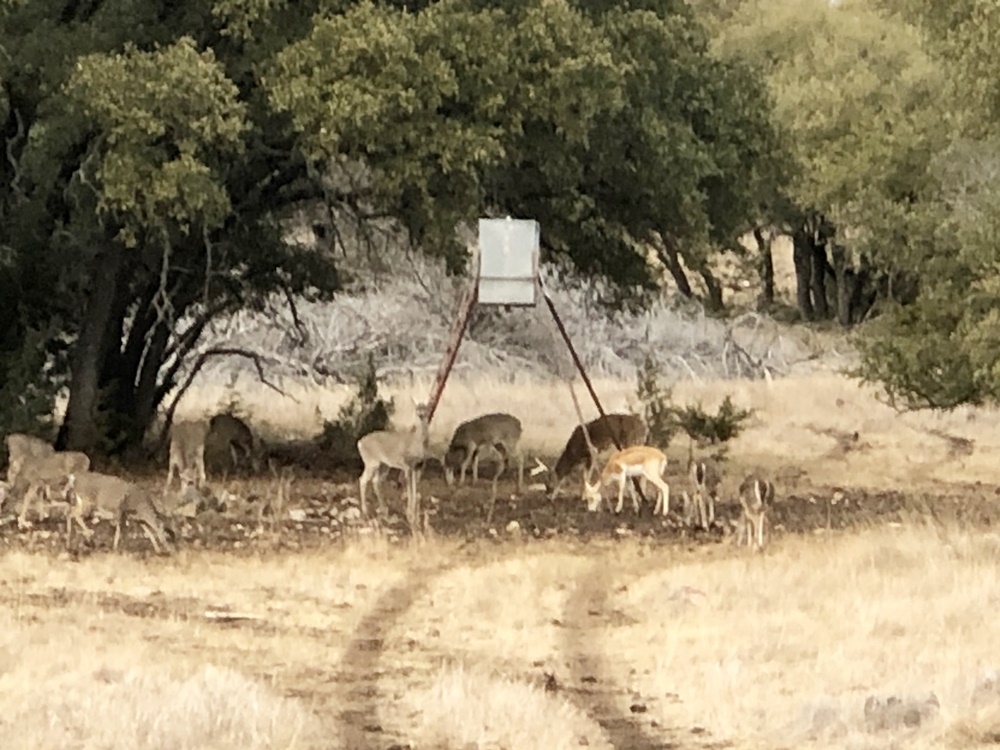 Can you see the one deer that's a much lighter color than the others?
That's a Black Buck - not a White Tail
White Tail deer are native to Texas, while Black Buck are not. They are 'exotic' and natively from India.
As of Nov 2021 as I write this - this is the only time I've seen one on my property.
WEEKEND #2
Friday, January 22, 2021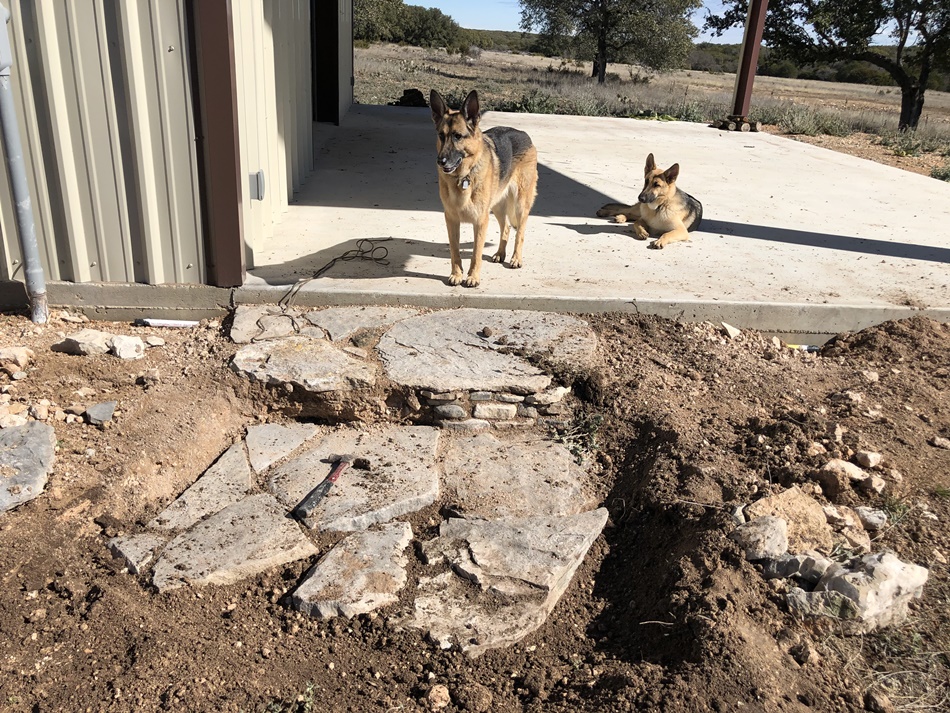 The dogs say "Get to work"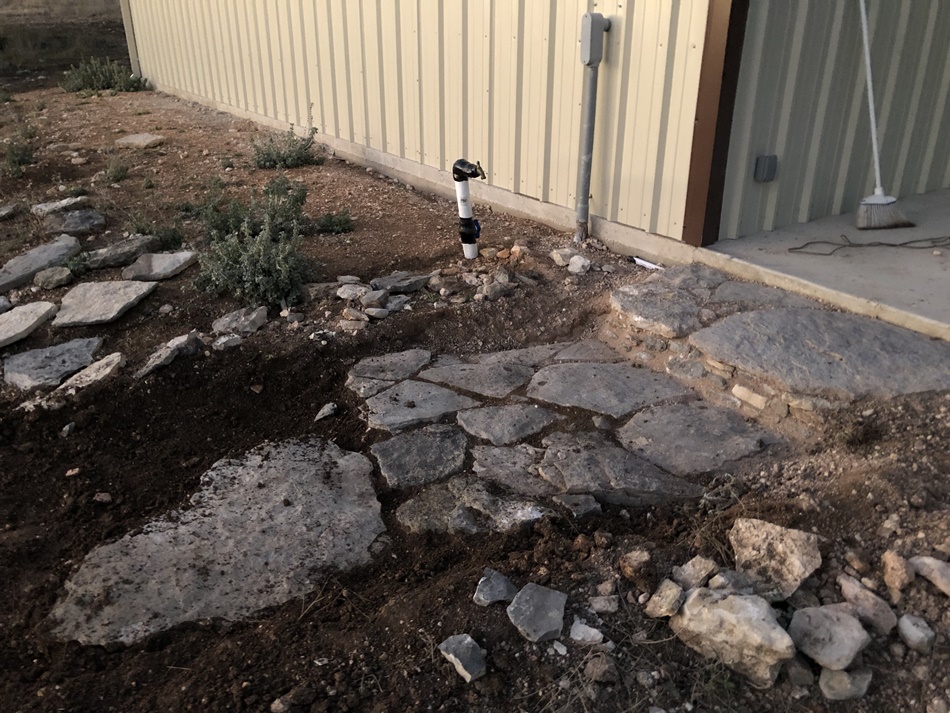 OK - there's another big rock in place.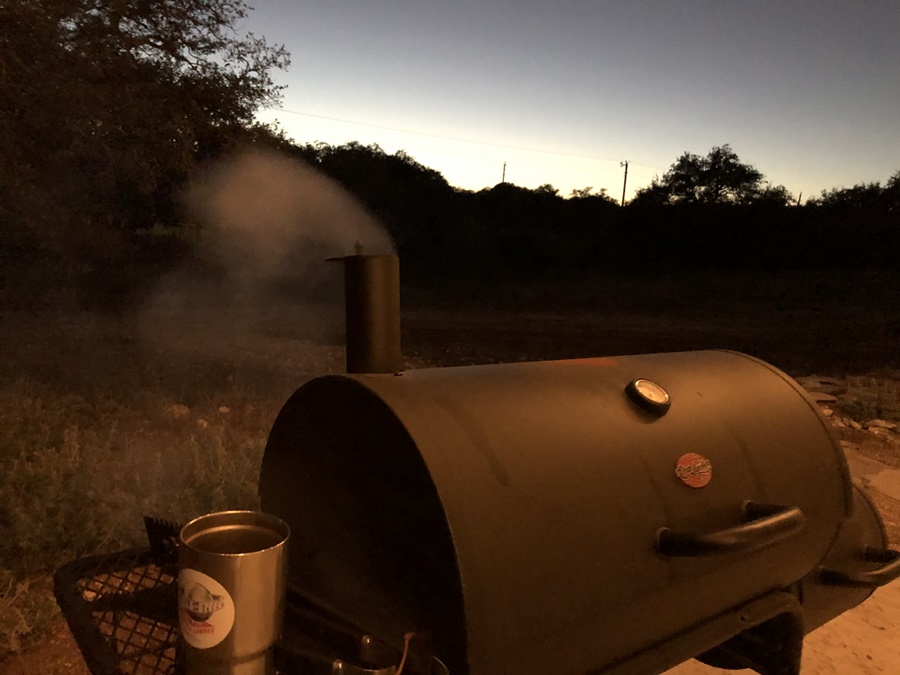 Phew - it's time to take a break - have a drink and fire up the grill.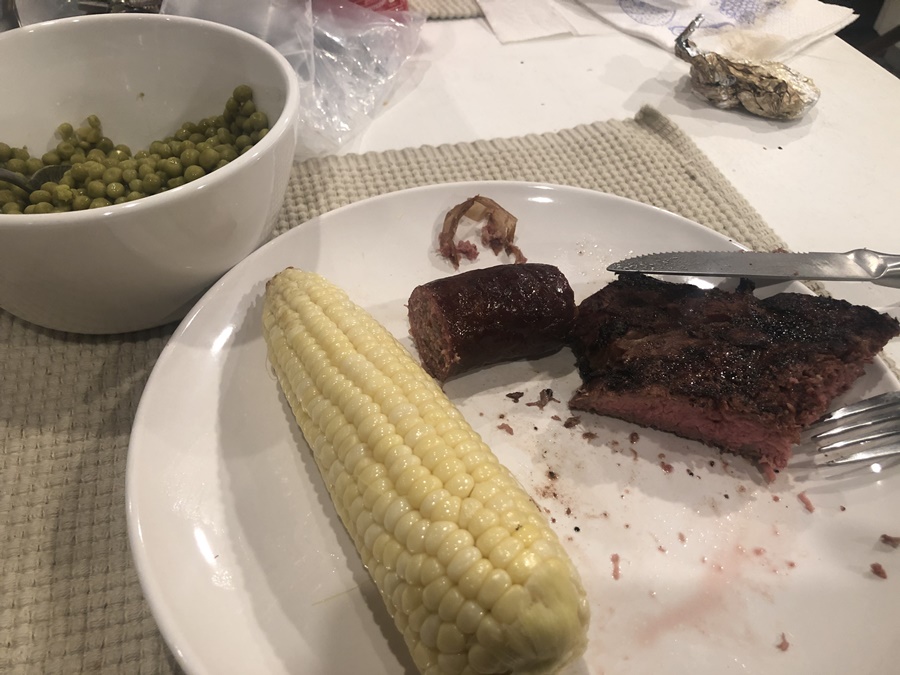 MMmmmmmmmm
Sunday, January 24, 2021

I take a break from working on the walkway to try out my new pistol 'Dueling Tree' target - it's fun!
CLICK HERE TO SEE VIEO #3
Shooting the Dueling Pistol Tree with the US M1911.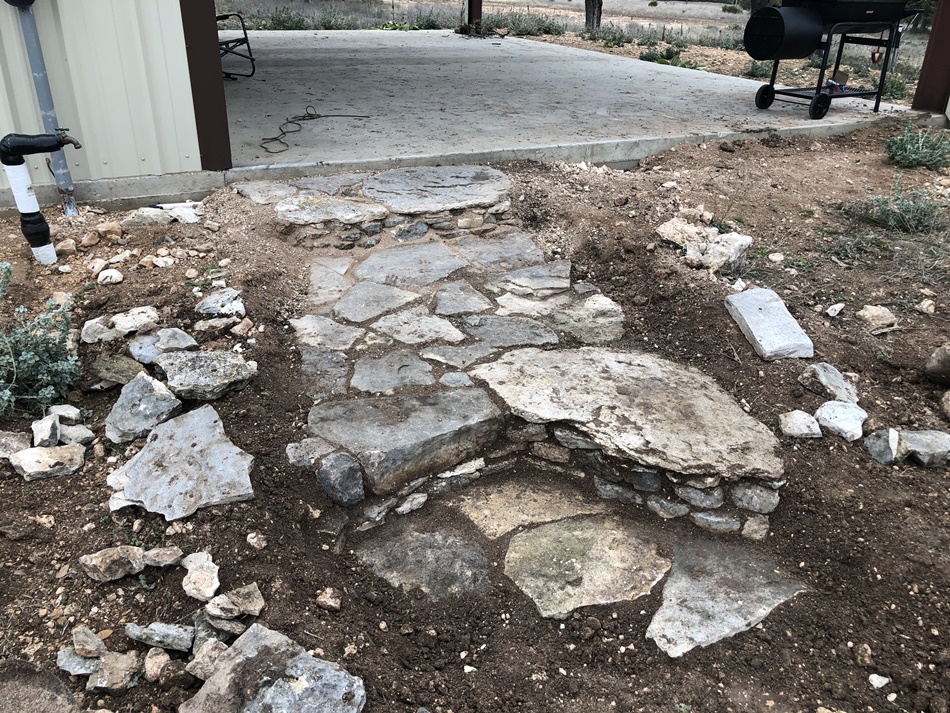 OK, the walkway is starting to take shape.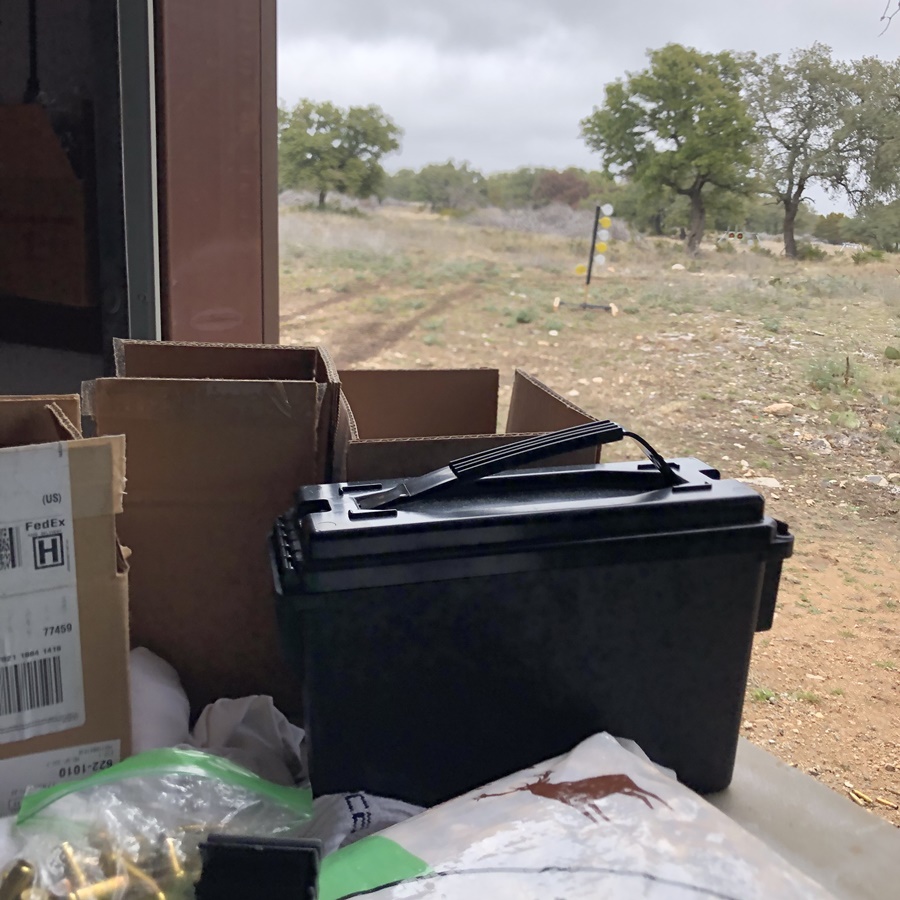 You can only work on that walkway for so long before you need a break...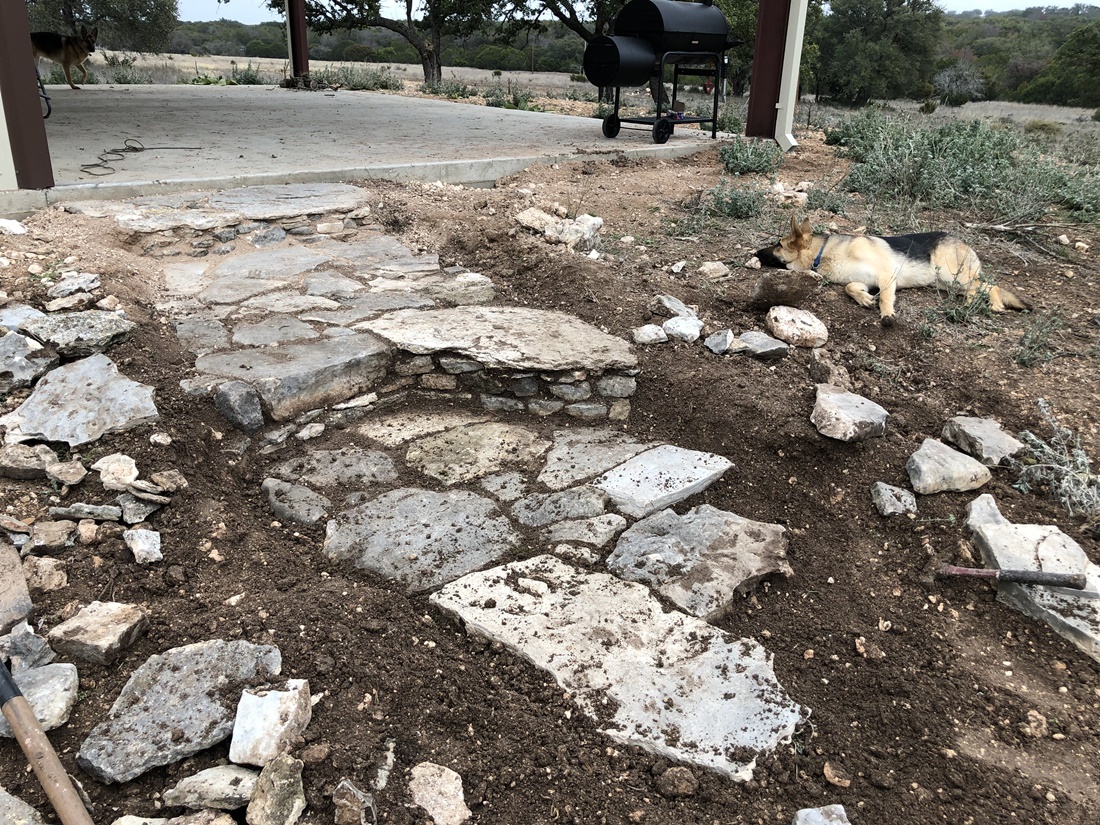 ...even Reese will agree with that.

Monday, January 25, 2021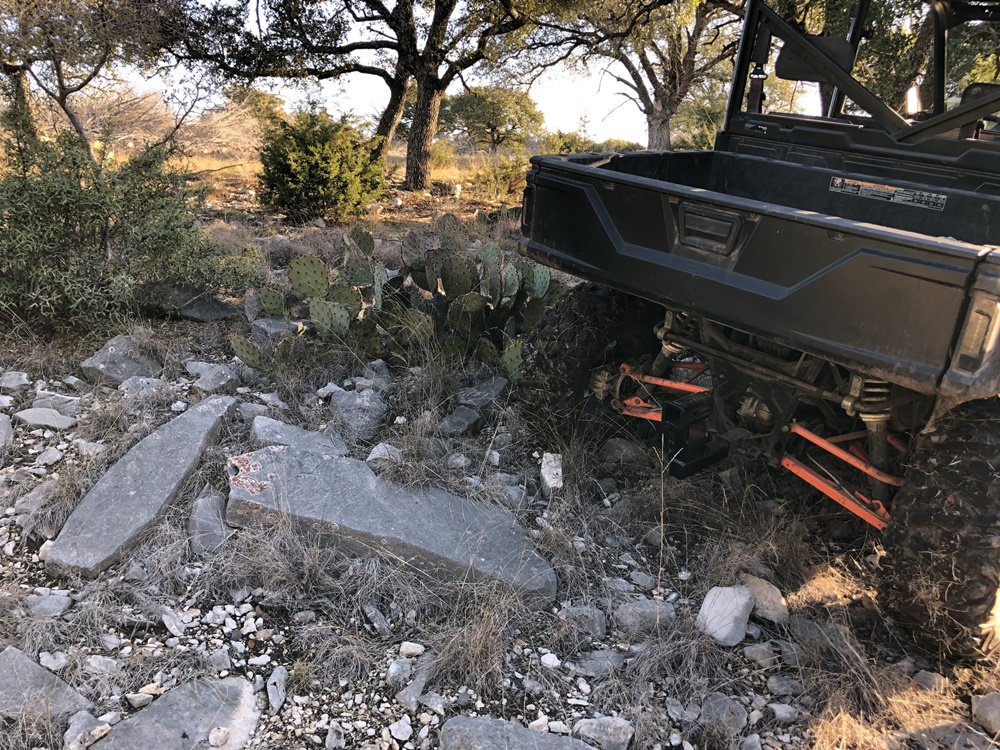 LOOK at those perfect rocks - I'm sure I can use those.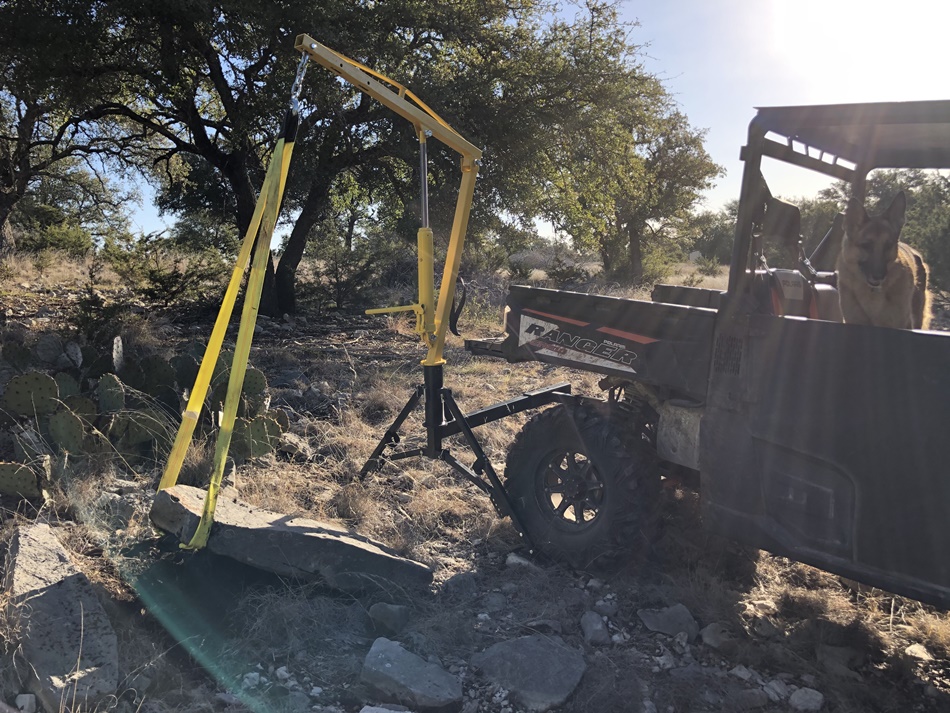 It's time for the ...hydrolic rock crane? ..not sure what I should call that thing.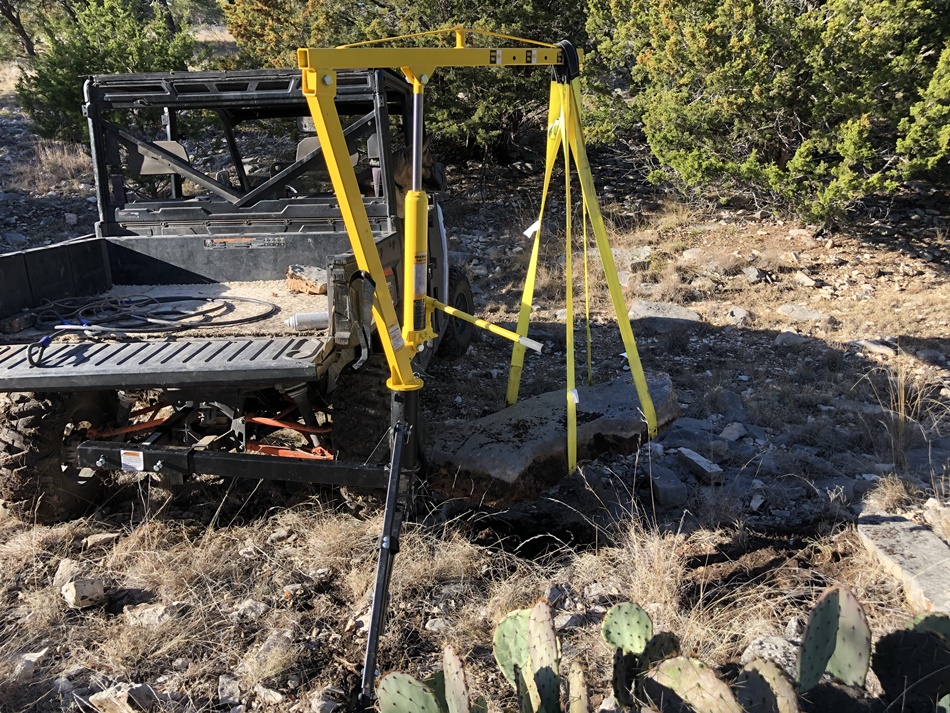 But it's awesome!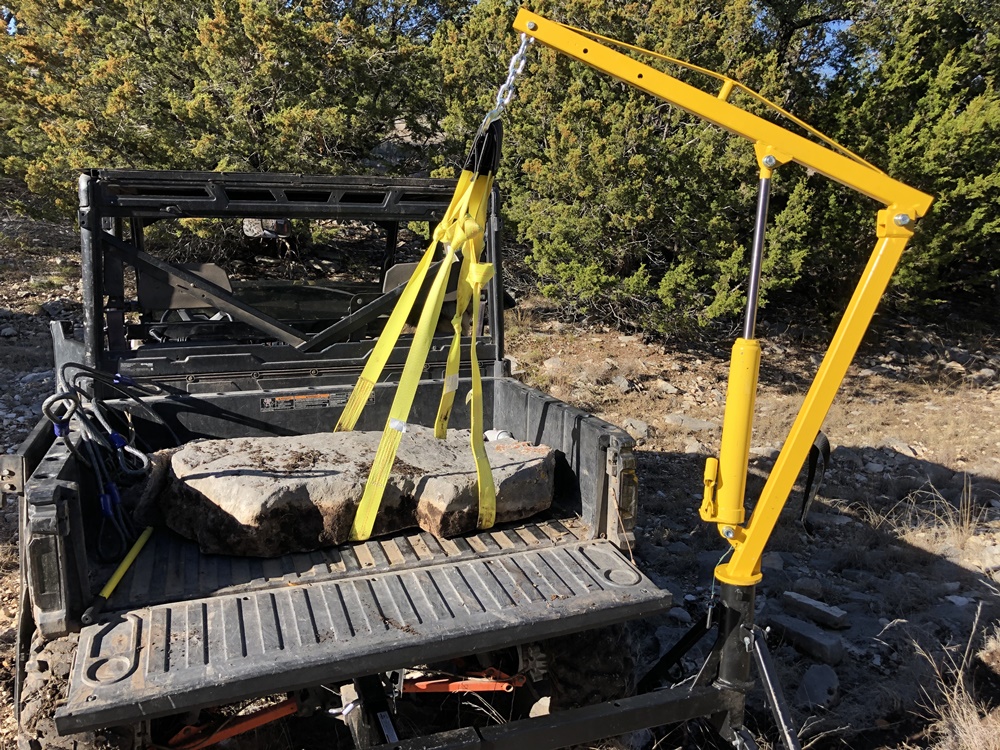 Into the Polaris you go big rock!

I've always got an audience when the dogs are with me.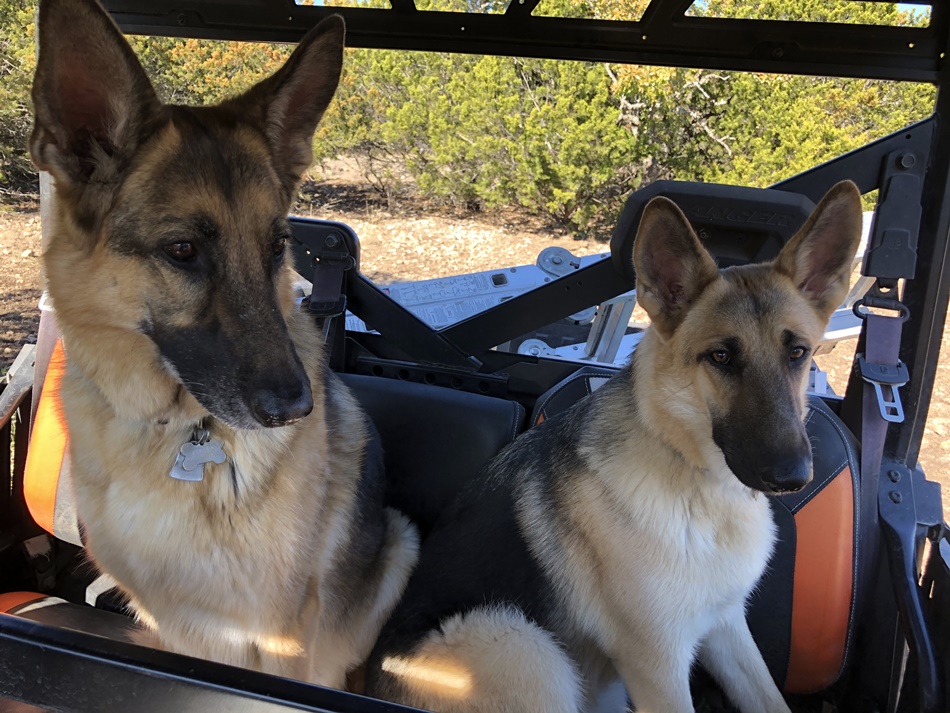 Awwww - I can see how Reese was still a puppy - she's grown a lot since this picture.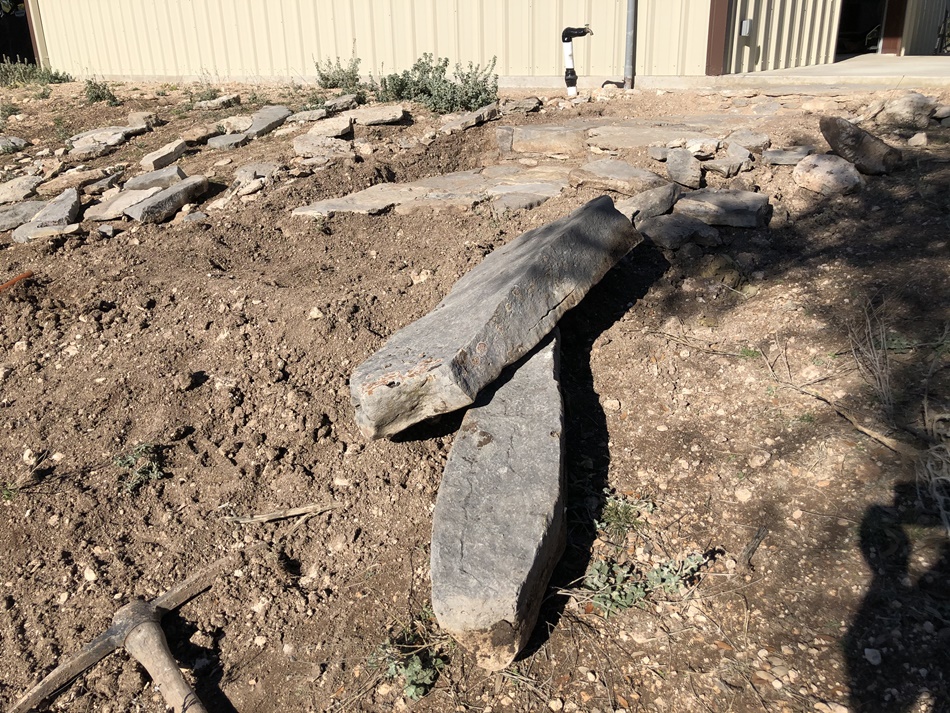 Now that the new rocks are here....it means a lot more work to get them in place.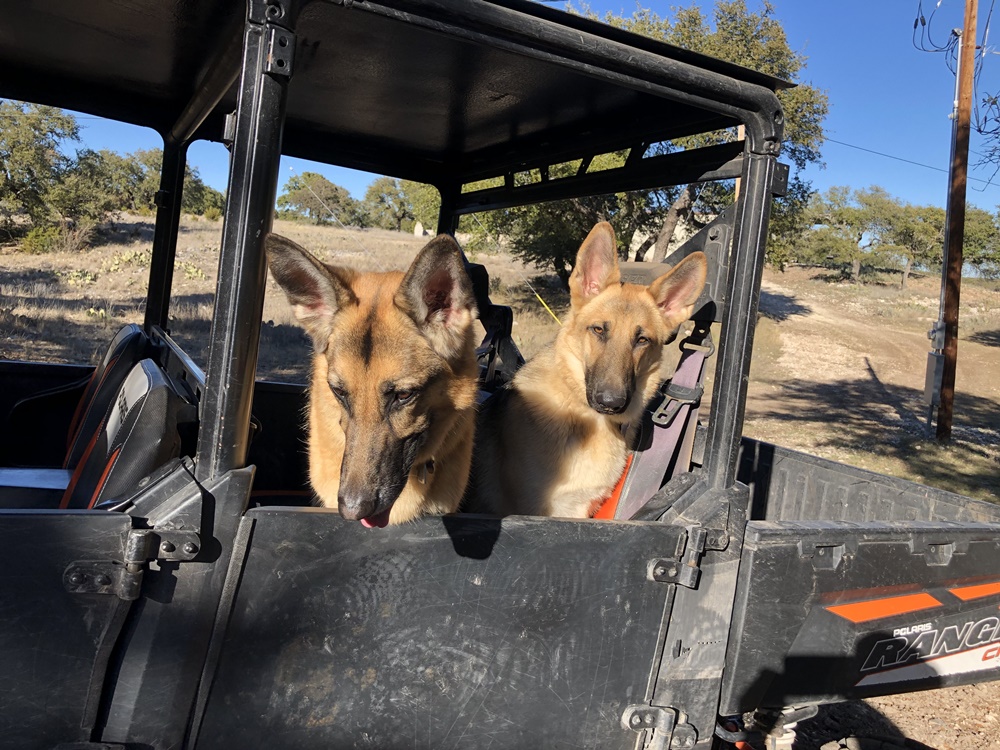 But it's nice to have some company. Cute girls.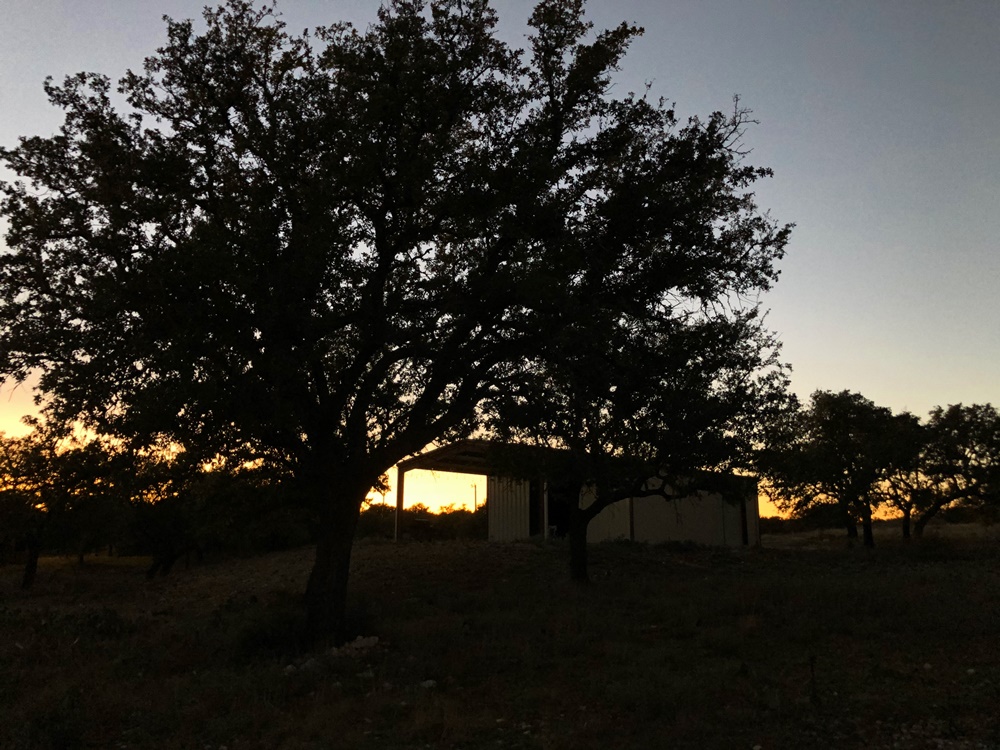 The sun sets on another fine day at the Double B Ranch.
WEEKEND #3
Saturday, January 30, 2021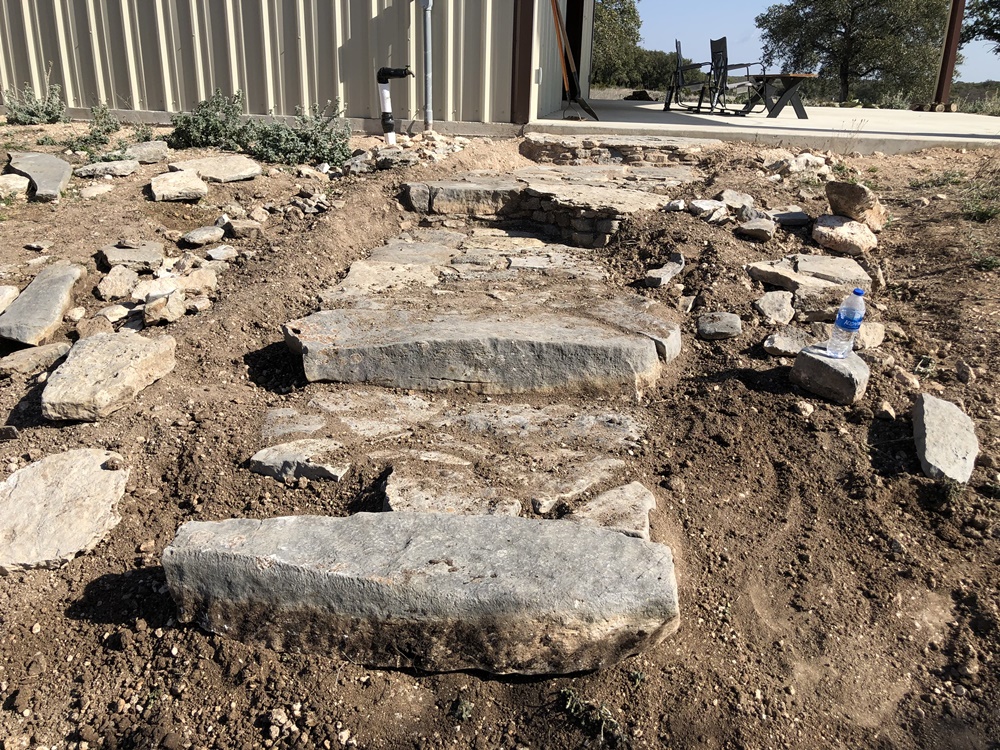 OK - looking good~!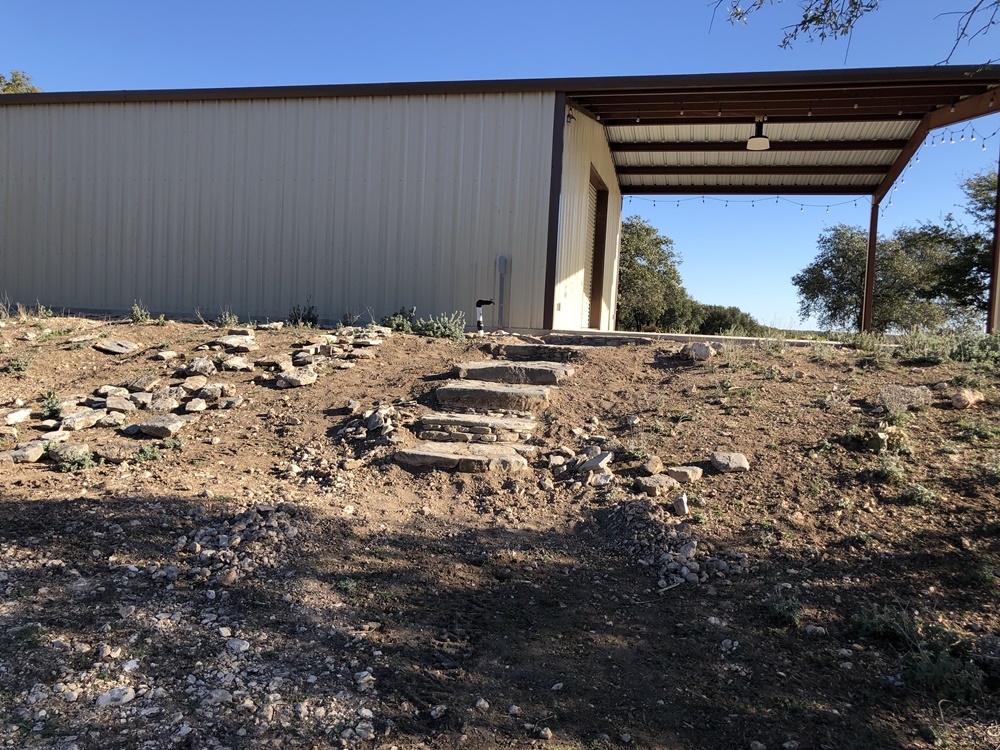 It's not done, and it needs some tweaks here and there - but not bad for an old guy like me, eh?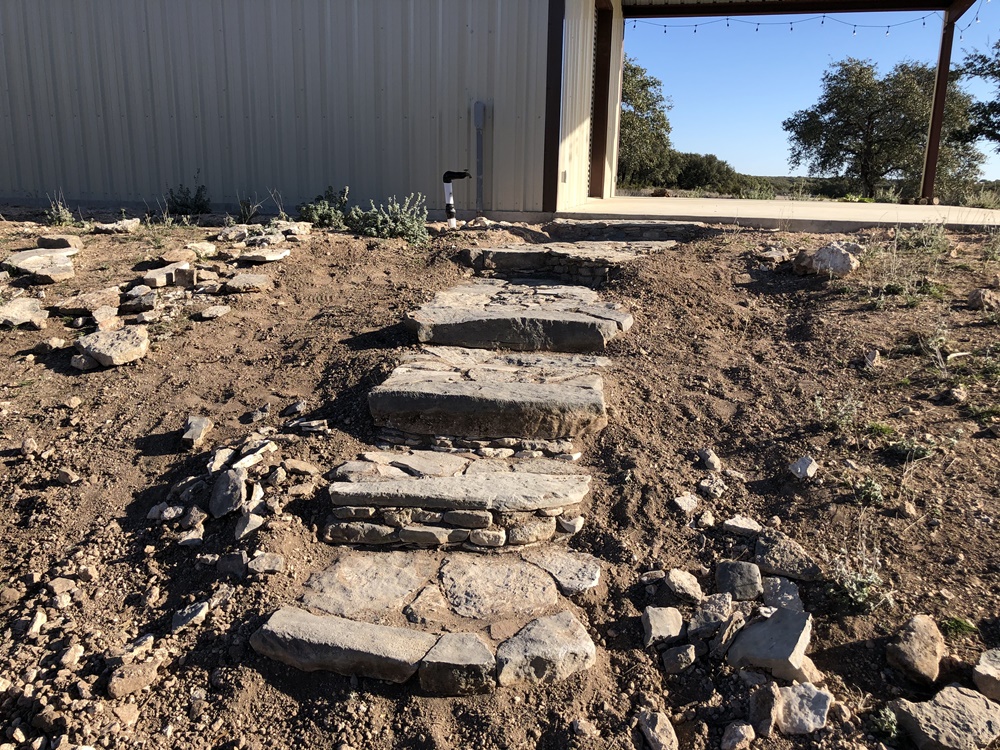 There - I think it's time to call it a day for now....and head out to the deer blind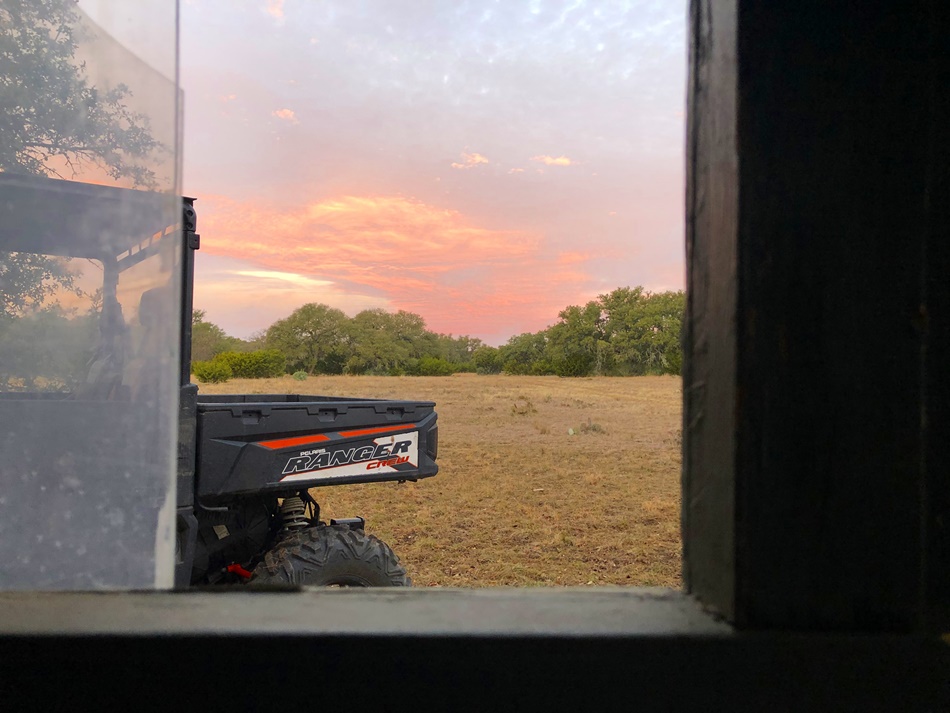 There's something about being in the blind, seeing all the animals and enjoying a beautiful sunset.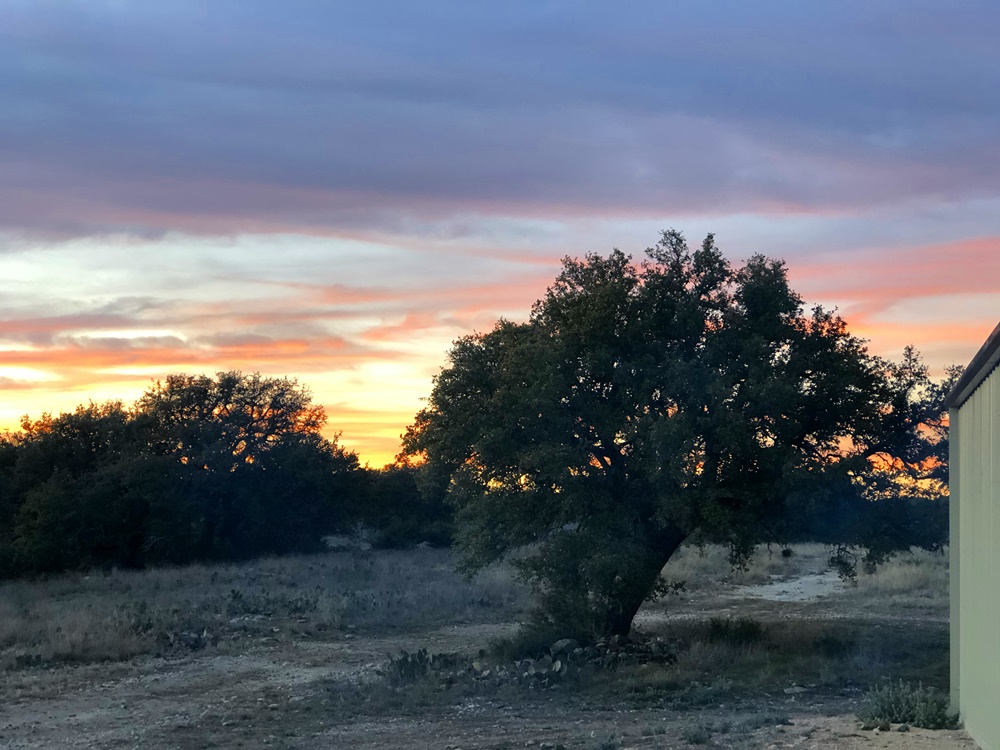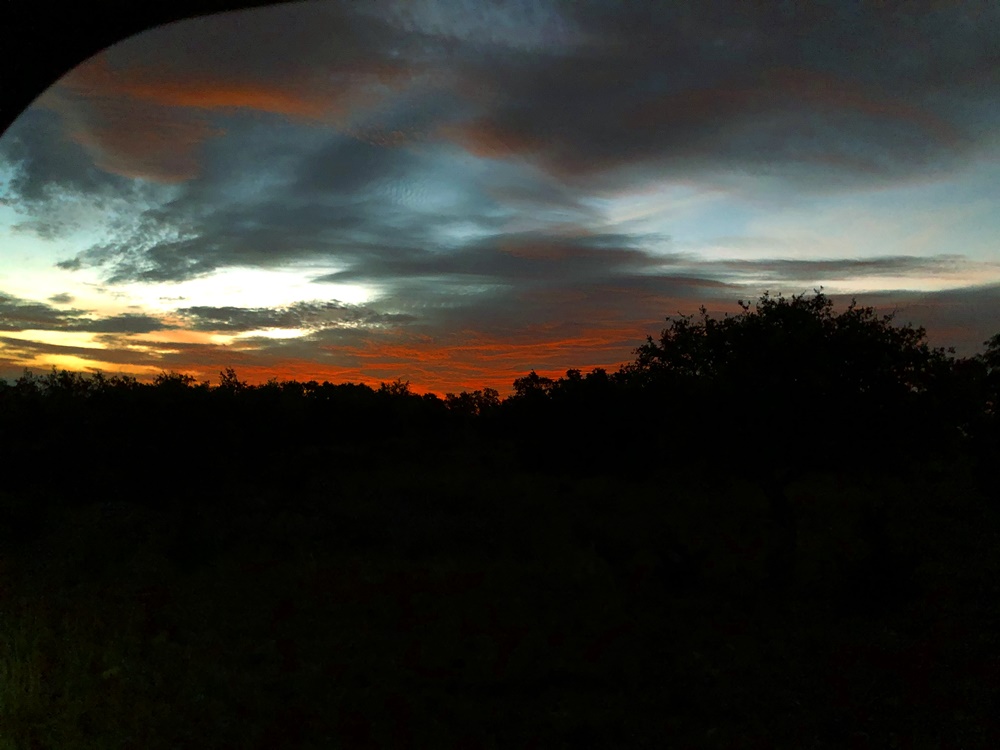 G'night - see y'all tomorrow.
Sunday, January 31, 2021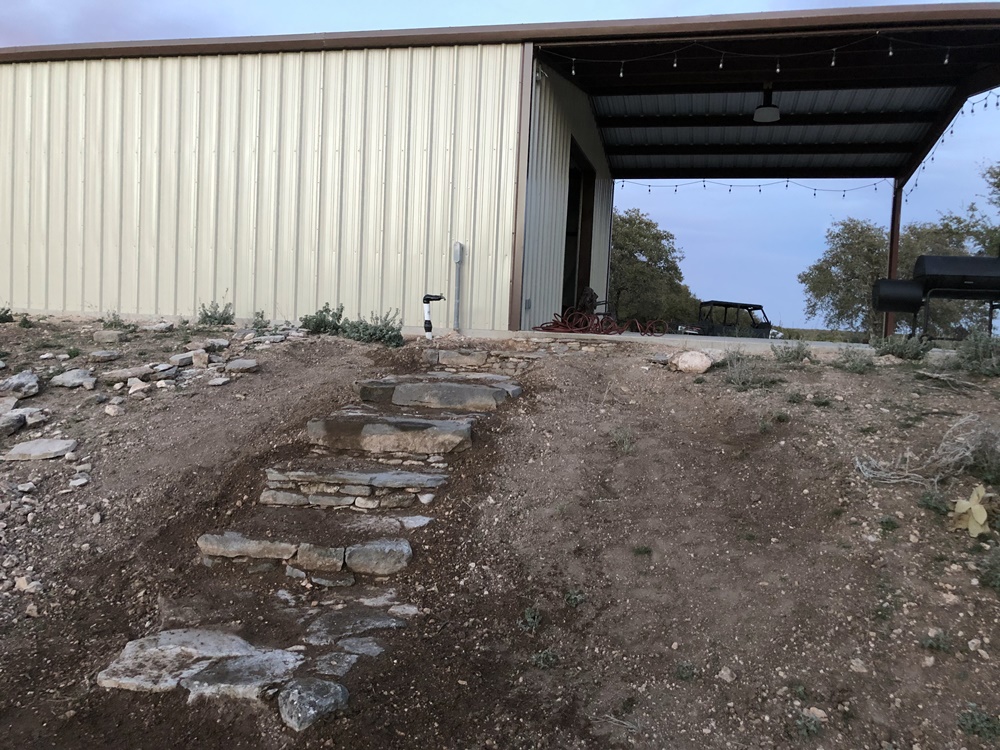 That's the finished product for now.
I do plan to continue working on the whole area, but there's other things that need attention too.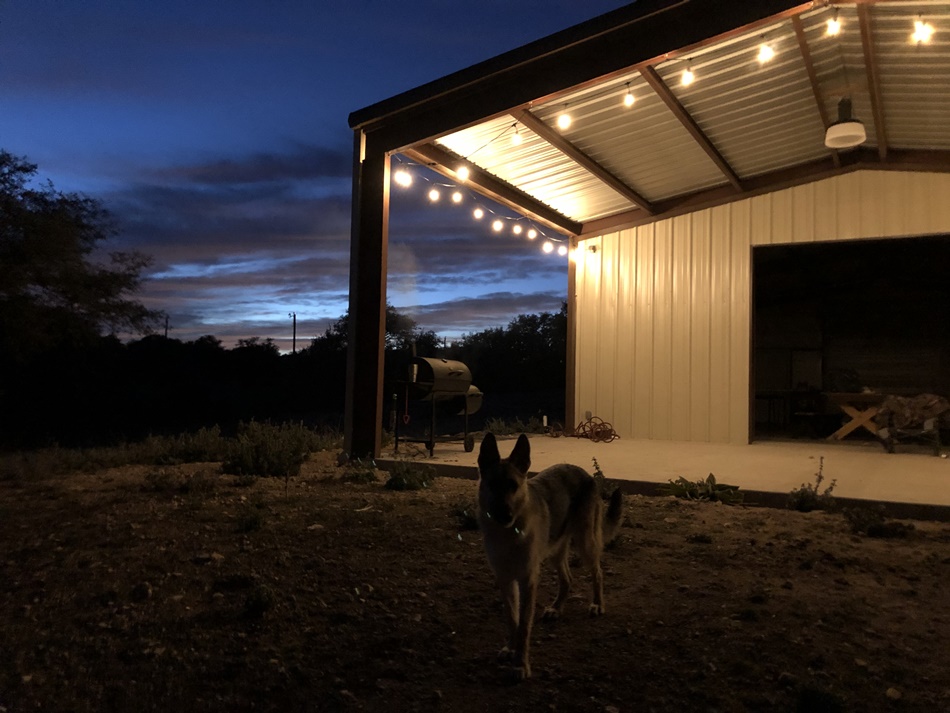 Yep - another great evening chillin' out and grillin'....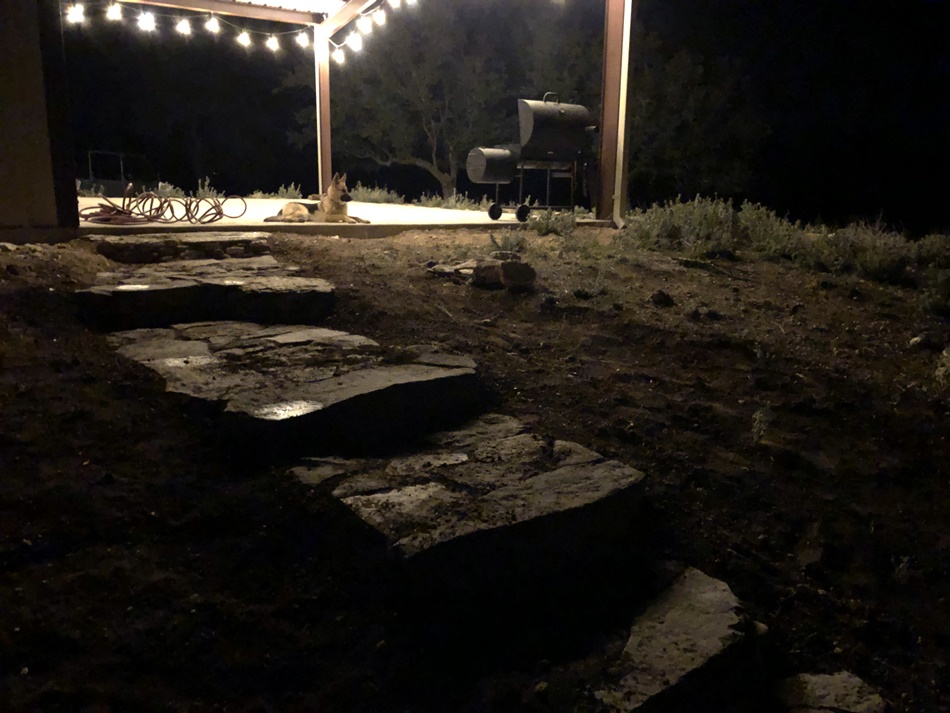 ...and admiring my work.
WEEKEND #4
Friday, February 5, 2021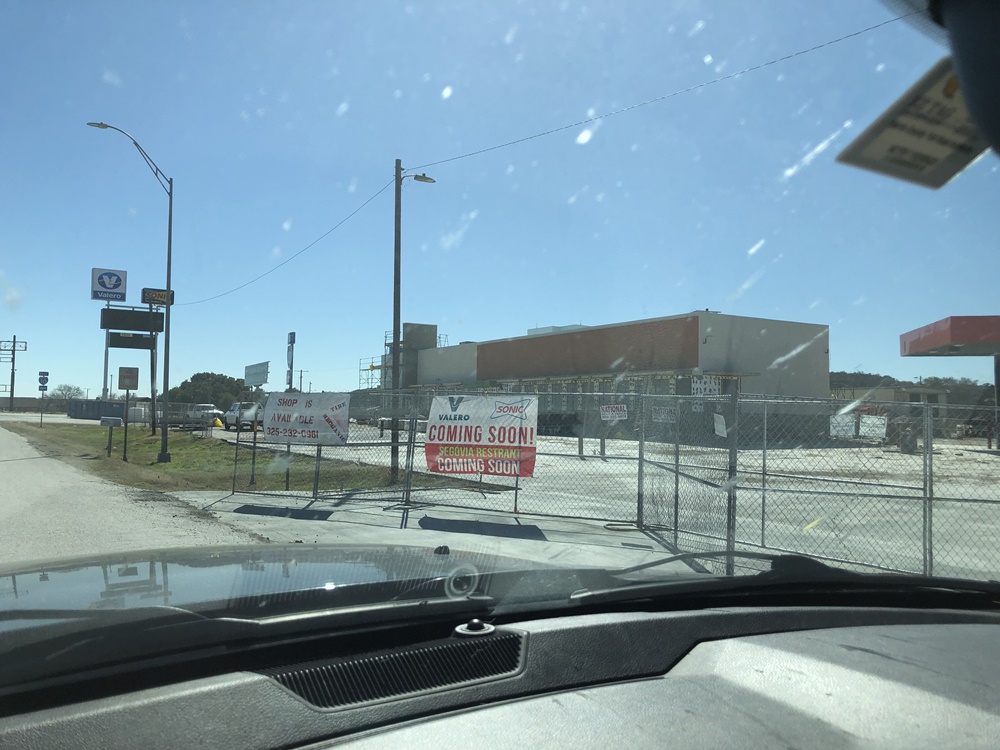 A Sonic is coming soon - and the 'Segovia Restaurant' - WooHoo!
Saturday, February 6, 2021

Here's another project - I replaced the temporary nylon straps around the cistern with these steel cables - these should last much longer.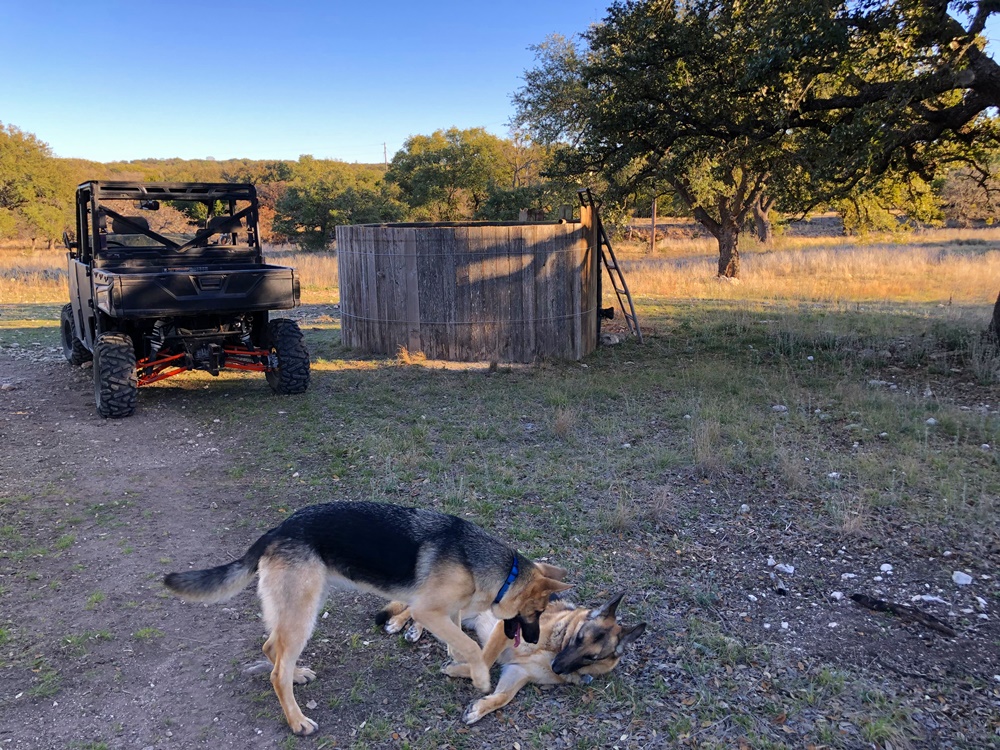 Dogs are constantly playing around all day....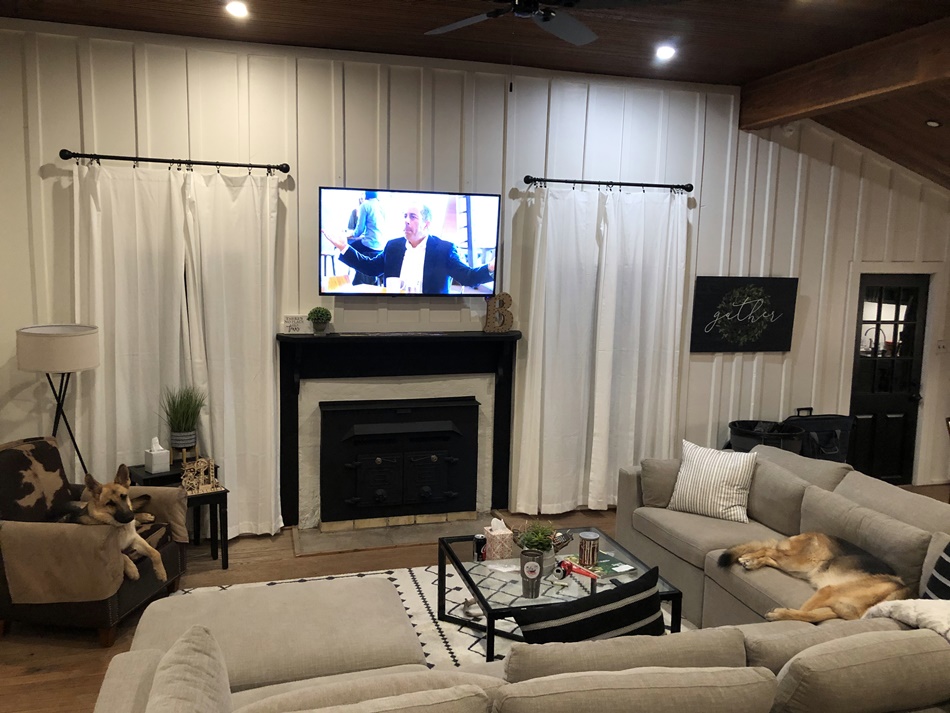 ...'till they're wiped out in the evening.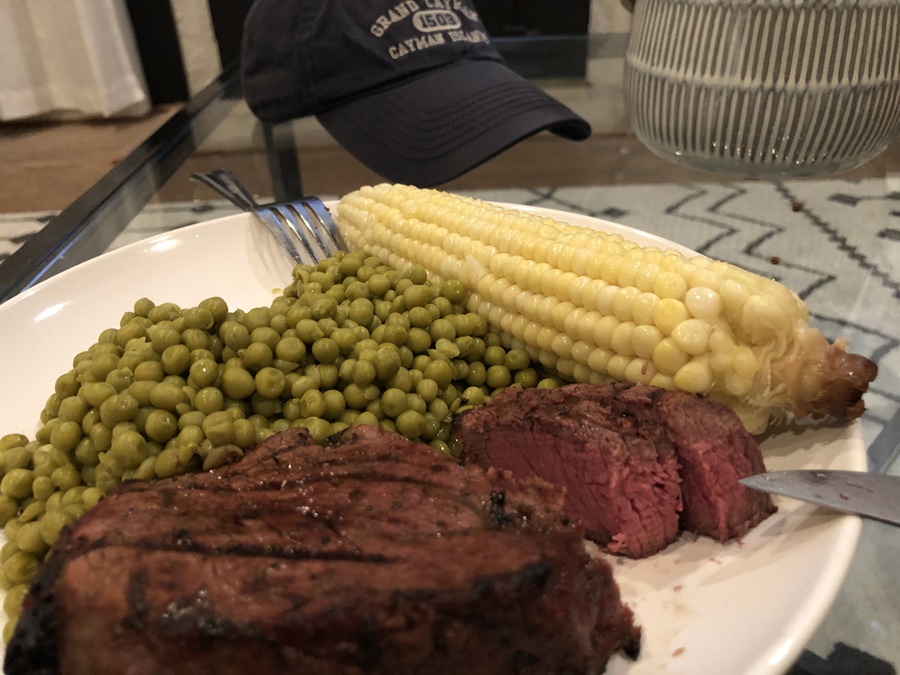 MMMMmmmmmmmmmm
Sunday, February 7, 2021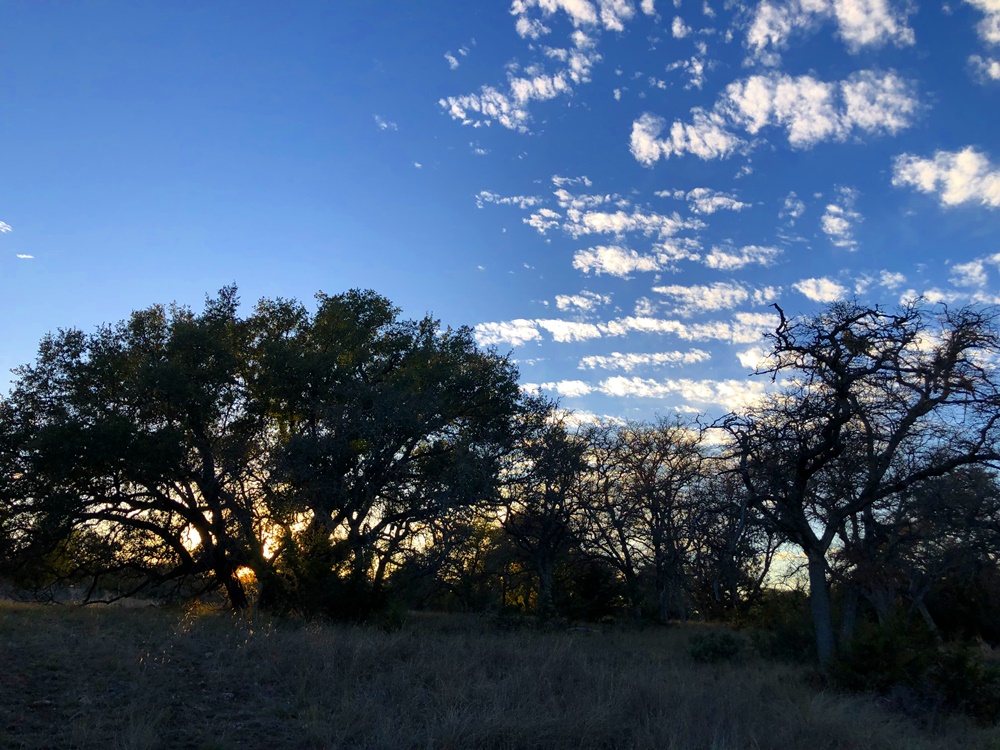 It was a beautiful sunrise, and I was worn out from all the work - so I decided to just enjoy the morning with the dogs, and take a bunch of pictures.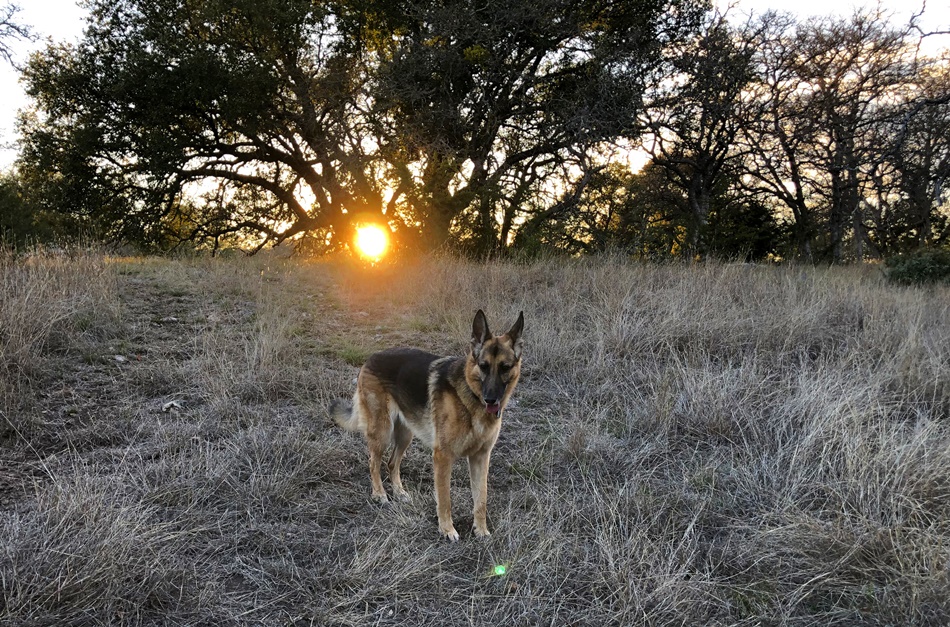 HA - so cheesy!
I like to think of Photography as another hobby, and enjoy it when I do capture something nice.
But here I tried to get the sunrise behind the dogs....and ...ok...whatever.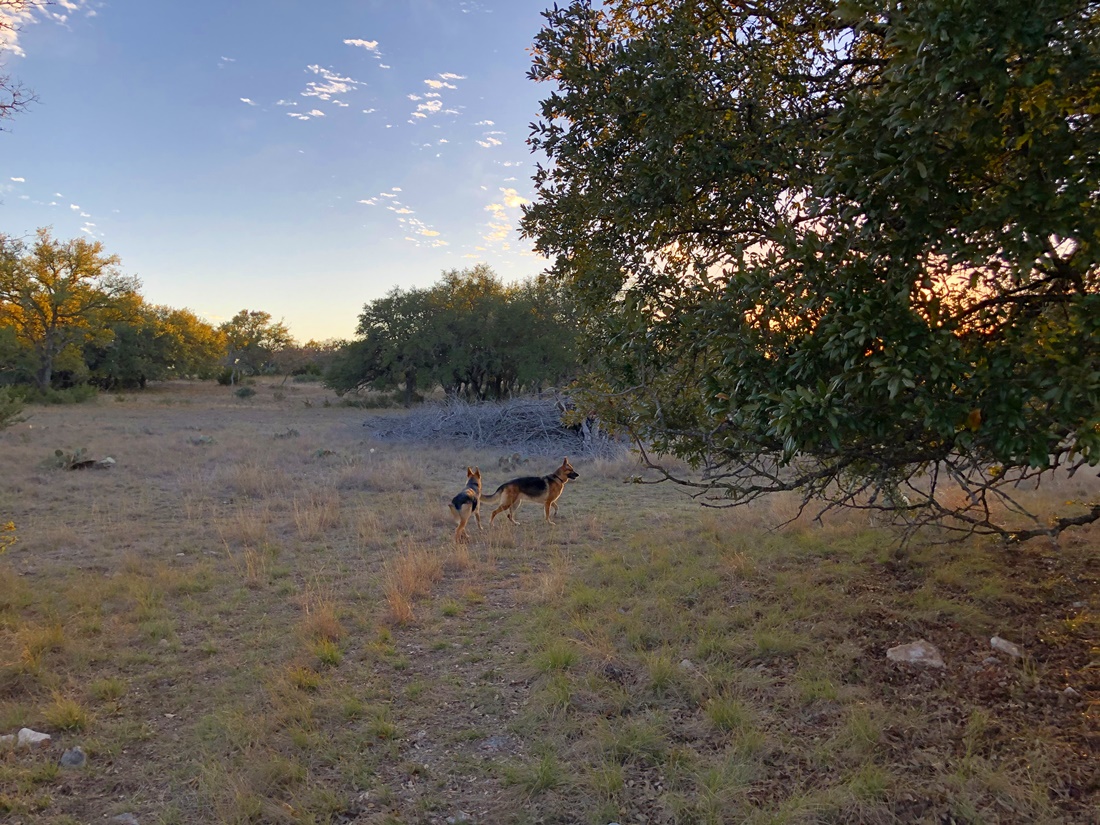 This is a little better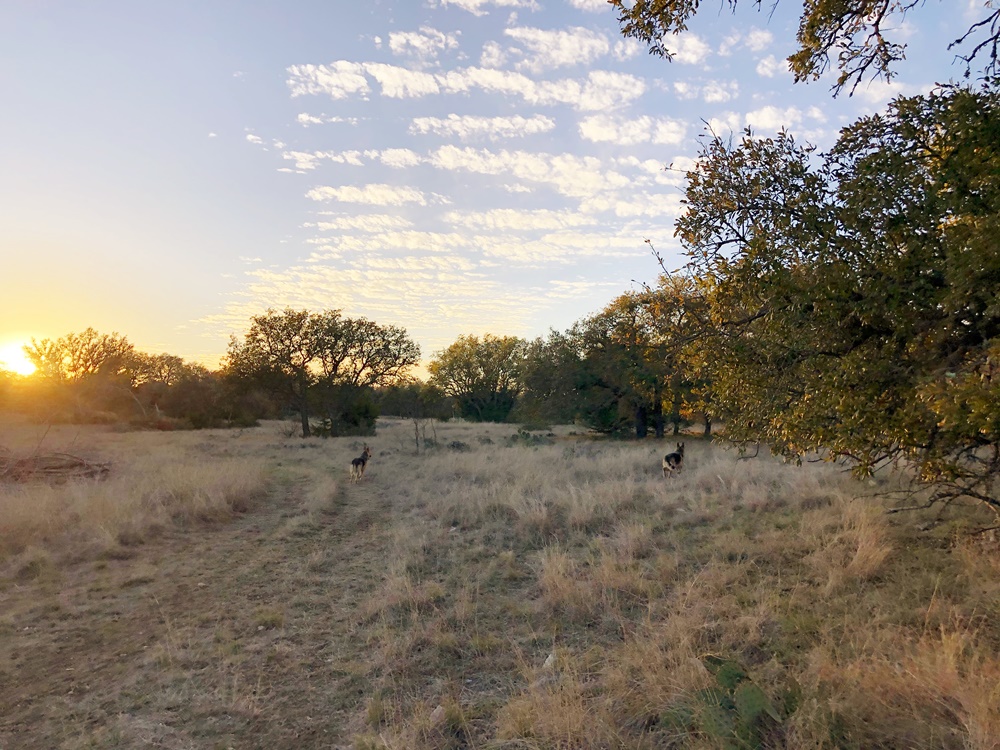 Regardless if these pics are any good or not - it was a beautiful cool morning with the dogs.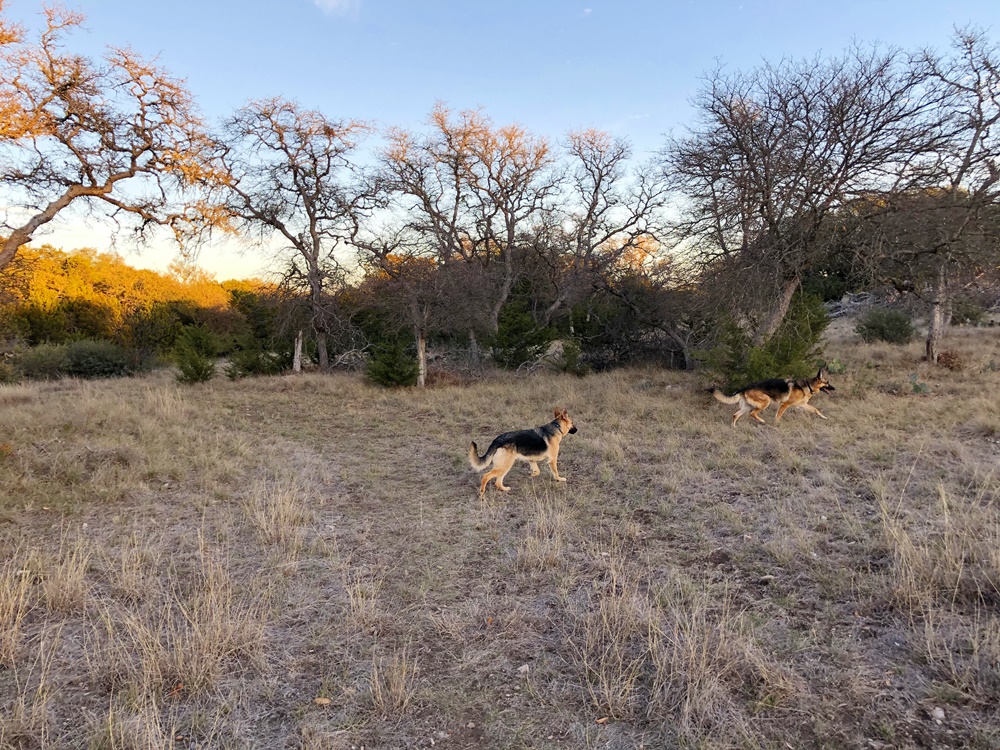 It's like doggy heaven out there.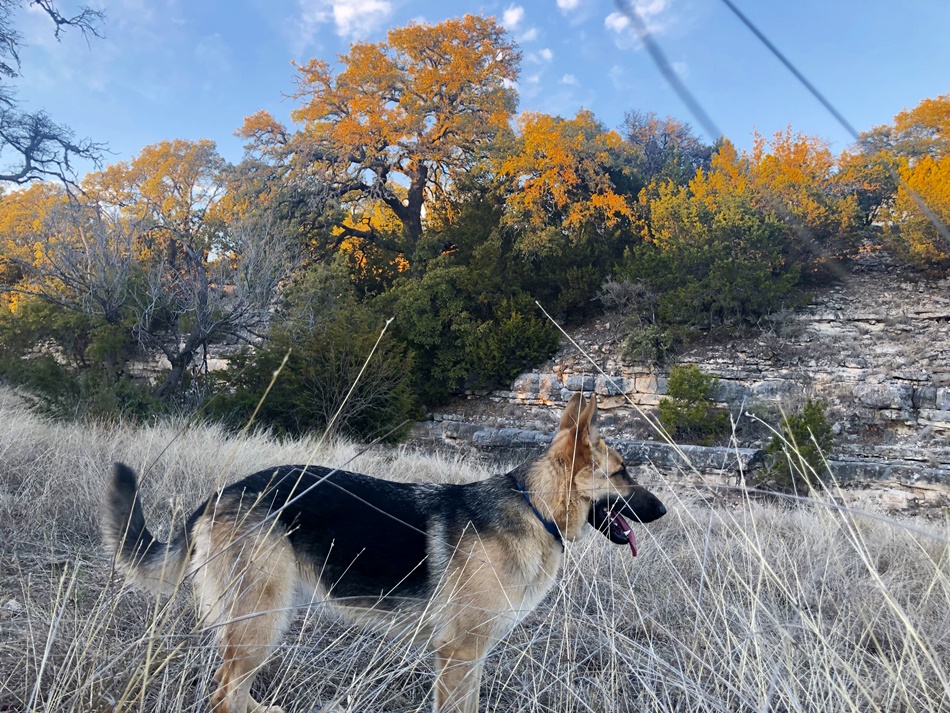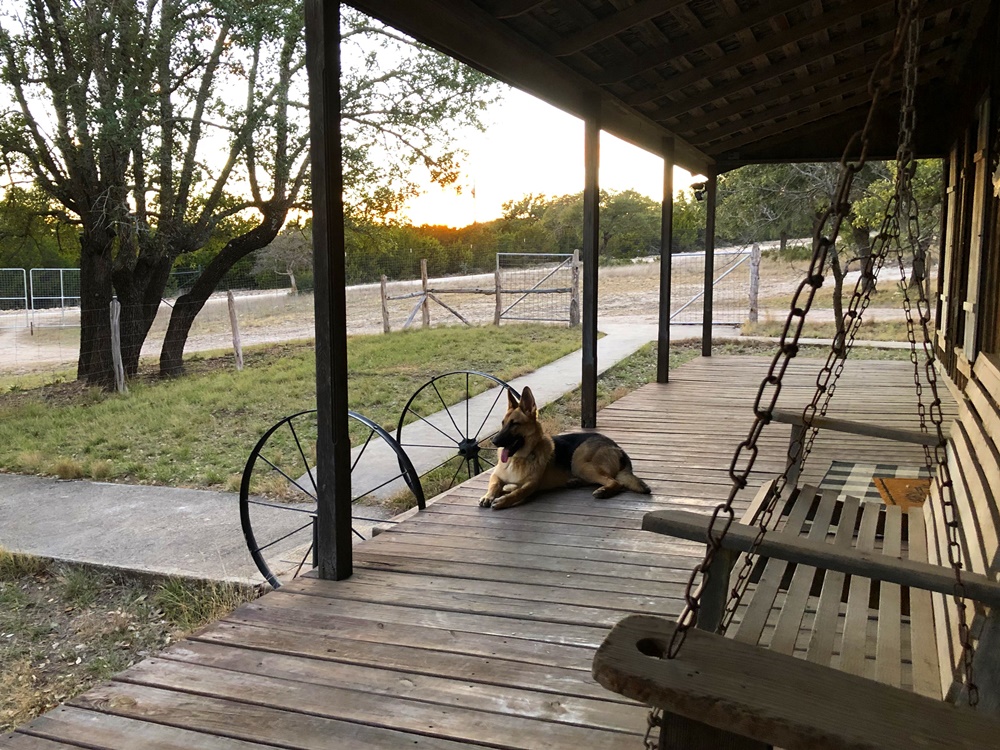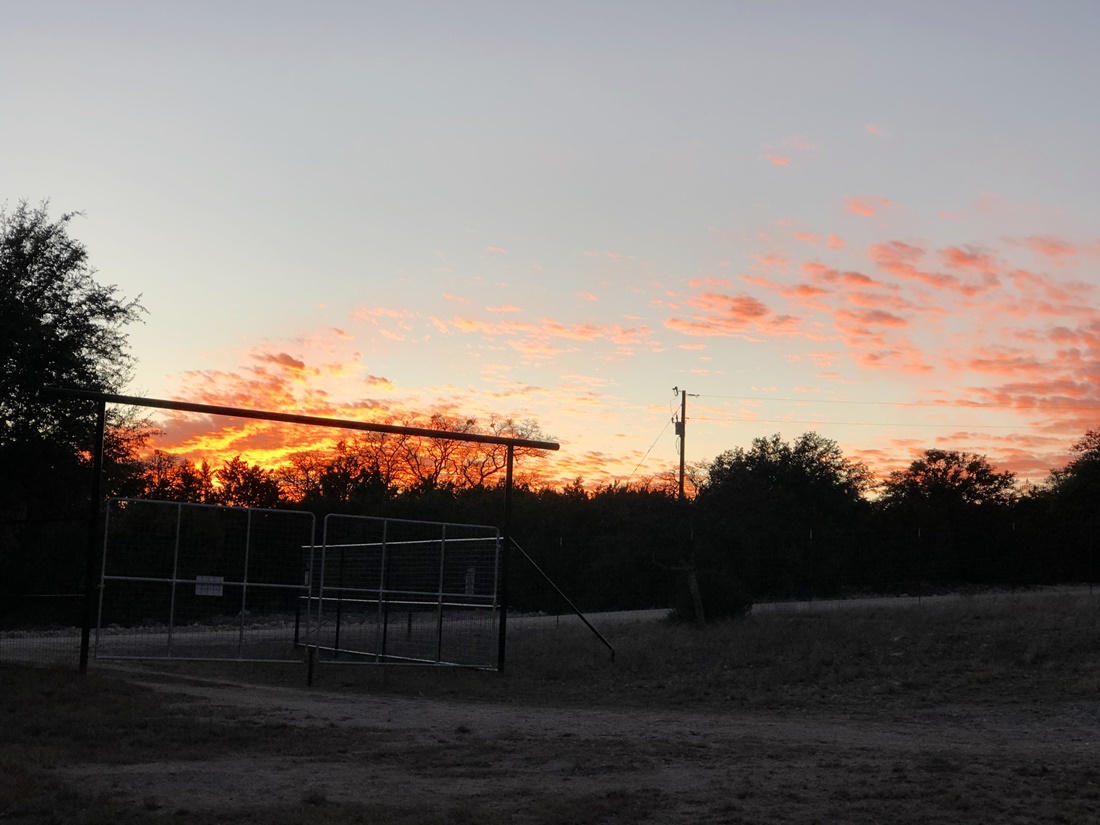 Well, the sun has set on another update from the Double B Ranch.



Y'all come back now - ya hear!
Friday, February 12, 2021

...and then - the DEEP freeze came.
...but that's for the next update.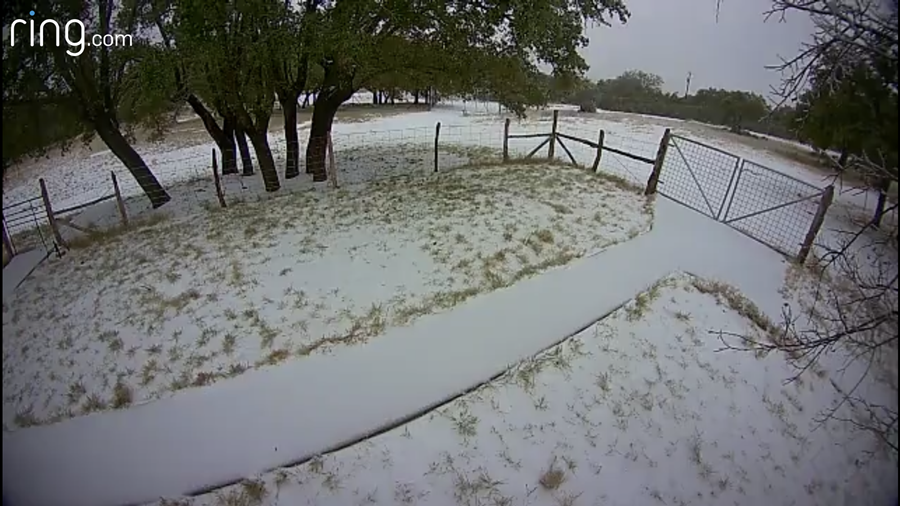 ---