March 2000
03/30/99 6:28pm
I have been working on everyone's web site but my own. To see what I mean - here's the Gib-O-Rama page - I am webmaster there. And here is the Tejaz Clan page - were I share co-webmaster duties. ...sigh... I've been very busy lately. Lots of changes at work too....My group was moved into another department. So I've got a new boss - and you know what that means. I've got to start sucking up all over again. Naaa..actually I think it will be a good move in the long run....it's just hectic right now. Jacqui and I have been semi-planning one trip or another for the past serveral weeks - just can't seem to finalize any plans. We're talking about skiing again, maybe going to Hawaii, maybe to Germany, maybe to Paris.... Maybe I need a nap.
NO SLEEP FOR YOU!! ...this Friday night we're going to an Astros game in the new Enron field. That should be neat. And Saturday we are running a 5K marathon (about 3miles). Wish me luck. THEN...the next weekend is the Gib-O-Rama!! ....rest assured I'll have pics and a good write up. C;ya later!
---
03/23/00 2:57pm
I've posted the screenshots from the St.Frag-rick's day LAN party. Go HERE to take a look.
---
03/20/00 8:46am
OK - I just finished posting the pictures from the St. Frag-rick's day LAN party. ...if you want to see what a bunch of geeks do in their spare time - take a look.
---
03/11/00 3:38pm
It's been a while since I've posted any Tejaz screenshoots. ....we can't have that now, can we? Go to the Quake page for that.
---
03/09/00 2:15pm
Wow, I just noticed my hit counter - over 2000 hits! ...hmmm. I still think most of them are me. I dunno - maybe not. ;-)
Hey - go check out the Gib-o-Rama site. I'm webmaster over there - and I just published the 'new' version.
---
03/06/00 5:29pm
The Safari Party was WILD! Micci, Mark, Susan and Terry put on a great party! The pics are posted below - and hey - I also posted a few more Crested Butte pictures too.
Jacqui and I were supposed to get there early - but we were a little behind schedule (suprise). Buy the time we got there - they were getting ready to open the Tequila - thanx Christy! Not wanting to miss out, I almost didn't get these pix until Jacqui yells from the kitchen "Brad get a picture of the Tequila shots!" ...what a great wife.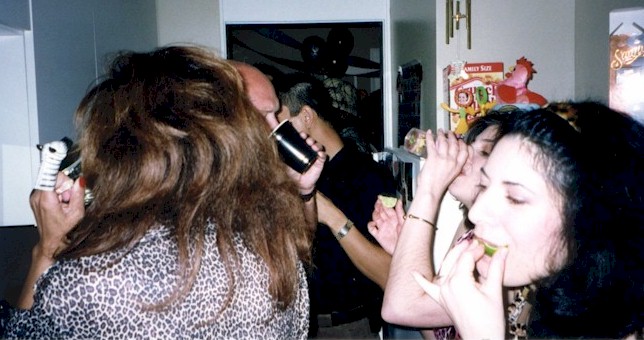 Go Rima! Go Micci! ...My - what a big shot glass you have Micci.


One of the best things about a Safari Party are the costumes - Ken and Rob will agree.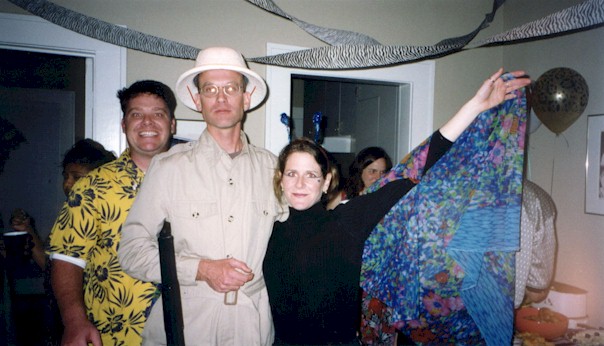 Mark the Cabana Boy , Great White Hunter Tom and PJ the Beautiful Butterfly.
(That's one happy Cabana Boy.)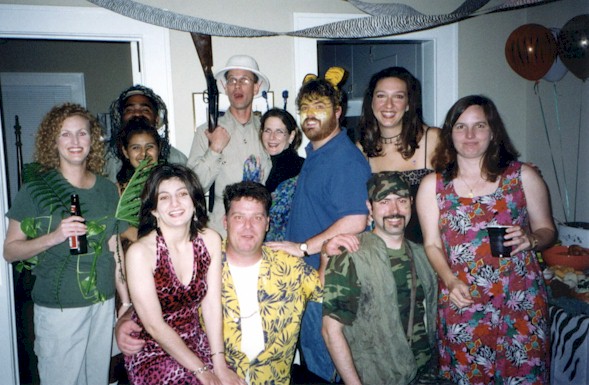 A WILD GROUP!
(Yes, I shaved especially for the party - Jacqui loved it and begged me to keep it)
There are more Safari Party pics below - but I just have to say - I really had a great time. Many, many thanx to Micci for the great food and decorations. And EXtra Special thanx to Mark for the GREAT music, , party lights, dance floor (must have gotten trashed), and even more decorations. At some point after these ouside pictures were taken - the police arrived. I don't have any pictures of that because - well....I tried to stay as far away as possible.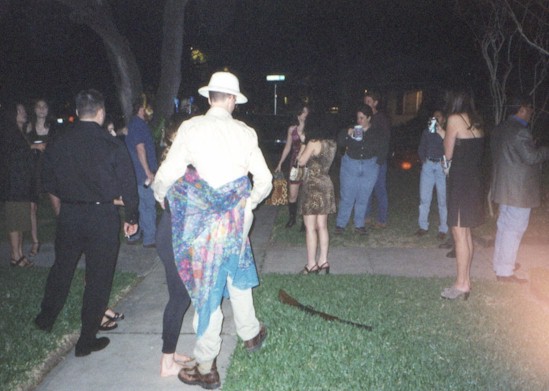 The Safari Party spills outside....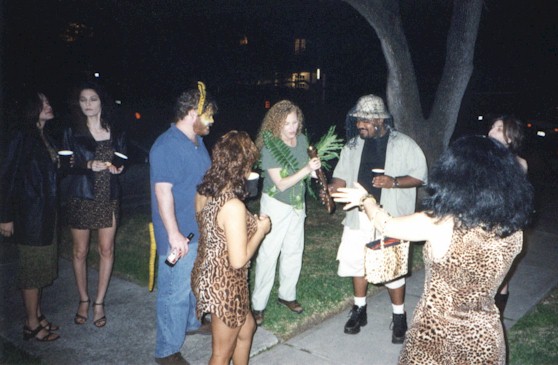 Don't shoot! ;-)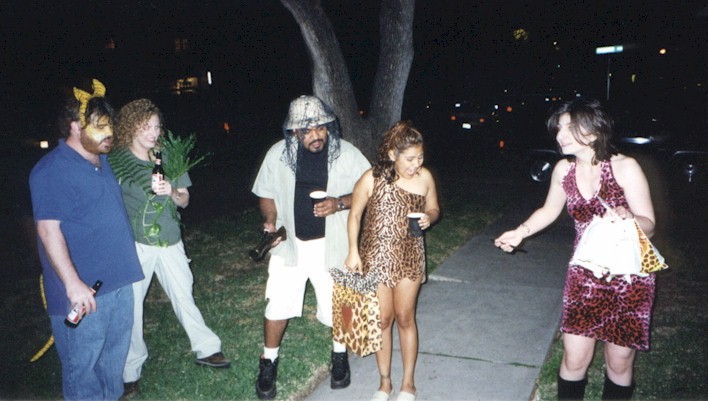 Micci startles her guests - don't ask me how.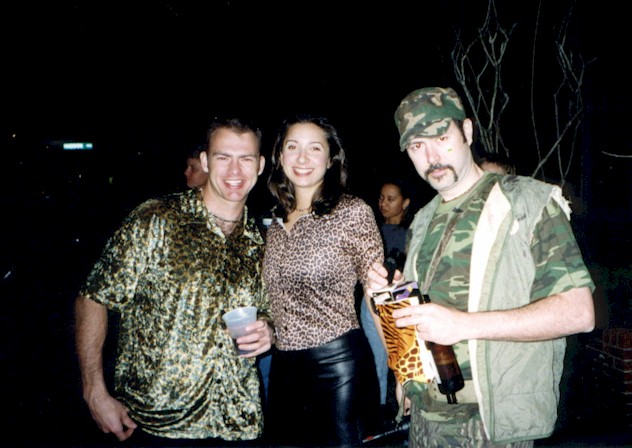 Why can't I be that happy?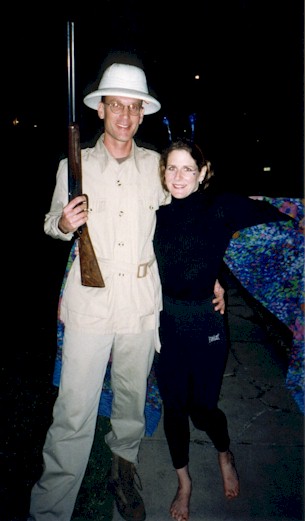 Hold on tight -she could fly away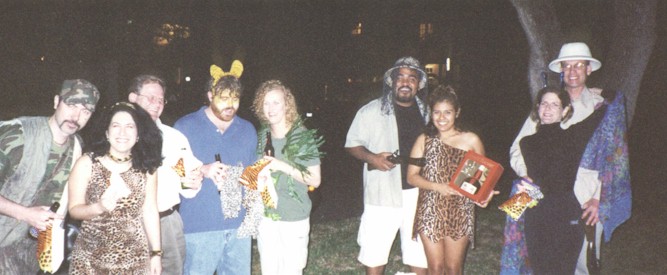 Everyone showing off their prizes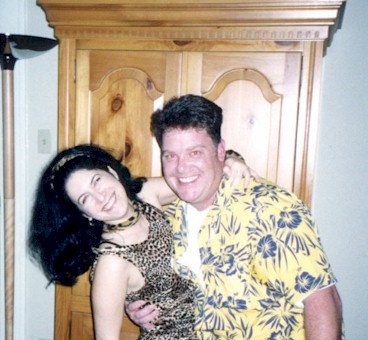 You owe me a BIG favor Rima!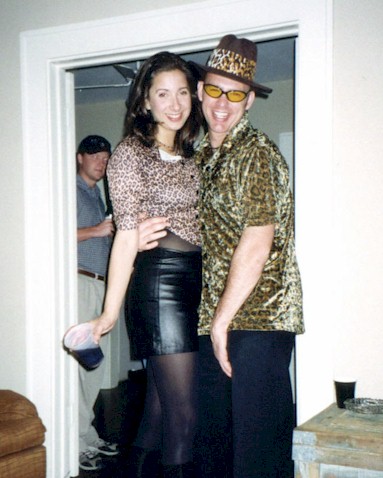 Pimp & Ho
---
03/04/00 8:57am
Tonight is the Safari Party! I should get plenty of interesting pictures. ...nothing like a bunch of drunks making fools of themselves to keep you entertained. ALSO, on March 18, I will be hosting St. Frag-ricks's day LAN party! I've got 15 people confirmed at this point so it should be a full house!
---